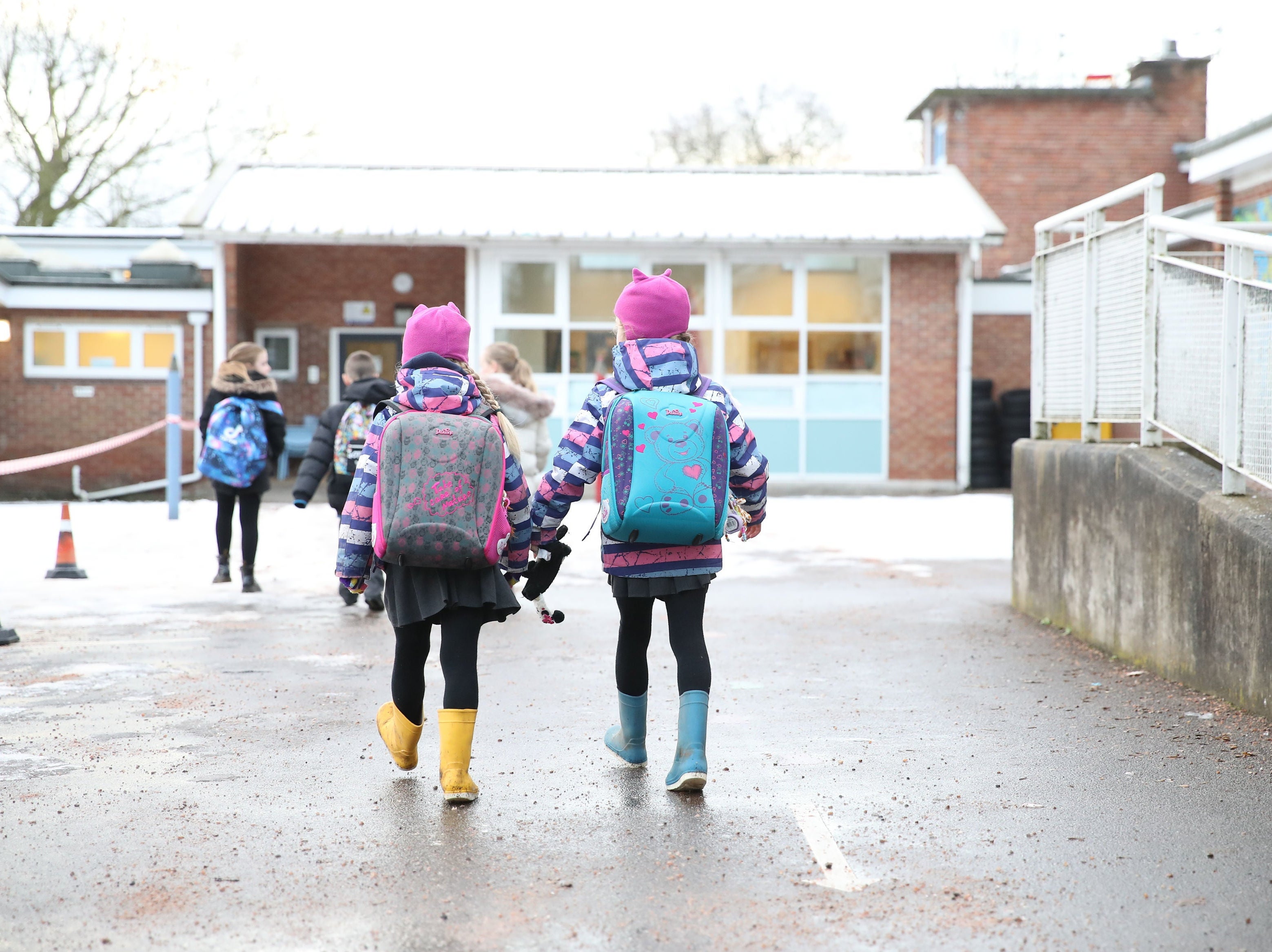 [ad_1]

The prime minister dashed the hopes of millions of parents by announcing that classrooms will not reopen to all children after the February half-term as originally planned.
And, with ministers promising that schools will be the first to leave lockdown, his comments signalled that no other relaxation of social and economic restrictions can be expected in England next month.
Speaking to the House of Commons, Mr Johnson made clear that the return of schools in the second week of March will be dependent on coronavirus hospitalisation and death rates falling and the current vaccination programme remaining on track.
The prime minister pledged to set out a wider roadmap to lifting England's lockdown in the week after parliament returns from its own half-term holiday on 22 February.
An official review in the week commencing 15 February will consider the latest evidence on the efficacy of vaccines, the emergence of new variant strains of Covid-19 and rates of infection, hospitalisations and deaths.
Experts will analyse the experience of countries like Israel which have led the international drive for immunisation and where the true impact of vaccines on the transmission of the disease should first become visible.
If that review concludes it is safe to begin easing lockdown, the roadmap is expected to set out a proposed route back to normality in the weeks and months after 8 March.
England is expected eventually to be put back under a regionalised tier system of restrictions, to be relaxed gradually as conditions permit, though this will depend on the outcome of the review.
Schools have been open only to vulnerable pupils and the children of key workers since 5 January, with others studying online from home. Classroom doors were closed on the first day of term, just 24 hours after Mr Johnson had gone on TV to declare schools safe.
Since then ministers have come under increasing pressure, including from Conservative MPs, to unveil their plans to lift restrictions.
Mr Johnson earlier this week played down the idea primary schools could reopen on a regional basis, where case numbers are low, indicating he preferred a national approach.
Announcing the timetable for their possible return, he told the Commons: "The first sign of normality beginning to return should be pupils going back to their classrooms. I know how parents and teachers need as much certainty as possible including two weeks' notice of the return of face-to-face teaching.
"It will not be possible to reopen schools immediately after the February half-term. But I know how frustrating that will be for pupils and teachers who want nothing more than to get back to the classroom.
"And for parents and for carers who spent so many months juggling their day jobs, not only with home schooling but meeting the myriad other demands of their children from breakfast until bedtime."
Children eligible for food parcels or vouchers will continue to receive them until they return to school.
Mr Johnson also said a "programme of catch-up" would be put in place, and will include "£300m of new money for schools for tutoring" as well as summer schools.
Geoff Barton, of the Association for School and College Leaders said the announcement came as "no surprise", given the death toll and pressure on the NHS.
"Everybody agrees that getting all children back into class is vital as soon as possible, but this clearly cannot be rushed in such desperate circumstances," he said.
But the National Education Union's Mary Bousted accused the prime minister of "misplaced optimism" by suggesting the date at this stage and "pre-empting a decision that will have to be made in mid-February at the very earliest".
Andy Byers, a secondary school headteacher in Durham, told The Independent that the 8 March date seemed a "sensible target".
"We should only return when it is safe to do so and when we do return, it should be for good," he said. "We don't want to risk another lockdown by coming back too quickly."
Terence O'Mara, a secondary school teacher in London, said he was "happy there is certainty".
Meanwhile, headteacher Louise Flatters said she was pleased to hear a "firm decision" that schools will not reopen to all students straight after February half-term, and urged ministers to consider alternative ways to bring students back, including rota systems.
TUC general secretary Frances O'Grady called for parents to be given temporary rights to furlough payments, as well as 10 days of parental leave a year, arguing it was "simply not sustainable to expect mums and dads to work as normal while looking after their children and supervising schoolwork".
The prime minister rejected a call from Labour leader Sir Keir Starmer for all teachers and school staff to be vaccinated during the February half-term, saying this would mean diverting protection away from more vulnerable groups.
But Labour deputy leader Angela Rayner was scathing about the prime minister's own failure to provide detail on how schools can be safely reopened.
"Boris Johnson just repeated over and over his hope that schools would be safe to open in March," said Ms Rayner. "He didn't set out a single measure he is taking to make classrooms safe, a plan to vaccinate teachers or deliver the mass testing we were promised. Woeful.
"Nothing on supporting remote learning. Nothing on free school meals during half term. Nothing on making classrooms safe. Nothing on vaccinating teachers. Nothing on mass testing in schools.
"Boris Johnson, you can't reopen schools safely without a plan to do so."
[ad_2]

Source link