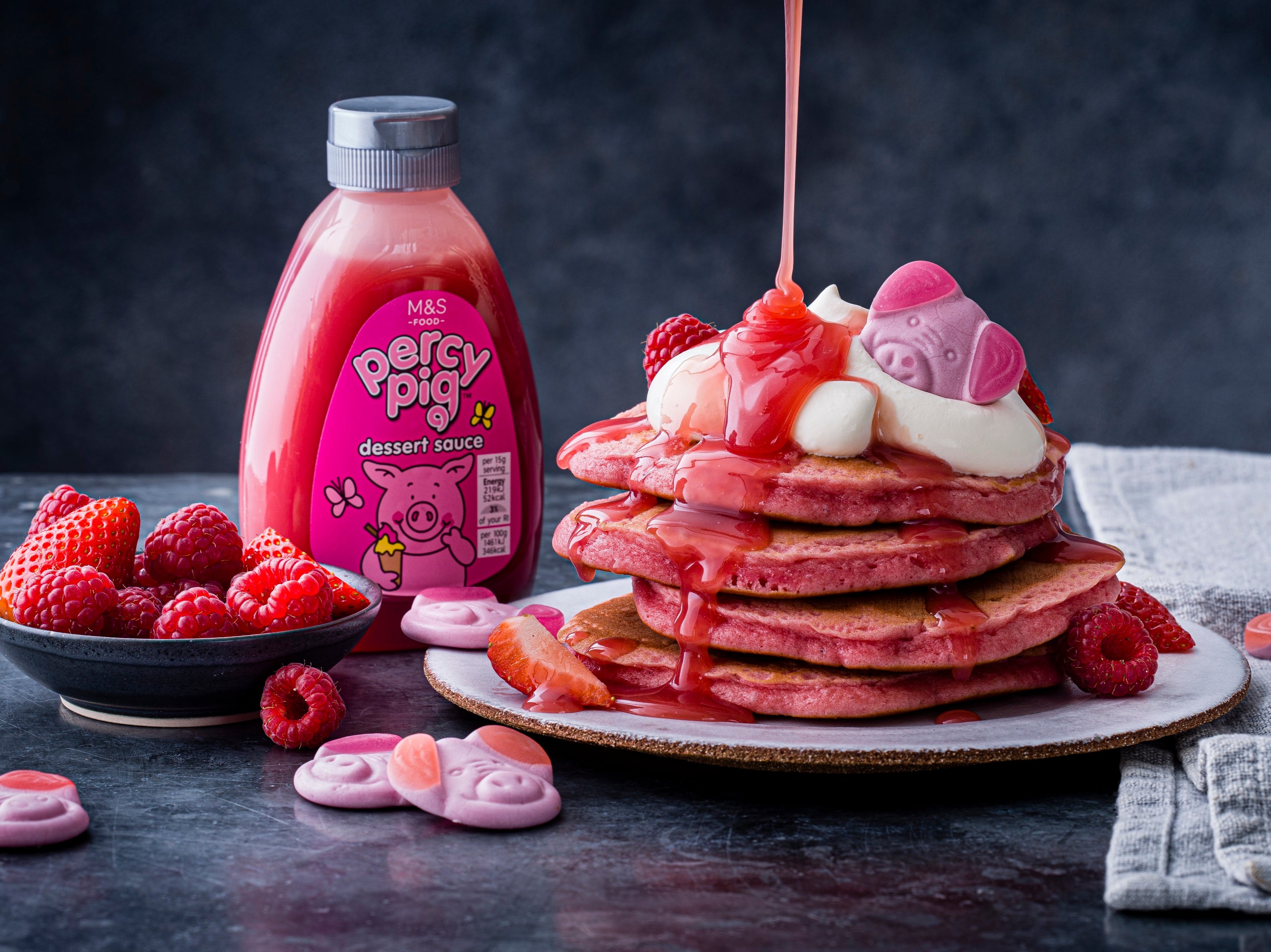 [ad_1]

M&S's beloved Percy Pig sweet character now comes in pink buttermilk pancake form.
The retailer released the new addition to its Percy collection this week ahead of Pancake Day on Tuesday 16 February.
The pancakes contain both Percy Pig dessert sauce (which is a berry and grape flavour) and raspberry jelly pieces, meaning they taste reminiscent of the classic sweet.
The sauce – which was released last year – can also be bought separately to drizzle over the Percy pancakes (if you haven't already had enough pink).
Instagram account @NewFoodsUK shared a picture of the new product on Tuesday, including an image of how the pancakes look inside.
The caption read: "WOW! These are super delicious! Buttermilk pancakes made with Percy Pig dessert sauce, with apple & raspberry jelly pieces – these have a beautiful fruity taste! We love the jelly pieces & sauce in these pancakes – perfect heated up!"
A pack of four pancakes costs £1.60, and the Percy Pig dessert sauce is an additional £2.
It comes weeks after Percy Pig fans in Ireland found out that they might soon be deprived of the sweets due to Brexit.
Percy is now subject to complex "rules of origin" regulations agreed as part of the UK's new trade deal with the EU. Under the new rules, tariffs are imposed on goods initially manufactured in the EU if a UK firm re-exports them to the bloc.
The problem extends well beyond German-manufactured Percy Pigs, with the British Retail Consortium warning at least 50 of its members, all of them large UK retailers, are now facing such tariffs.
"Essentially, there is about a third of the product in our food business that is subject to very complex rules of origin arrangements, around the components within it, and how much has been altered in the UK," said Marks & Spencer chief executive Steve Rowe.
He added: "Any product that's manufactured in Europe, comes to the UK and is then redistributed to somewhere like the Republic of Ireland also, potentially faces a tariff.
"So, the best example is Percy Pig is actually manufactured in Germany, and if it comes to the UK and we then send it to Ireland, in theory, he would have some tax on it.
"So we've got a lot to do in terms of composition and rerouting, but it's really important that we continue to be focused on trading the business.
"And, at the moment, making sure we've got constant continuity of supply in our Irish business."
[ad_2]

Source link