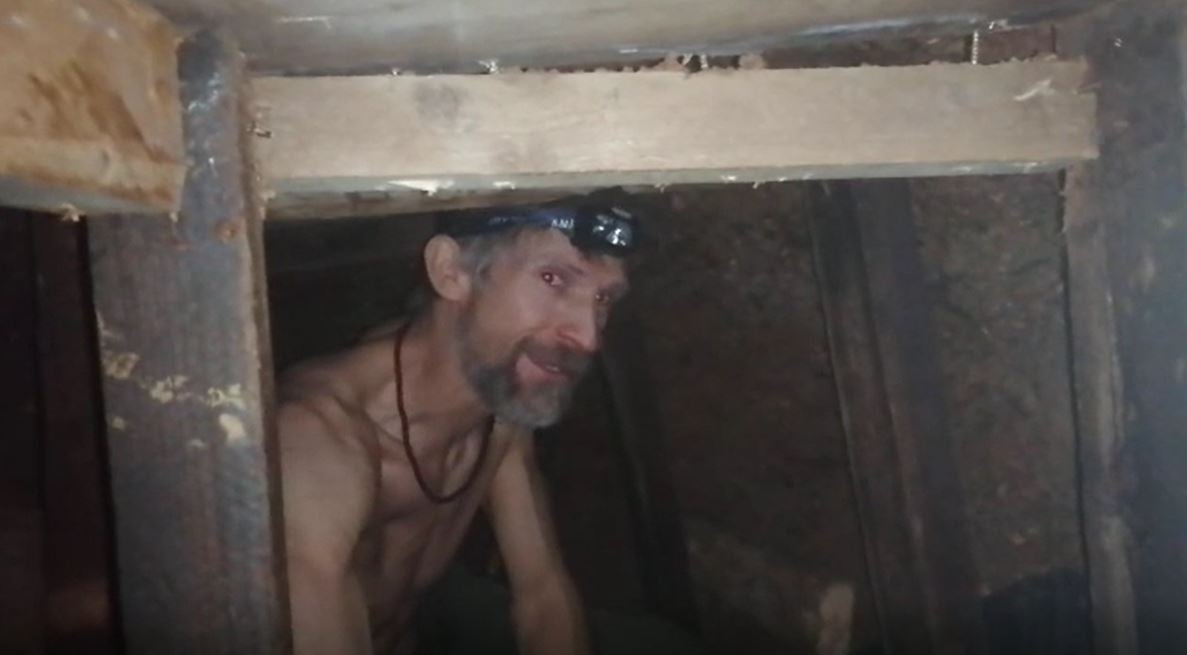 [ad_1]

An HS2 protester who is living in a tunnel under Euston Square Gardens in London has said those currently underground will "not be coming out any time soon", after enforcement agents moved in on a protest camp earlier on Wednesday.
Larch Maxey, 48, said he was one of at least four people inside the 100ft network of tunnels that had been dug by activists in the park since September to protest against the multi-billion bound rail project.
"We will last as long as we can down here, but we can't put a date on that," said Mr Maxey, who has been living in the park since August.
"Our resolve is clear because we are telling the truth about the climate."
He added: "We will not be coming out any time soon. We are warm, it is much warmer down here than it is on the surface."
Mr Maxey told the PA news agency that he was in the tunnel's 9ft down-shaft with another protester, while at least two others were elsewhere in the network.
Early on Wednesday morning, several protesters were removed from the camp but a number remained hours later, sitting in tents and on wooden platforms high up in trees as scores of police officers watched on.
In September, HS2 Rebellion set up a "Tree Protection Camp" at Euston Square Gardens in central London to protest against the rail project.
Tunnellers have worked "around the clock" using pickaxes, shovels and buckets to create the network that took two months to construct and they say is their "best defence" against eviction.
With the help of local residents, soil from digging has been used to "fortify the barricades" at the network's entrance and insulate the "pallet fortress" to keep tunnellers warm as they sleep between shifts.
HS2 Rebellion said bailiffs "entered the camp under cover of darkness" on Wednesday, but said those within the tunnels were "prepared for a lengthy siege".
Both the protest group and HS2 Ltd said a number of protesters were removed early on Wednesday morning.
"We took legal possession of the site this morning, so this is our first opportunity to do a formal assessment of what's present onsite and it's still quite early," an HS2 Ltd spokesperson told The Independent.
"We've got a specialist team who obviously have to do a number of assessments around the tunnel, including how many people are in it, whether it's safe structurally [and] how we can safely remove people from that."
She added: "Our priority is to take possession of the site as safely as possible. So it will take as long as it takes to do it safely."
The spokesperson could not say whether enforcement agents had yet entered the tunnel.
HS2 Rebellion claims that the planned HS2 line, due to link up London, the Midlands, the north of England and Scotland, will see 108 ancient woodlands "destroyed" and "countless people being forced from their homes and businesses".
HS2 Ltd said only 43 ancient woodlands would be affected by the railway's route between London and Crewe, with 80 per cent of their total area remaining intact.


World news in pictures
Show all 50
One protester, Blue Sanford, 18, from London, said: "I'm angry that the government is still effectively ignoring this crisis despite declaring a climate and ecological emergency two years ago.
"I'm in this tunnel because they are irresponsibly putting my life at risk from the climate and ecological emergency.
"They are behaving in a way that is so reckless and unsafe that I don't feel they are giving us any option but to protest in this way to help save our own lives and the lives of all the people round the world."
Construction work started in September on phase one of HS2 from London to Birmingham.
Phase 2a is planned to run from Birmingham to Crewe, and Phase 2b from Crewe to Manchester, and from Birmingham to Leeds.
Additional reporting by PA
[ad_2]

Source link