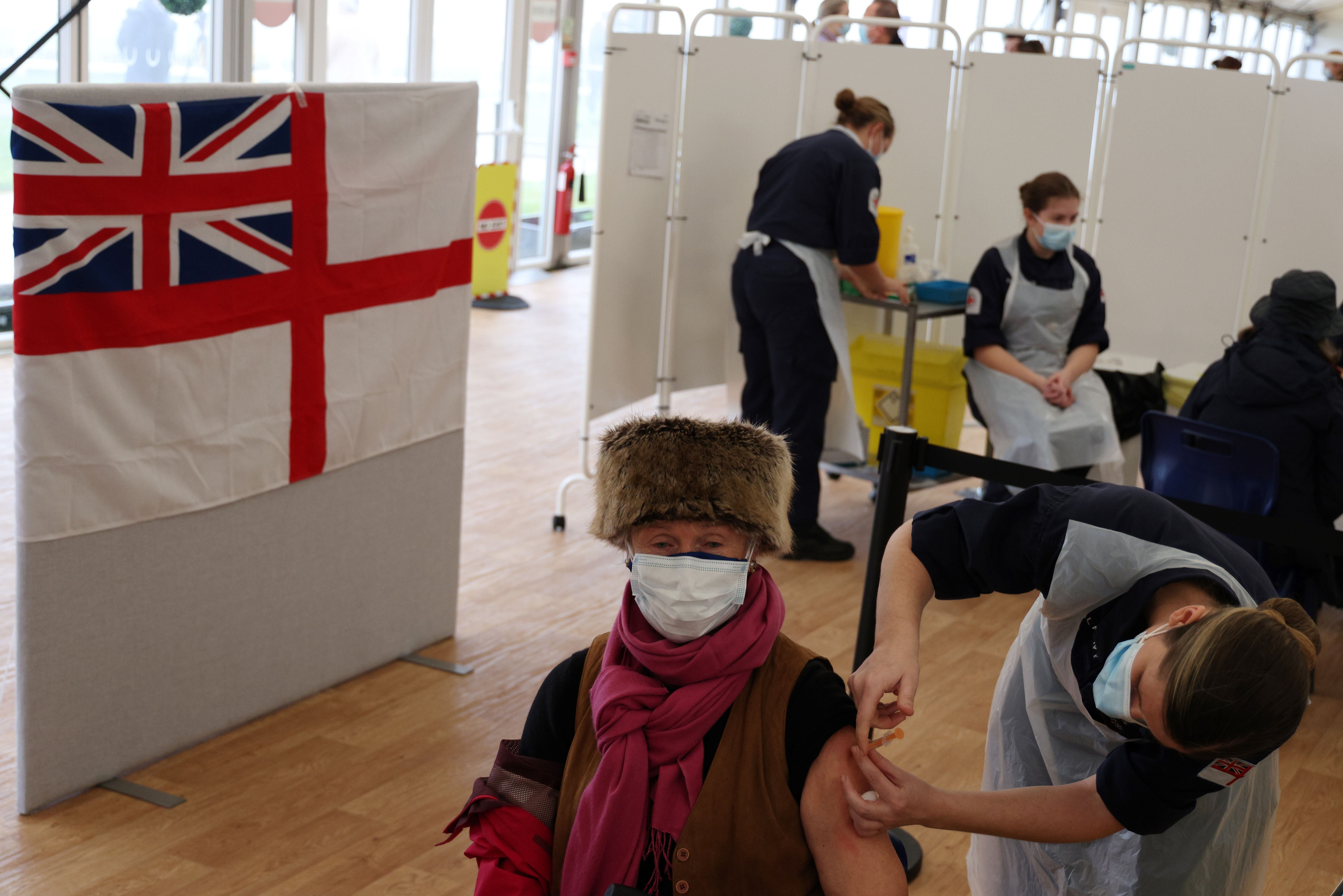 [ad_1]

Some people in their eighties and nineties in an area where a more infectious variant of coronavirus has been spreading still have not had a vaccination, even though younger people are already being invited for appointments in other areas.
Elderly people in the top priority groups in north and east Kent are worried they still have not been contacted about receiving a jab or have been asked to travel impractical distances.
Their fears were heightened on Wednesday when the Office for National Statistics said people infected with the Kent variant were more likely to suffer symptoms than those with the earlier coronavirus.
The mutated Kent variant is more likely to lead to symptoms such as cough, fever and shortness of breath but less likely to involve a loss of taste and smell, its report said.
The delays have sparked fears a bottleneck in the supply of the vaccines is behind the slow regional rollout.
Boris Johnson said he remained confident that the top four priority groups would receive a first jab by mid-February "if we can get the supply" of vaccines.
Those groups include everyone aged 70 and over and the clinically extremely vulnerable.
But he was challenged at Prime Minister's Questions by a Conservative MP over the slow rollout of the vaccine in Kent.
Calling for a mass vaccination centre in Medway, Rehman Chishti told Mr Johnson: "My constituents in Gillingham and Rainham and the wider Medway towns would like me to raise their real concerns with regard to the availability of the vaccine. We have constituents who are in their eighties, nineties who have not yet had the vaccination.
"Medway was one of the hardest hit areas in the country, and a mutant variant was discovered in Kent. North Kent has some of the highest health inequalities in the country."
North Kent had one of the highest infection rates for several weeks last year, and has 461 cases for every 100,000 people – above the national average, the BBC reported.
NHS figures show large regional variations in proportions of over-80s inoculated. Yorkshire and the northeast had the highest proportions of over-80s vaccinated, with 67 per cent having received their first vaccine dose.
The northwest has inoculated so many people that the region's supply will be cut by around a third next month, the Health Service Journal reported,  seemingly due to national shortages and the need for other regions to catch up with vaccinating priority groups.
Health secretary Matt Hancock has previously warned supply is the limiting factor.
Kent's first large-scale mass vaccination centre opened in Folkestone on Tuesday, but some eligible people are still waiting for invitations.
One man, aged 89, who lives on the east Kent coast and does not drive, on Wednesday was offered an appointment up to 100 miles away, in London or Sussex.
His wife, 86, who has late-stage Parkinson's disease and cannot leave the house, was offered an appointment at a surgery.
The housebound elderly need home visits to be given the AstraZeneca vaccine, because unlike the Pfizer jab, it does not have to be kept at minus 70C.
A 99-year-old grandmother from mid-Kent, who is also housebound, has been told she will not receive a vaccine for another month, according to her grandson, Greg Jenner.
"Every day is a gamble with unvaccinated people coming into the house. My dad has complained and desperately campaigned to get her out of this absurd situation, but to no avail. It's bonkers," he tweeted.
The government does not publish local data on the proportion of people vaccinated per head of population by district, county or city, but statistics show that in Kent and Medway 49,208 over-80s had had a first jab by 17 January.
Julian Spinks, a doctor and chairman of the Medway Practices Alliance, said GPs were working flat out vaccinating people but were dependent on whether they could get the vaccine.
"Often we are told at very short notice that we are having a delivery of vaccine, or worse – a delivery has been cancelled," he told BBC South East.
Mr Johnson said he shared Mr Chishti's frustration, even though the UK had the fastest rollout.
"We've vaccinated more than 80 per cent of those over 80 across the country and are looking certainly at a large-scale vaccination centre near him," he said.
The Independent has asked Public Health England and NHS England what is behind the slow rollout and whether visits to housebound people are being delayed.
A spokesperson for NHS Kent and Medway Clinical Commissioning Group said: "NHS vaccination teams across Kent and Medway have been making good progress, with services ramping up in recent weeks. We are working extremely hard to vaccinate everyone in the top four priority groups by mid-February.
"We now have GP-led services covering all areas, a large vaccination centre open with another coming next week, and pharmacies services starting this week and next."
[ad_2]

Source link