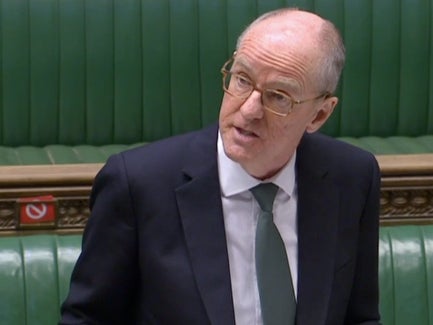 [ad_1]

A minister has avoided giving an indication of when schools will reopen following the latest coronavirus lockdown – but said the government will make "announcements" in the next few days.
Nick Gibb sidestepped a question on whether the government had ruled out a return after the half-term break next month, saying the government was relying on scientific advice, but avoiding the mention of any dates.
Pressed on plans for the full reopening of schools on Thursday, Mr Gibb did not offer any benchmark date but said the government wanted to open schools "as soon as possible".
Speaking to parliament on Thursday, Mr Gibb said: "The government recognises that headteachers, teachers, support staff, parents and carers need time to prepare for reopening, and that is why the secretary of state made it clear last week we will give two weeks' notices to schools, colleges and universities so they can prepare for a return to face-to-face education."
The schools minister added: "We want to give two weeks' notice so parents can make arrangements for care of their children. We will be making announcements in the next few days."
Mr Gibb did not offer any more information about what this announcement would include.
Gavin Williamson, the education secretary, is widely expected to confirm this week that there will be no return to the classroom after the February half-term break.
Asked whether he could offer reassurance a return after February half-term had not been ruled out, Mr Gibb said "no one was keener" to see all children back in school.
"We will be led by scientific advice when we make that decision," he said. "That will be how we best tackle the transmission of this virus in our communities."
When tackled on plans to reopen schools amid ongoing uncertainty over when children will go back, the schools minister said it was the government's "strong desire" to open education settings "as soon as possible".
"We will prioritise the reopening of schools as we begin the process of lifting lockdown restrictions," he said.
However, he made it clear the decision about how and when would be based on public health data, as well as scientific evidence and advice – including over hospital admision rates, mortality and the rate of vaccination.
Downing Street said Boris Johnson had not lost faith in Mr Williamson to do his job, after Mr Gibb was sent in his place to answer an urgent question on schools in parliament on Thursday.
"The Education Secretary continues to do a good job and continues to work closely with schools as we move through the pandemic," the prime minister's official spokesperson said.
They added: "It remains that we want to see children back in school as fast as possible, but we must do that in a way that is consistent with keeping the infection rate down."
Schools shut for all pupils except for vulnerable and key worker children in early January, as England went into its third lockdown.
Announcing the changes on 4 January, Mr Johnson said schools would go online for most students until at least mid-February.
Additional reporting by Press Association
[ad_2]

Source link