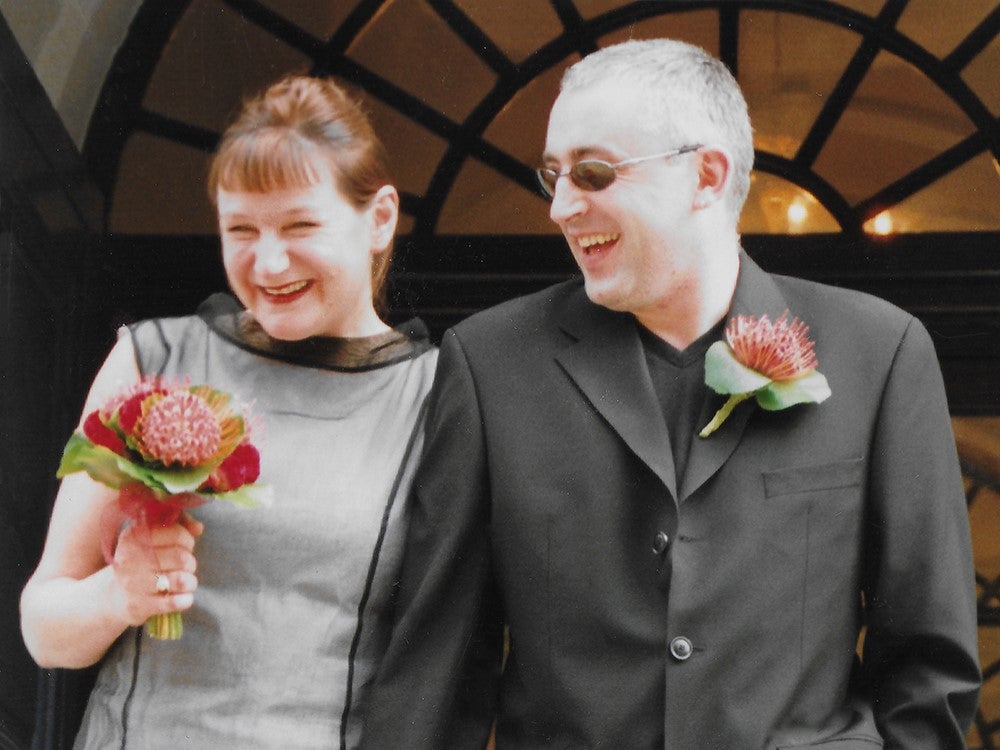 When Stephen* lost his wife to cancer two years ago, he found himself struggling to cope with the devastation. Small tasks felt impossible. Mustering up the energy even to make a cup of tea became a Herculean effort.
Yet 72 hours after his loss, he was expected into work as a teacher.
Bosses at his school made it clear he was required back in the classroom. After three days of compassionate leave, he was told he should, to all intents and purposes, continue as normal.
"He was on the floor," says Linda Magistris, founder of the Good Grief Trust, today. "But there was no empathy or even acknowledgement of what he was going through. It was his dream job and one he had dedicated his life to but he ended up quitting. It was absolutely devastating."
There is currently no legal requirement in the UK for employers to provide time off for anyone mourning the loss of a loved one, save for a child under 18.
Now, a new campaign hopes to change that.
An alliance of charities, pressure groups, cross-party MPs and employers have written to the government calling for two weeks statutory bereavement leave for anyone going through the death of a close relative or partner.
The signatories – including the charity Sue Ryder and the multi-national company Siemens – say the coronavirus pandemic has starkly highlighted the need for such a law.
Without it, they say, a ticking time bomb of future mental and physical health issues is being built in among people never given the opportunity to process their grief properly.
"You need that time," says Magistris, whose own partner Graham Theakston died from cancer six years ago. "You are going through a period of emotional turmoil – losing someone is the worst thing that can happen to a human being – and having to immediately go back to work with all the stresses that can bring is just not compatible with trying to work through that grief for many people. And the danger is – and the evidence suggests – that grief then becomes more destructive. It can have life-changing consequences that manifest themselves in anything from trauma and PTSD to alcohol abuse."
As it currently stands, the only people entitled to bereavement leave in the UK are parents who have lost a child under the age of 18. They get two weeks.
Enlightened employers – and there are many out there – do tend to go further than this and offer periods of compassionate absence for close relatives dealing with a death.
Yet there are countless horror stories told to charities like the Good Grief Trust of people who have not been shown such consideration: from the salesperson who phoned in work to say his wife had passed away only to be told he was still needed at a sales meeting the next morning to the NHS porter who got told she had to make her weekend shift or face losing her job.
When Julie Shepherd lost her husband Eric eight years ago, she was working as a medical sales executive. The company, she says, treated her well and gave her two weeks off. But the 52-year-old's death from a pulmonary hemorrhage had been entirely out the blue. After the fortnight was up, she told the firm she needed more time. The requirement for a post-mortem meant the funeral hadn't even taken place yet.
The firm's response was to say they could not continue without a sales executive – and terminated her contract.
"I understood their reasoning but it was a dreadful feeling," the 57-year-old of Newcastle says today. "I can't imagine how much worse that would have been if I had been told the same things after only one or two days. I understand some people have been through that. It's not right."
Lucy Herd has heard many such tales over the last 11 years.
In 2010 she lost her 23-month-old son Jack after he drowned in a pond. Soon after, she started campaigning to have the UK's bereavement laws changed. It is because of her that, today, parents who experience such tragedy are permitted time off. Colloquially, the 2020 legislation which enshrined this right is known as Jack's Law.
But Herd is still fighting: ultimately, she always wanted the legislation to apply to everyone who had lost a loved one.
"It is a scandal that we treat our mourning with such lack of empathy, and it is one that needs putting right," the 46-year-old tells The Independent.
Pertinently, she says, it has never been more important that this happens now.
The coronavirus pandemic made 2020 the deadliest year in the UK in more than a century with some 608,000 deaths recorded over the 12 months. For context, the only other time there have been so many recorded fatalities in a single year was during the Spanish flu pandemic of 1918.
"For every person who has passed away, there will be several people suffering immense grief," says Herd, who lives in Workingham, Berkshire. "If, as a country, we are not being enabled to process that right, the recovery will be so much harder. The problems will go on into the future ."
Coronavirus too, experts suggest, comes with a particular kind of trauma.
People who have lost loved ones to Covid-19 have generally been prevented from holding proper funerals. Often those left behind have had to isolate themselves, resulting in almost no human contact when it is needed most. Even the administration which inevitably goes with death – draining and difficult at the best of times – has been made harder in a country that is effectively operating in crisis mode.
"It's been an impossible situation," says Edwina FitzPatrick, whose husband Nik Devlin became the 250th person in the UK to succumb to the illness in March last year. "There is no frame of reference for losing your loved one in a global pandemic. It is beyond bewildering for this to suddenly happen to you."
The 59-year-old says she herself has been professionally fortunate in that the London university where she lectures gave her an initial two weeks compassionate leave and have since signed her off for further time away.
"I don't know what I would have done without that," she tells The Independent. "Knowing I could grieve properly, while keeping a job I love – and the income – that has been  so important."
She has since set up CovidSpeakEasy, a series of online support groups, in a bid to help others going through the same thing. "There is a huge need for help out there," she says. "We are a country in the depths of grief."
Importantly, those that actually suffer the most without any leave written into law tend to be those in lower income groups. Research by Sue Ryder shows that workers in less well paid jobs are more likely to be refused compassionate leave. Conversely, it is such employees who can generally least afford to take any time off unpaid and who generally have the lowest holiday allowances.
"They are also at higher risk of dismissal from work (for taking time-off, or not being able to concentrate on their work) adding to the chance of increased financial stress," the charity sates in it's report Grief In The Workplace.
The common argument, meanwhile, that bereavement leave would be too heavy a financial and bureaucratic burden on companies is also disputed by the charity's research. Rather, it suggests, giving workers time off in such situations actually saves their employers – and the country – money: £23 billio a year to be precise.
A period of leave would come at a short-term cost, it argues, but would ultimately slash long-term bills.
"We shouldn't underestimate the long term cost of not being allowed to have that tiny bit of space to grieve properly," says Elinor Jayne, head of influencing at Sue Ryder. "Without that, what we are talking about is people having to take more time off sick in the future, becoming less productive, or even giving up work completely and having to go on benefits. The argument for compassion makes itself – but there is also a real economic argument for this."
None of this would necessarily be easy, it should be said, and support is by no means universal.
Employment lawyers tend to suggest defining what constitutes a core relative would be difficult, while there is also concern that, because grief is experienced differently by everybody, one-size fits all legislation may result in some companies being less flexible than they are currently.
When asked if it supported the campaign, the Confederation of British Industry gave a reply which was, at best, ambiguous. "The loss of a loved one is unimaginably difficult," said Matthew Percival, director of people and skills policy. "Employers will want to support employees in this situation as best they are able to. This could include time off or other flexibility, as well as the extra mental health support initiatives that many employers have put in place during this crisis."
The Federation of Small Businesses declined to comment on the matter altogether.
For now, the government also appears unconvinced. When asked about the new campaign, a spokesperson for the Department for Business, Energy and Industrial Strategy, highlighted how the UK was the first country in the world to introduce a right to time off for the loss of a child.
"We urge employers to display compassion and flexibility towards employees facing the ordeal of losing a partner or close family member," they added.
Yet back with Magistris, these words only increase her detrmination to keep campaigning. – and certainly so given the current crisis.
"Covid has created layers and layers of complicated grief that we have never experienced before, certainly not in these numbers," she says. "We must make it so our employment laws are not compounding that grief even more."
* Stephen's name has been changed to protect his identity