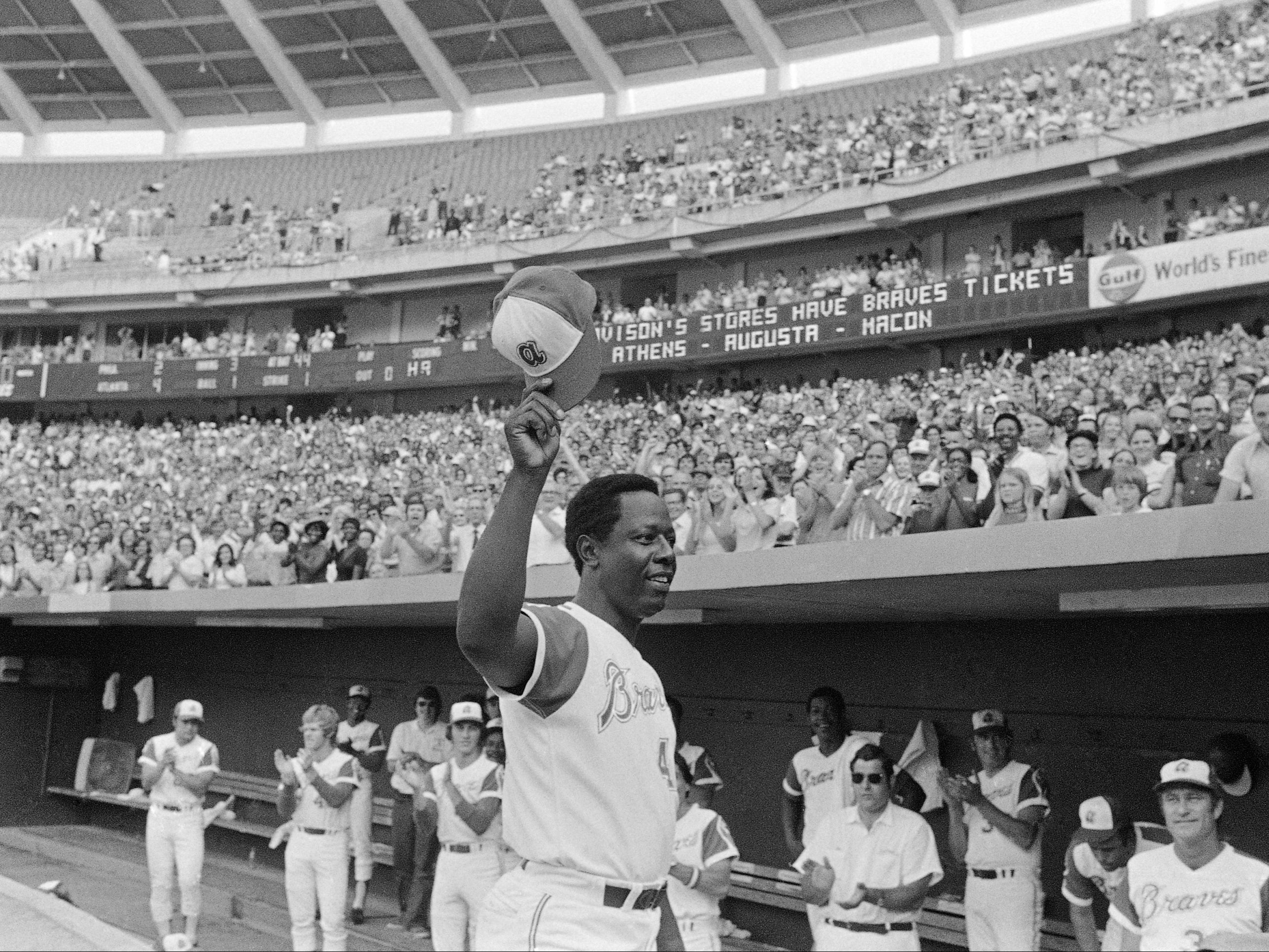 Former US President Barack Obama has led the tributes to legendary baseball player Henry "Hank" Aaron, who died at the age of 86 on Friday.
Aaron, who was African American, was born in a segregated neighbourhood in Mobile, Alabama, in 1934 and went on to become a baseball Hall of Famer while battling racism throughout his legendary career.
Aaron broke Babe Ruth's record 714 home runs in 1974 before finishing his career with 755, which stood as the all-time record for more than 30 years.
While attempting to break Ruth's record, Aaron faced death threats and hate mail from those who did not want a Black man to take the record from a white sporting hero.
Following his retirement, Aaron was inducted into the Baseball Hall of Fame in 1982 with 97.8 per cent of the vote from baseball writers.
In a statement to the Associated Press on Friday, Aaron's long-time team the Atlanta Braves revealed that he had died peacefully in his sleep.
Mr Obama led the tributes on Friday, tweeting that "Hank Aaron was one of the best baseball players we've ever seen and one of the strongest people I've ever met.
"Michelle and I send our thoughts and prayers to the Aaron family and everyone who was inspired by this unassuming man and his towering example."
In a longer statement released later in the day, Mr Obama wrote that the racism Aaron faced throughout his career "didn't stop him" noting that "after breaking the home run record, he became one of the first Black Americans to hold a senior management position in Major League Baseball."
Recently, Aaron and his wife Billye Aaron encouraged US residents to get the Covid-19 vaccine, and Mr Obama praised him for that effort, adding: "For the rest of his life, he never missed an opportunity to lead."
US President Joe Biden later paid tribute to Aaron, writing that each time he "rounded the bases, he wasn't just chasing a record, he was helping us chase a better version of ourselves — melting away the ice of bigotry to show that we can be better as a nation."
President Biden added: "He was an American hero. God bless, Henry 'Hank' Aaron."
Numerous other politicians and sport stars paid tribute to Aaron on Friday, with basketball legend Bill Russell writing that Aaron was a "true friend & pioneer" whose "contributions were much more than just baseball."
Georgia senator reverend Raphael Warnock, who was sworn into office on Wednesday, tweeted on Friday that he will "celebrate the life and mourn the passing of Hank Aaron."
He added that Aaron was a "sports icon who broke records on the field, while also breaking barriers in the field of civil rights and human relations. Flight #755 has taken off to the skies, his impact is etched into eternity."
Ohio senator Sherrod Brown wrote Aaron "was a legend on the field, a voice for civil rights, and a warrior for justice," while musician and actor, Common, tweeted: "RIP Hank Aaron. God Bless."
Georgia governor Brian Kemp revealed that the state would be flying flags at half-staff to honour Aaron, and added: "Many generations of Georgians continue to be inspired by his groundbreaking career and tremendous impact on our state and nation."