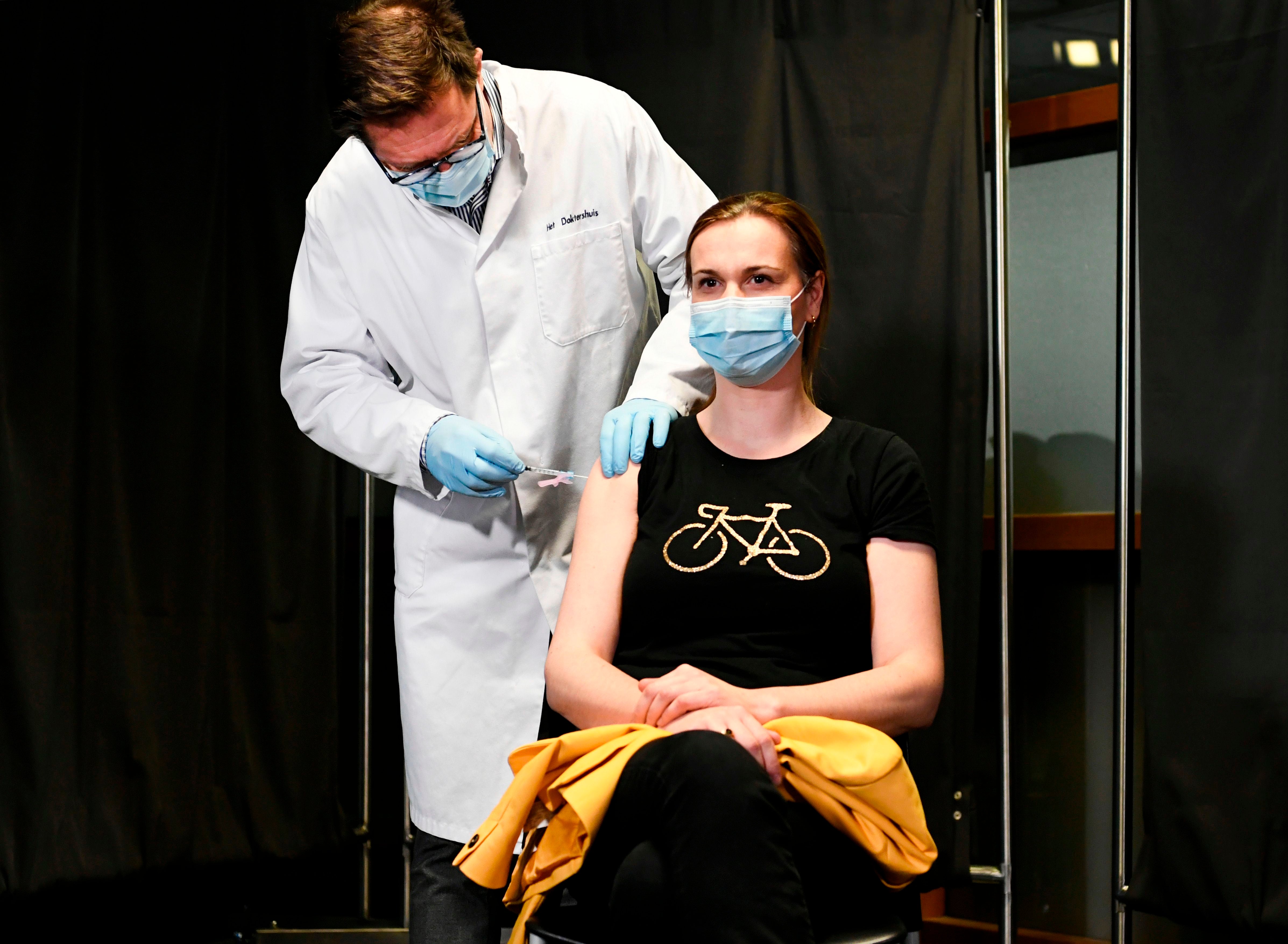 Hopes for a boost to the EU's ailing vaccine rollout have been dealt a heavy blow after AstraZeneca warned initial supplies of its jab would be lower than promised, as the bloc's leaders – largely at the mercy of pharmaceutical giants – grapple with mounting delays and frustration.
With neighbouring Israel and the UK among those pushing ahead with vaccination programmes, concerns over the lack of available doses in the EU were already acute on Friday when it emerged that deliveries of the British-Swedish pharmaceutical giant's jab would fall well below the figure expected.
EU leaders had been banking on arrivals of the AstraZeneca jab – due to be approved by the bloc's regulator next week – to energise its stilted vaccination drive, having been forced just days earlier to halt supply of Pfizer's vaccine to some member states after the firm said it was delaying shipments for several weeks in order to increase capacity at its Belgian factory.
But now just 31 million doses of the AstraZeneca vaccine are expected to arrive by the end of March, a senior official involved in the talks told Reuters – amounting to a 60 per cent drop on the 80 million doses reportedly promised previously.
Meanwhile, the continent is grappling with ways to counter the emergence of several more contagious variants and a surge of new infections.
Following EU leaders' first video summit of the year on Thursday evening, European Commission president Ursula von der Leyen announced the creation of new "dark red" zones to designate hotspots – which could face tougher travel restrictions, such as quarantines and mandatory negative test results.
With the meeting dominated by worries over vaccine supply shortages, European Council president Charles Michel said he still believed the EU should still hit its target of inoculating 70 per cent of its adult population by summer.
While the 27 member states appear largely prey to the whim and fortune of vaccine manufacturers, Italy and Poland have both raised the threat of legal challenges if Pfizer fails to deliver the number of agreed doses.
Within the bloc, there have been calls to reduce bureaucracy in order to speed up the process, despite the leaders of multiple member states issuing messages of unity and continued support for the EU's broad vaccination strategy following Thursday's meeting.
On Friday, Estonia, Latvia and Lithuania amplified existing calls for the European Medicines Agency to expedite regulatory approval of AstraZeneca's jab, with the leaders of all three Baltic nations writing on Twitter: "Precision of procedures matters. But so does speed. The delays cost lives."
And Politico reported that during the videoconference, Denmark's prime minister Mette Frederiksen had urged EU officials to consider distributing doses of AstraZeneca's jab to member states ahead of regulatory approval, prompting warnings from fellow leaders of possible legal ramifications.
Mr Michel was later quoted as saying: "All possible means will be examined to ensure rapid supply, including early distribution to avoid delays."
It came as Hungary threatened to undermine EU solidarity by inking a deal with Russia for two million doses of its Sputnik V vaccine, becoming the first European nation to buy Moscow's jab.


World news in pictures
Show all 50
Viktor Orban's government is also in talks with China over its Sinopharm jab, which is already being used in neighbouring Serbia, despite Beijing's lack of transparency over late-stage trials.
Meanwhile, the European Ombudsman announced on Friday that it is investigating the secrecy with which the EU executive is handling vaccine supply contracts.
It follows a refusal by the Commission to share details of its contract with AstraZeneca with the Corporate Europe Observatory campaign group.
Despite the bloc facing its own widespread shortages, Ms Von Der Leyen also proposed on Friday that the EU should set up its own system to help ailing international efforts – such as the UN-backed COVAX scheme – to ensure vaccinations reach the world's poorest countries.
"As there is a global rush to vaccines, there is thus a shortage," Ms Von Der Leyen said. "I have suggested an EU mechanism to share access to some of our vaccines until COVAX is able to deliver poor countries with large quantities of vaccines."
"In a couple of months in Europe we will have more doses than we can use," she added.