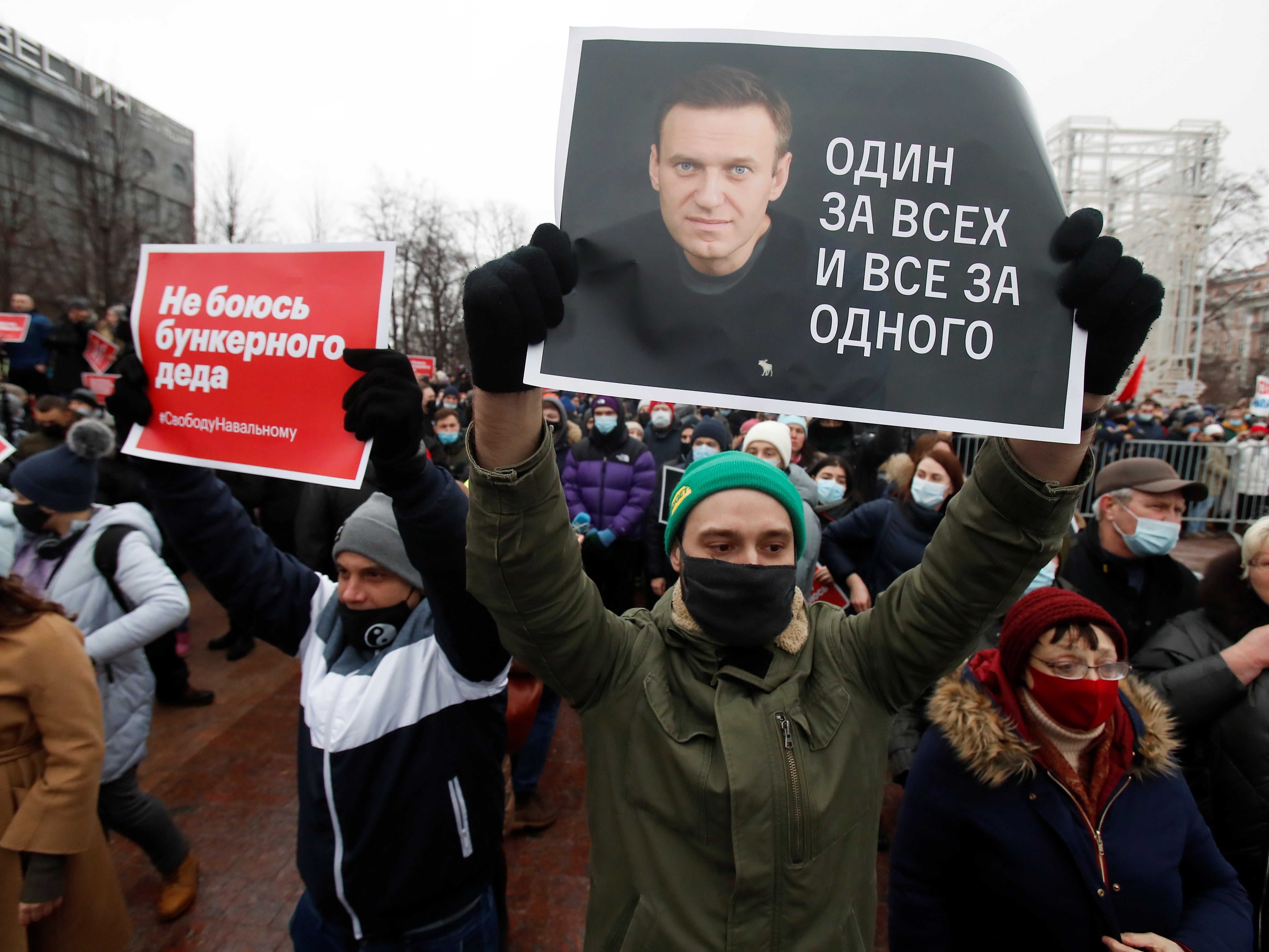 Hundreds of protestors have been arrested in Russia during nationwide demonstrations in support of jailed opposition politician Alexei Navalny.
Thousands turned out in cities across the country – some in temperatures as low as minus-50 C – to demand Vladimir Putin's most prominent critic be released from prison.
The Russia Of The Future party leader was detained on Sunday after he flew back to Moscow from Berlin, where he had been recovering from being poisoned with a nerve agent last summer.
More than 800 protestors were arrested in protests in the Far East and Siberia on Saturday, according to the monitoring group OVD-Info.
Footage released by the AFP news agency, meanwhile, showed riot police in one city, Vladivostok, running into a crowd, and beating some of the protesters with batons.
The brutal response – which had been promised by authorities – came as protesters took to the streets of almost every major eastern city including Yekaterinburg, Yuzhno-Sakhalinsk and Yakutsk, where the temperature was minus-50.
It is thought the numbers turning out may make this the biggest protest in Russia since 2017.
But the numbers detained look only set to grow throughout Saturday with major demonstrations now underway in western cities including Moscow and St Petersburg.
In the capital, itself, thousands of people have converged on the city's Pushkin Square – despite a police public-address system warning not to gather.
Helmeted riot officers could be seen sporadically grabbing participants and pushing them into police buses, while large metal fences have been erected.
The country's internet and mobile phone networks appear to have disrupted coverage, although it is not known if this is linked to the unfolding events.
Unauthorised protests are effectively illegal in Russia and police warned in advance of Saturday's events that demonstrations would be "immediately suppressed".
Authorities have already arrested several of Mr Navalny's closest allies, including spokeswoman Kira Yarmysh, in the run up to the demonstrations.
Others detained include two lawyers and a top investigator who helped him to prepare an investigation into a £1bn palace on the Black Sea which they claim was built by Mr Putin's using illicit funds embezzled from the state. As of Friday, the video of the investigation had been watched 50 million times online.
Navalny himself has been one of President Putin's most persistent – and popular – opponents over the last decade.
The 44-year-old has been repeatedly jailed, often in connection with leading protests but twice for cases of financial misdeeds which he said were politically motivated.
Last August, he fell into a coma while aboard a domestic flight from Siberia to Moscow. He was transferred from a hospital in Siberia to a Berlin hospital two days later amid fears – later proven – that he had been poisoned.
Labs in Germany, France and Sweden, and tests by the Organization for the Prohibition of Chemical Weapons, established that he was exposed to a Soviet-era Novichok nerve agent.
Russian authorities insisted that the doctors who treated Navalny in Siberia before he was airlifted to Germany found no traces of poison.
He was arrested on his return to the country last week, immediately taken into custody and found guilty of violating parole conditions.