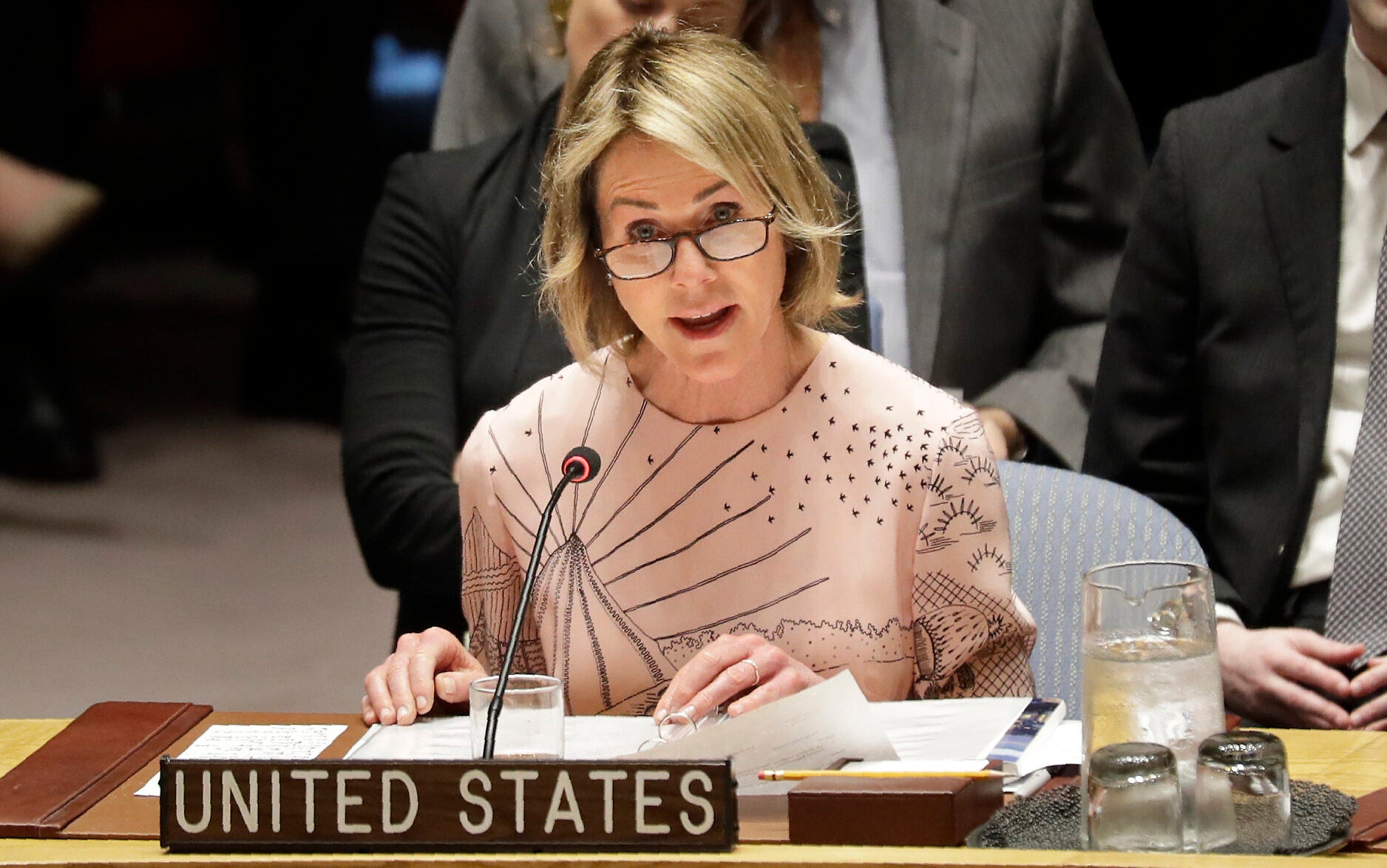 Donald Trump's outgoing UN ambassador Kelly Craft, in one final swipe at Beijing, said the time is right for countries to stand against China's efforts to isolate Taiwan.
"The time is right for nations of the world to stand as one in opposition to the PRC's (People's Republic of China) efforts to exclude and isolate Taiwan. All [UN] member states should recognise the benefits of Taiwan's meaningful participation in international organisations and the damage done by its continued exclusion," tweeted Ms Craft.
To emphasise the message and the US's support for Taiwan, Ms Craft posted a tweet with her own picture in the UN general assembly hall, holding an open handbag with a stuffed Taiwan bear sticking out of the top. The bear was a gift from Ambassador James Lee, who is Taiwan's representative in New York.
In another tweet, the outgoing ambassador said that the "US enjoys a strong bond with Taiwan, rooted in shared values and a shared vision for peace, prosperity & security."
"This relationship will continue to grow and strengthen. We will continue to call for an appropriate role for Taiwan on the global stage," said Ms Craft.
As expected, the tweet drew criticism from Beijing.
"Without prior notice to the UN, you sneaked into the GA (general assembly) hall to record the video. You have not only violated the guidelines for the use of UN premises but also broken the rules for prevention of Covid-19. You're spreading virus literally. Time to stop!" tweeted a spokesperson of the Chinese mission to the UN.
China considers Taiwan a renegade province and anyone supporting its autonomy attracts serious criticism and action from Beijing.  At the same time, Taiwan has been trying to assert its autonomy and maintained a relationship with countries like the US – something that deeply irks China.
During Donald Trump's presidency, Taiwan's relations with the US witnessed an upswing. The Trump administration defied warnings from China and has repeatedly voiced support for Taiwan.
Earlier this month, the then secretary of state Mike Pompeo had lifted restrictions on contacts between  US officials and their Taiwanese counterparts.
Ms Craft had met Taiwan's New York representative in September and was all set for a visit to Taipei last week, but her trip was cancelled after Mr Pompeo banned all travel. She instead held a virtual meeting with Taiwan's president Tsai Ing-wen on 13 January and assured that the US "will always stand with Taiwan."
In her last statement as the US's ambassador to the UN on Tuesday, Ms Craft emphasised that the US position on Taiwan "enjoys universal bipartisan support" while assuring that even under the Biden administration the US-Taiwan relationship will continue to grow and strengthen.
To reiterate that support, Ms Craft finished her last statement with a remark: "As my posting at the UN comes to a close, my mission will not be complete until the people of Taiwan have a voice."
Additional reporting by agencies