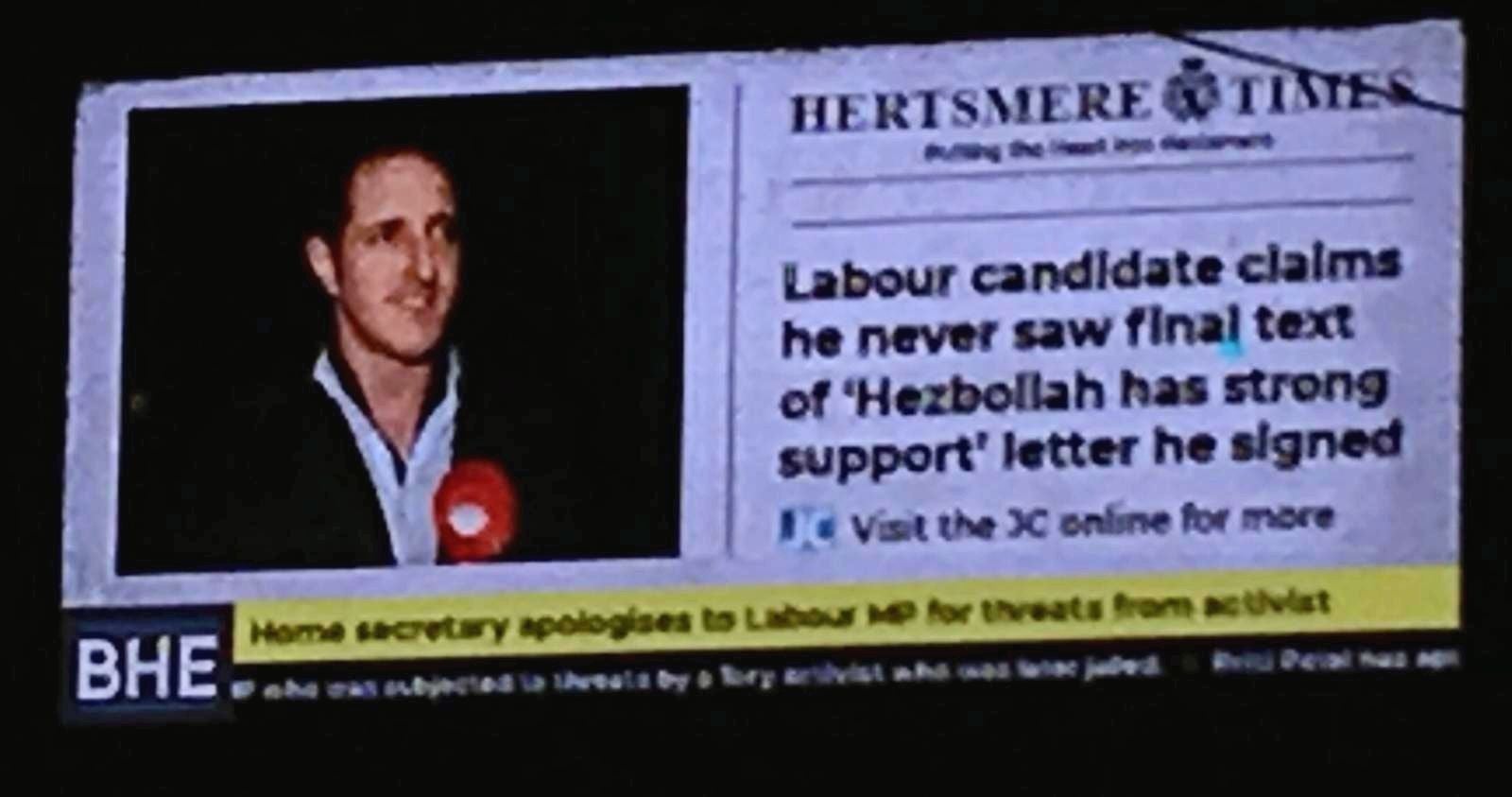 Dan Ozarow made a complaint after local Conservatives in Hertfordshire allegedly distributed campaign material implying that he supported Hezbollah, while a senior councillor put his face on an electronic billboard alongside a mocked-up newspaper headline linking him with the militant Islamist group.
University lecturer Dr Ozarow says the allegations sparked abuse on social media telling him to "go to the gas chambers", branding him a "Jew-hating Jew" and a Nazi and saying he "lacked a Jewish soul".
After the allegations emerged, he won the support of the president of the Board of Deputies of British Jews, Marie van der Zyl, while Labour's former general secretary Jennie Formby wrote to the Conservatives demanding action against any councillors found to have taken part in abuse.
Conservative councillor Sandra Parnell apologised after calling Dr Ozarow one of "the worst antisemites" in an election-time social media post.
But no inquiry was launched in response to Ms Formby's letter in April last year, as Conservative chief executive Darren Mott said more details of the allegations were needed.
After Dr Ozarow supplied the party with a dossier of evidence, he was told by Ms Milling on Tuesday that an investigation would now be launched.
"I have passed this matter onto our Code of Conduct Team who will investigate this matter fully," she wrote.
Dr Ozarow told The Independent: "I am pleased that the Conservative Party has agreed to formally investigate Hertsmere Conservatives and several of their councillors over allegations that they made antisemitic remarks and threats against me and my family.  "No one should be subjected to that, simply for wanting to make their community a better place for residents to live in, whatever their background is.
"The Conservatives have held Labour to account over antisemitism in recent years. This will be a litmus test for whether they are prepared to deal with allegations of antisemitism in their own ranks."
The allegations emerged from a a bitterly-contested by-election battle for a vacant seat on Hertsmere Council in February 2020.
Leaflets bearing an official Conservative logo and the picture of candidate Brett Rosehill drew attention to a Jewish Chronicle article about a joint letter signed by Dr Ozarow at the time of Jeremy Corbyn's 2015 leadership campaign, which said that the veteran MP had "nothing to apologise for" in having met representatives of Hamas and Hezbollah.
An electronic billboard ad displayed outside a busy station in Borehamwood in the days before the election showed Dr Ozarow's picture alongside a mocked-up newspaper account of the letter.
Also signed by activists including anti-Zionist campaigner Tony Greenstein – later expelled from Labour for abusive behaviour – the letter stated: "Hamas was democratically elected in Palestinian elections generally accepted as fair, and Hezbollah also has strong electoral support in Lebanon."
Dr Ozarow told the Jewish Chronicle he had not been aware of the identity of all his co-signatories and had not seen the final text of the letter sent to the press. He told the paper he believed he was "signing a plea for fair coverage during the leadership contest".
Speaking at the time of the election, he accepted he had been "naive" to sign the letter without checking the details, but told The Independent he felt "enormous trauma" as a result of the way it was used in the election campaign.
But Tory councillor Paul Morris, who owns the billboard, told The Independent at the time that he was legitimately drawing attention to an issue of interest to voters.
"All I did was to cut and paste the headline from the original Jewish Chronicle online article, including the JC logo and adding a note to say for more information people should go to their web page," he said. "It wasn't a Conservative billboard, it was the Hertsmere Times, which I own.
"The Chronicle article related to something which he was involved in and which he acknowledges. I don't know where they got their story from, we just saw it and told people that there was a story there, in exactly the same way that he would use whatever information he has in the way he thinks best."
The Conservative Party made no immediate response to a request for comment on the investigation.