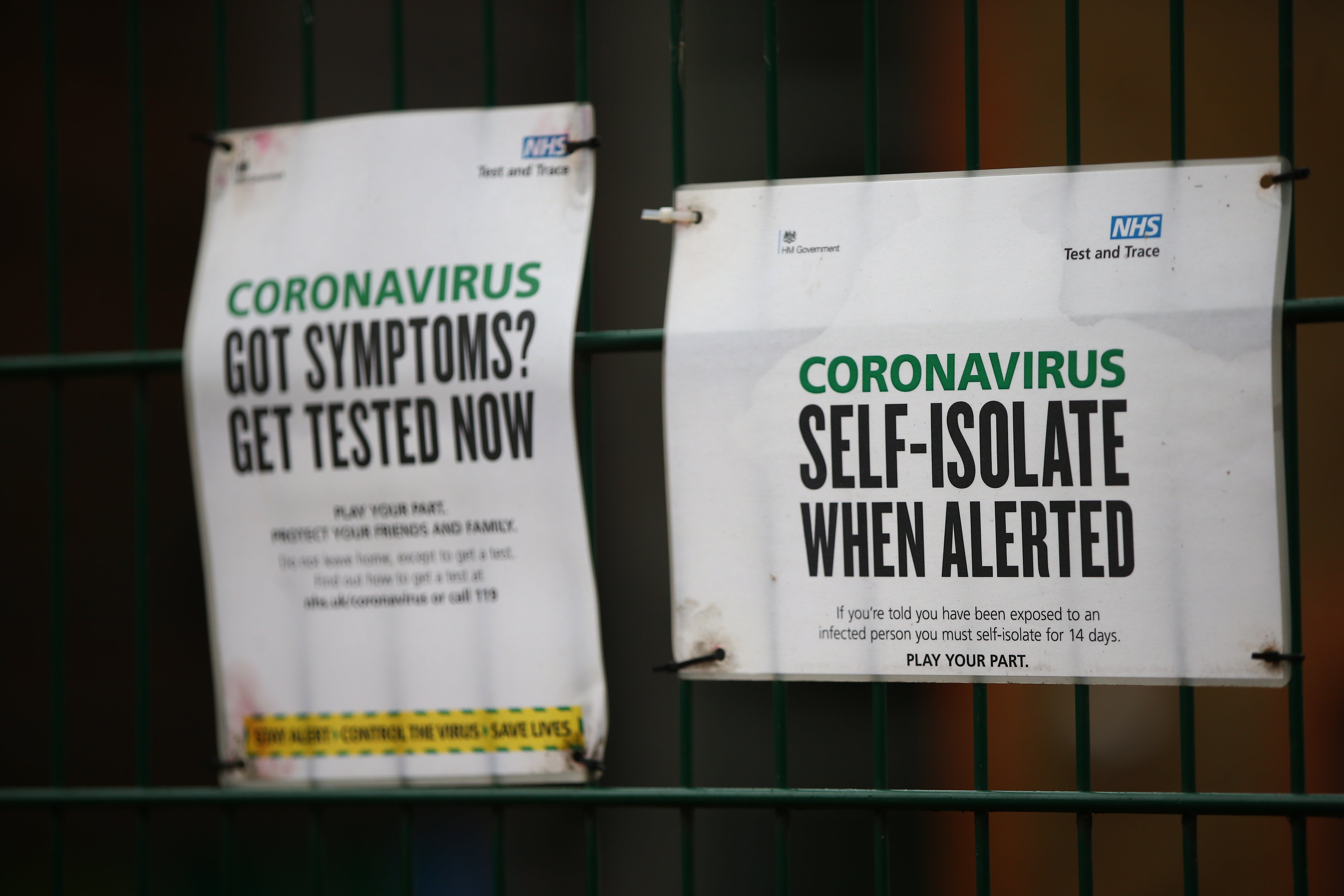 I
n response to the concerns that many people are failing to self-isolate for 10 days when they get Covid, the health secretary, Matt Hancock, has apparently been pushing for the government to give a one-off and automatic £500 payment to everyone who displays a positive test.
The prime minister's spokesperson says the government has "no plans" to adopt the policy and sources at the Treasury seem to think it is a "mad" idea. But should ministers be resisting the proposal?
What other financial options are there, if not this, for the state to encourage self-isolation?
It's important, first of all, to consider whether a lack of money is the reason for the lack of compliance with the isolation requirements, or (just as dangerous) a hesitancy among some to get tested in the first place.
We have no definitive evidence to support this, but a large-scale study by researchers at King's College London in September 2020 did find that low adherence to isolation requirements (just 18 per cent reported doing fully self-isolating) was associated with financial hardship.
And it's a reality that our Statutory Sick Pay (SSP) regime is among the least generous in the world at just £95.85 a week, only a fifth of average earnings.
A survey by the Trades Union Congress also published last September found 43 per cent of workers saying they would not be able to live on the current levels of SSP for 10 days.
And that's assuming they would qualify for it. SSP is only available to those who earn an average of £120 per week and to those who are formally employed, leaving out the roughly 14 per cent of the UK workforce which is self-employed.
The government did introduce special Test and Trace Support Payments worth £500 last September, but they are only available to people on benefits and who cannot work from home.
Councils have been given discretionary pots of money to distribute to those formally ineligible for the £500 payments on a case-by-case basis, but these pots have not, in many cases, been large enough, meaning in that parts of the country a majority of applicants have been turned down.
Indeed, information from councils shows three quarters of all the 49,877 applications in England were rejected between in the final two months of 2020.
"The amount of money local authorities got was not depend on the number of infections in their area, it just depends on the typical formula for giving out money," explains Mike Brewer of the Resolution Foundation.
So it's at least highly plausible – if not likely – that a lack of state financial support is discouraging self-isolation and, indirectly, exacerbating the spread of the epidemic.
But is this particular £500 automatic scheme proposal the right way to change the balance of incentives?
Some have noted the cost, which could run into hundreds of millions of pounds a week at the current rates of positive tests (more than 280,000 over the past week).
But it's vital to consider the benefits too. If the payments helped the state to suppress the virus sooner, these payments would be dwarfed by the economic benefits.
In the Office for Budget Responsibility's downside scenario from November long-term UK economic scarring from high economic restrictions until the middle of this year is 3 per cent of GDP, or around £60bn.
Medium restrictions until Spring would result in no scarring at all. If isolation payments help the government suppress the disease more rapidly and reopen the economy sooner this will almost certainly be an investment that will pay for itself many times over.
However, some have wondered whether a one-off £500 payment could create perverse incentives. Given the size of the payment relative to average wages (the median weekly average salary was £585 in 2019), some low earners might, conceivably, be tempted to deliberately expose themselves to the disease to secure it.
Whether this would be a large problem, given the serious health risks, is debateable.
But if we accept, hypothetically, that it is a danger, what other options are there?
One possibility, as recommended by the Resolution Foundation, is allowing firms to put workers required to self-isolate on the furlough scheme, where the government picks up 80 per cent of the wages up to a £2,500 a month cap.
Yet the problem here is that a minority of employers seem to be unscrupulous. Research by the Royal Society for Arts found that many workers had been pressured back into their workplace, and one in 10 of those doing insecure work, such as zero-hours contracts and agency or gig economy jobs, reported they had been to work within 10 days of a positive Covid test.
So relying on employers might in itself by hazardous. There's also the problem that only formal employees can be furloughed, leaving out the large population of self-employed.
The trade unions have been calling for most of the past year for the level of SSP to be considerably raised. This would help improve financial incentives, but it would probably not be sufficient on its own as this scheme too is administered by employers.
A comprehensive scheme to support self-isolating workers would clearly need to support both employees and the self-employed. The simplest method of reaching the latter, in the end, might be simply to make the Treasury funds available to councils to distribute £500 to those deemed to be in need unlimited.
"It must be possible to devise something between the current very restrictive [system] and payments to everybody", says Mr Brewer.
What frustrates analysts is that it's taken the government so long to start addressing what has been a glaring weakness in the system for almost a year.
"The annoying this is that it's January now, it's been going for 10 months and the government hasn't given this any more thought than they did in the first week," says Mr Brewer.