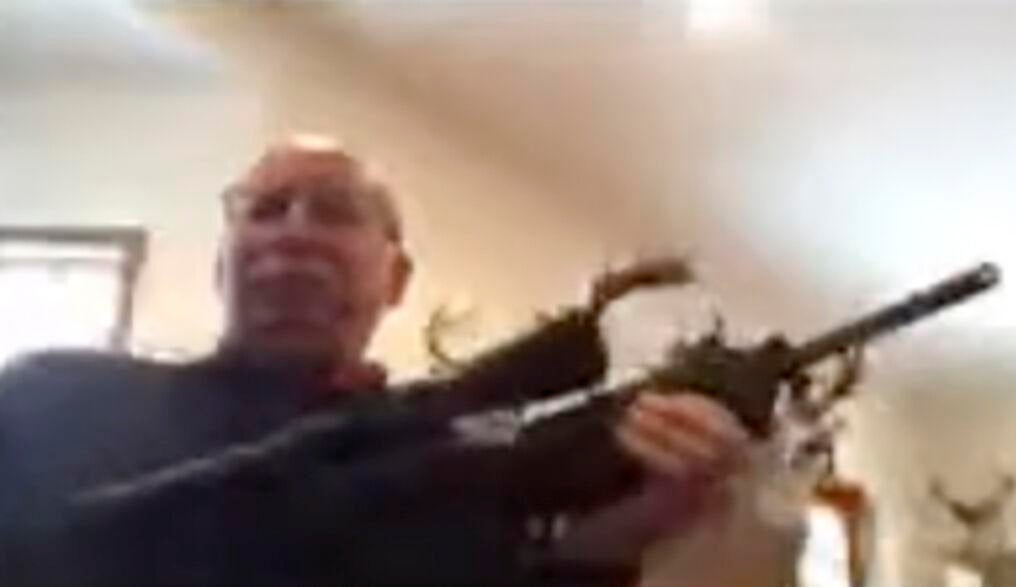 A Republican county commissioner in Traverse City in northern Michigan picked up a rifle and held it in front of his webcam in response to a woman asking the county to denounce the Proud Boys during a live-streamed public meeting.
Around 100 people have signed a letter calling for Grand Traverse County Commissioner Ron Clous and commission Chairman Rob Hentschel to resign after the incident.
The author of the letter, Traverse City lawyer Michael Naughton, told the Traverse City Record-Eagle that "a public official acting in a public capacity brandishing a weapon to a person making public comment is anathema to our Constitutional rights".
Commission Chairman Rob Hentschel said the action in that context was "not threatening" and added: "I think if a person sees a gun and regardless of context feels intimidated, I would be concerned for their mental health."
It was during a meeting on Wednesday that Mr Clous said he was responding to Keli MacIntosh from Traverse City who was commenting on a second amendment resolution passed by the board in March and challenged what she said was the board's support for the far-right group the Proud Boys. Ms MacIntosh asked commission Chairman Rob Hentschel to denounce the group. That's when Mr Clous stepped away from his computer and sat back down holding what appeared to be a kind of hunting rifle.
The March resolution says the county cannot use taxpayer dollars to restrict Second Amendment rights.
She said: "This guy is in the middle of a government meeting brandishing a weapon. Why would I not think they were trying to harm me?"
Mr Clous told the paper that "I was just going to show the rifle and show that I fully support the Second Amendment."
Mr Clous added that he won't denounce any group regardless of political affiliation but also said that when he met with members of the Proud Boys at the meeting about the second amendment resolution in March "they were probably the most respected folks that got up and talked. They were decent guys and they treated us with respect."
The group has recently been a part of violent protests in Washington DC, and members of the group have been arrested after the storming of the US Capitol.
Bridge Michigan politics reporter Jonathan Oosting tweeted that Mr Hentschel laughed at the incident.
Mr Hentschel told the Traverse City Record-Eagle: "I saw it across his chest and I thought it was ironic of him to do that. The person was talking about guns and he had one across his chest. I didn't see him do anything illegal or dangerous with it. He wasn't threatening or brandishing. He was just holding it."
Local lawyer and activist Holly Bird told the Traverse City Record-Eagle that she thought the actions of Mr Clous were "supportive of the Proud Boys and the insurrection, but also a threat. Everyone knows that if you're walking down the street and someone flashes a gun at you, it's a threat. To have a public official do that during a public meeting is horrendous."
Commissioner Betsy Coffia told the paper that she was inundated with calls from constituents during the incident. "It was deeply disturbing, wildly inappropriate and needs to be investigated," she said.
Two people who said they were members of the Proud Boys attended the March 4 meeting in support of the pro-gun resolution.
Local resident Kate Dahlstrom sent an email to members of the board asking them to confirm that they were not members of the group and during the meeting on Wednesday asked that the resolution be rescinded and for an apology to be issued by Mr Hentschel for the presence of Proud Boys members at the meeting in March.
While Mr Hentschel said he was not a member of the group, he also said "I do know a few Proud Boys. I've met Black Proud Boys, I've met multi-racial Puerto Rican Proud Boys and they inform me they also have gay Proud Boys. I don't see how that's a hate group."