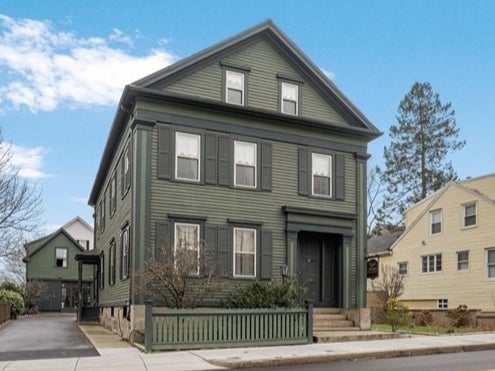 A haunted hotel where one of the most famous unsolved murders in the US took place 130 years ago has been put up for sale for $2million — and the brutal killings are a key selling point.
In 1892, Sunday school teacher Lizzie Borden, 32, was accused of burying a hatchet in the skulls of her wealthy property developer father and step-mother at the luxurious home they all shared in Fall River, Massachusetts.
While most buyers might baulk at the idea of a home where the mutilated bodies of Andrew and Abby Borden were found, realtors for the Lizzie Borden Bed & Breakfast are actively appealing to those who are interested.
"'Axe' me what's coming on the market?" wrote realtor Suzanne St John, in a comment underneath an Instagram post calling the 19th century Greek Revival a "turn key" opportunity for $2,000,000.
In the listing for the New England tourist attraction, St John wrote: "Picture yourself serving fun hatchet cookies, tiny johnny cakes and a scrumptious breakfast to overnight guests who have just enjoyed an experience of a lifetime!"
Whilst the tone may seem jaunty or macabre, the agents are complying with a real estate law in the state that forces them to reveal a property's gruesome background.
Four states in the US have disclosure laws about paranormal activity including New York, New Jersey and Minnesota.
The case behind the Borden house is one of America's most notorious mysteries.
In 1893, Borden was tried, but unexpectedly acquitted, in a national media sensation, leading to a general outcry from a public convinced she was guilty.
The story about the nice, middle-class, female 'murderer' from New England seeped into popular culture, and was turned into a 2015 Netflix series starring Christina Ricci, a 2018 feature film featuring Chloe Sevigny and Kristen Stewart and even the Simpsons in 1993, where Borden appeared on a Jury of the Damned alongside John Wilkes Booth who assassinated President Lincoln in 1865.
But whilst Borden was left a (wealthy) social pariah until her death in 1927 aged 66, the house's popularity has only grown.
After being turned into a bed and breakfast in 1998, tourists were invited to relax in the living room where Andrew was slashed to death on the sofa, or sleep in the guestroom where Abby's body was discovered.
"The furnishings retain their rightful place, the décor has been painstakingly duplicated, and the original hardware and doors are still intact," the website claims.
It adds: "Artifacts from the murder case are displayed while memorabilia from the era line shelves and mantel tops. A visitor is literally transported back to that morning when a perfect storm of events culminated in a double murder."
Last year it was included on a list of 'Top Ten Haunted Hotels in America' by USA Today, as well as one of the 'creepiest' places in the state by Thrillist.
For the hardcore Borden fans, the sale could also be wrapped up with the Victoria  property nearby where Borden moved with her sister after the murders, and which was listed for $890,000 since last September.