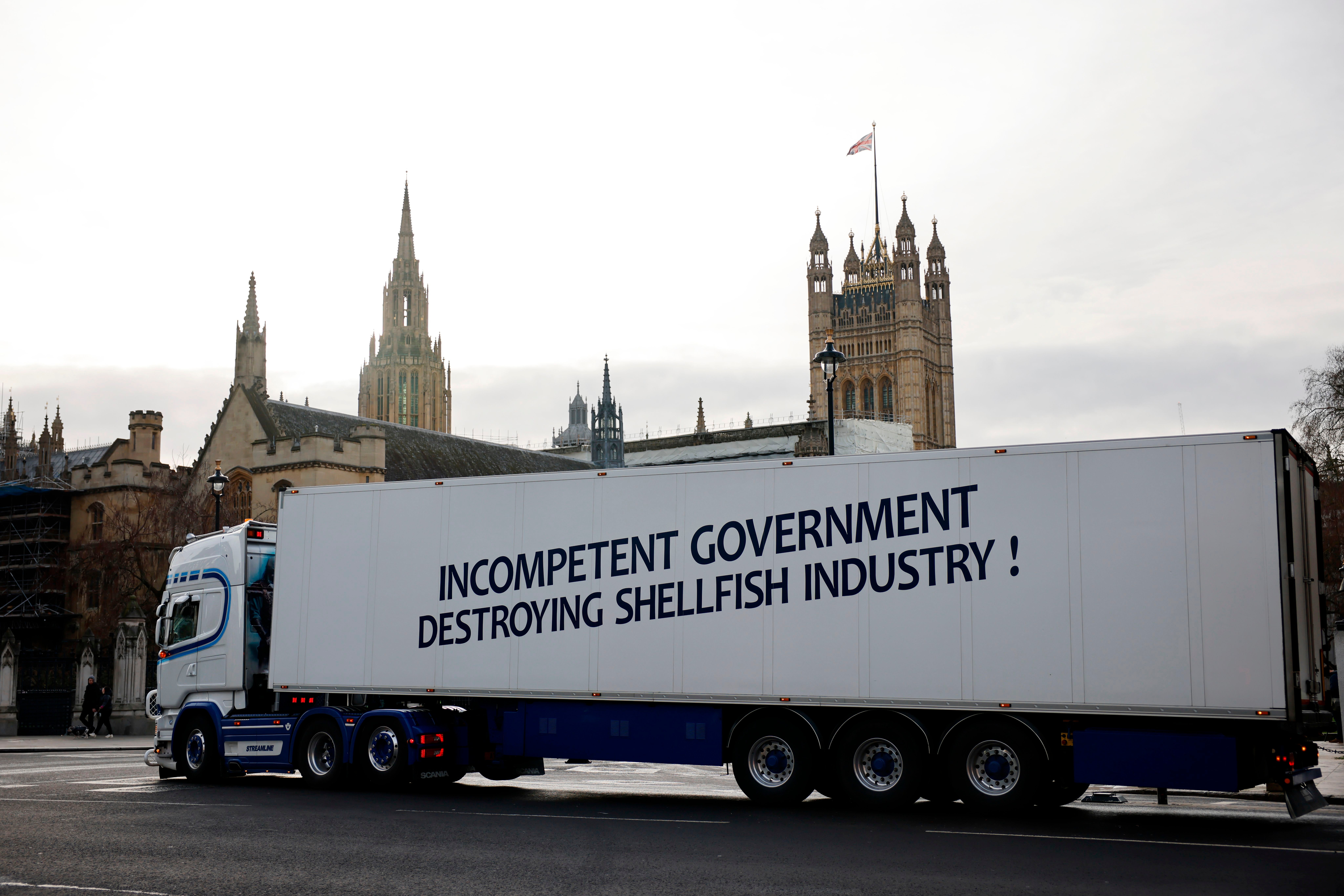 It was maybe not quite as good as "that bus" but, as photo ops go, Nigel Farage and Kate Hoey perched on the front of a trawler sailing up the Thames was pretty memorable. It was always going to be difficult to make a sequel to Titanic but Nigel and Kate made a decent fist of it, promising our fishermen a "sea of opportunity", a slogan happily taken up by Boris Johnson since.
It was an act, but fishermen, desperate from years of being ignored and left to decline, wanted to believe in it. For decades fisheries management in the Common Fisheries Policy has been remote and poor. Their desperation was understandable – even if old hands in the industry knew that delivering these promises would require political will of the sort never previously evident.
Fast forward to this month and the pictures were very different. Many of our boats have been tied up in port – unable to go to sea as their route to markets in the EU were fastened shut by Whitehall bureaucracy and red tape. The lucky ones, big enough to make the seventy-two hour round trip, have been landing their catches in Denmark instead.
Of the Brexit campaigners and their promises there was little sight. They had used the desperation of our fishing industries and the communities that rely on them, they had got what they wanted and they had no further use for our people.
It is difficult to reach any other conclusion than that our fishermen were scammed. The prime minister mumbled vague promises of compensation when confronted in a Commons committee and left his subordinates to match a hasty, defensive answer with reality. Now the government says there will be support, but there is no detail, and many fear this support will be insufficient – and bound in red tape and restrictions.
The current fisheries minister (in fairness, never a Brexiteer) sought to push the blame for the broken promises onto the fishermen themselves for "dreaming big".
Fisheries management is a complex business. It is a minefield for the unwary or the inexperienced, the last place you would send a flyaway Bullingdon alumni to negotiate if you wanted a sensible outcome.
Unfortunately, as the clock ran down towards Christmas and the prospect of a disastrous No Deal Brexit loomed, Boris Johnson is who they sent.
Those closer to the negotiation will tell you that Europe adviser David Frost and his team understood their brief. That counted for nothing when the PM came to town and took back control. Come Christmas Eve, Johnson declared himself a conquering hero.
A few days later and the first rumblings of disquiet could be heard. Fishing leaders got out the magnifying glass and read the small print. They were horrified at what they found.
On key catches, the prime minister's boast of an increased share quickly fell flat. In reality he somehow delivered a cut on what our fishermen had been previously allowed to catch. Somehow Boris Johnson had achieved a deal worse than the hated Common Fisheries Policy. A perverse kind of Christmas miracle perhaps.
Eight brief days later and the New Year brought a brave new world for our fishermen. The once-seamless business of exporting fish from Shetland, right at the top of Scotland, to France, Spain and beyond was suddenly tied up in red tape.
Implementing a deal of this complexity at eight days' notice (including Christmas and New Year) ought to have been for the birds. A grace period for perishable goods would have been common sense for all. Such details, alas, are not for Boris Johnson.
Indeed, the deal did include grace periods for EU companies exporting into the UK and even for goods going between Britain and Northern Ireland – but not for goods being exported from the UK into the EU. For trade in fish, where freshness commands a premium, this has been fatal.
Nobody likes to feel used. Delivering on the sweeping promises made to fishermen was always going to require massive political will, political will that Boris Johnson and his Vote Leave gang never intended to work for.
Unable to get fish to market because of our own government's incompetence, there is growing anger in coastal communities about these broken promises. As the realisation sets in that they have been used for a bigger political purpose, that anger and disillusionment is only likely to grow.
Alistair Carmichael is a Liberal Democrat MP for Orkney and Shetland