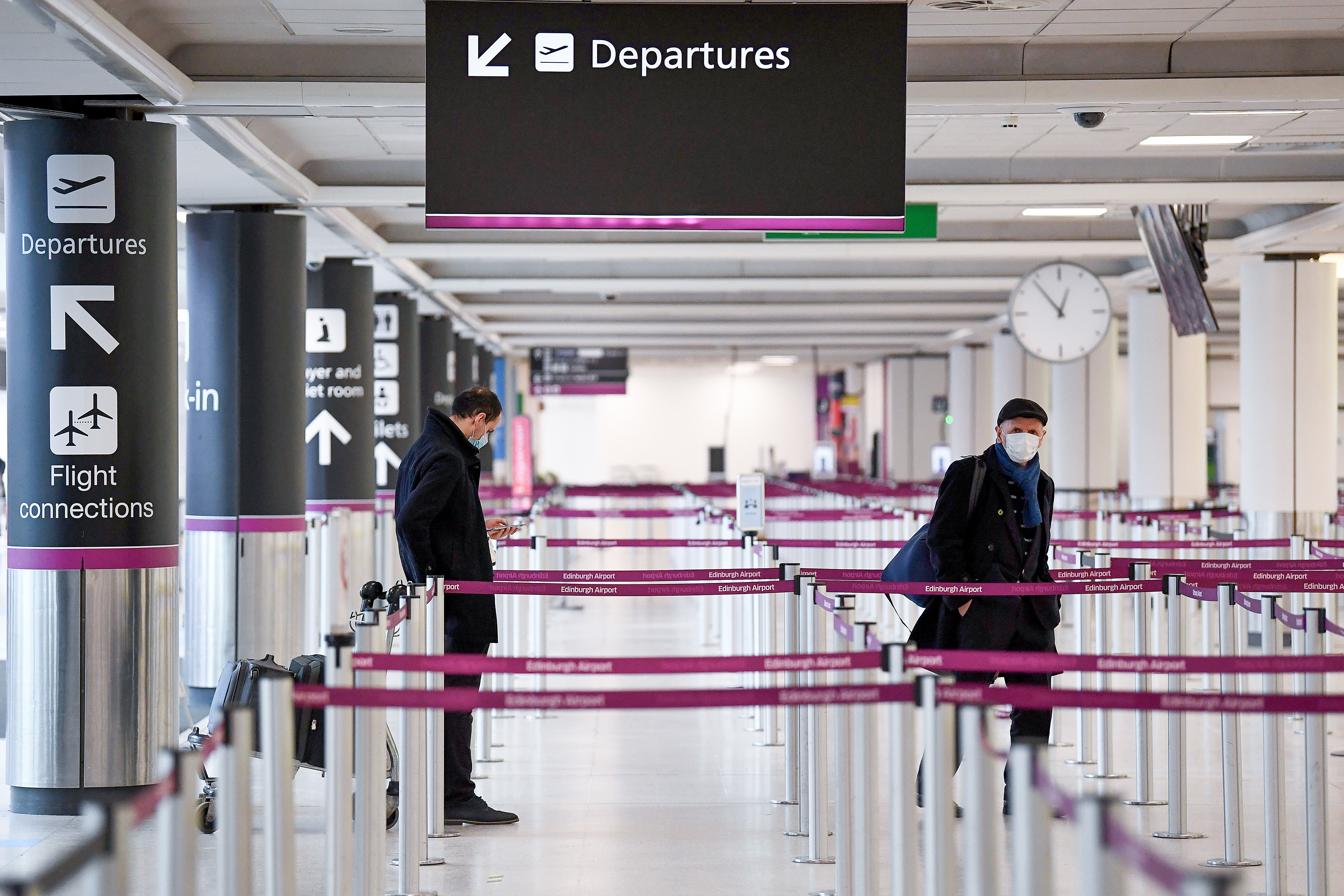 The government may have to introduce more border restrictions to stop new variants of Covid-19 from spreading in the UK, the prime minister has said.
Speaking at a Downing Street press conference on Friday afternoon Boris Johnson said "we may have to go further".
It comes amid warnings that a new variant of the virus from South Africa could be more resistant to existing vaccines and also more virulent.
Another such variant which apparently emerged in south east England is also thought to be driving up the number of infections in the UK.
But asked whether travel bans could be tightened to stop incoming variants, Mr Johnson said: "I really don't rule out that we may need to take further measures still, we may need to go further to protect our borders because we do not want, after all the effort that we're going to in this country … to put that at risk by having a new variant come back in."
Some measures taken in other countries have included totally closing their borders to all foreign travellers with limited exceptions, while others have required mandatory quarantine in hotels near airports rather than self-isolation at home.
When the new UK variant was discovered, the many countries closed their borders to Britain with almost no exceptions, causing chaos and ports and airports.
Mr Johnson began his news conference by warning that there is evidence that the new variant spreading throughout the UK "may be associated with a higher degree of mortality".
It is believed that scientists have found 1.3-fold increased risk of death compared with the old variant of coronavirus.
"Instead of ten in every 1,000 people in their 60s with Covid passing away, 13 or 14 people "might be expected to die", Patrick Vallance said.
The chief scientific advisor added: "I want to stress there is a lot of uncertainty. This is obviously a concern."
The prime minister said the 38,562 Covid patients in hospital is 78 per cent higher than in the first peak in April.
But he sought to ease fears, saying: "All current evidence continues to show that both the vaccines we're currently using remain effective both against the old variant and this new variant."
Sir Patrick said the new information would not change the death rate, but admitted: "The death rate is awful and it is going to stay high for a little while."
Mr Johnson acknowledged the risk of "another big rebound" if the lockdown is lifted too soon, saying: "We have got to get those rates of infection down. It's not just a question of rolling out the vaccine."
But he hailed that the "immunisation programme continues at an unprecedented rate", with a record 357,563 first doses administered in England yesterday.
"5.4 million people across the UK have now received their first dose of the vaccine and over the last 24 hours we can report a record 400,000 vaccinations," the prime minister said.
"In England one in ten of all adults have received their first dose, including 71 per cent of over-80s and two thirds of elderly care home residents.
"First doses have been administered now to 151,000 people in Northern Ireland, 358,000 in Scotland and 212,000 in Wales."
Sir Patrick was challenged on the controversial decision to delay giving people a second jab until 12 weeks after their first inoculation – after Sage minutes said there was a risk of triggering a "vaccine-resistant mutation".


UK news in pictures
Show all 51
But he insisted: "The most risky thing in terms of new mutations is to have very high prevalence.
He added: "That is what is happening around the world – that is why we are seeing the same mutations popping up everywhere."
The chief scientific adviser admitted there was "always some risk" with partial immunity", but insisted: "I don't think it is the biggest risk."