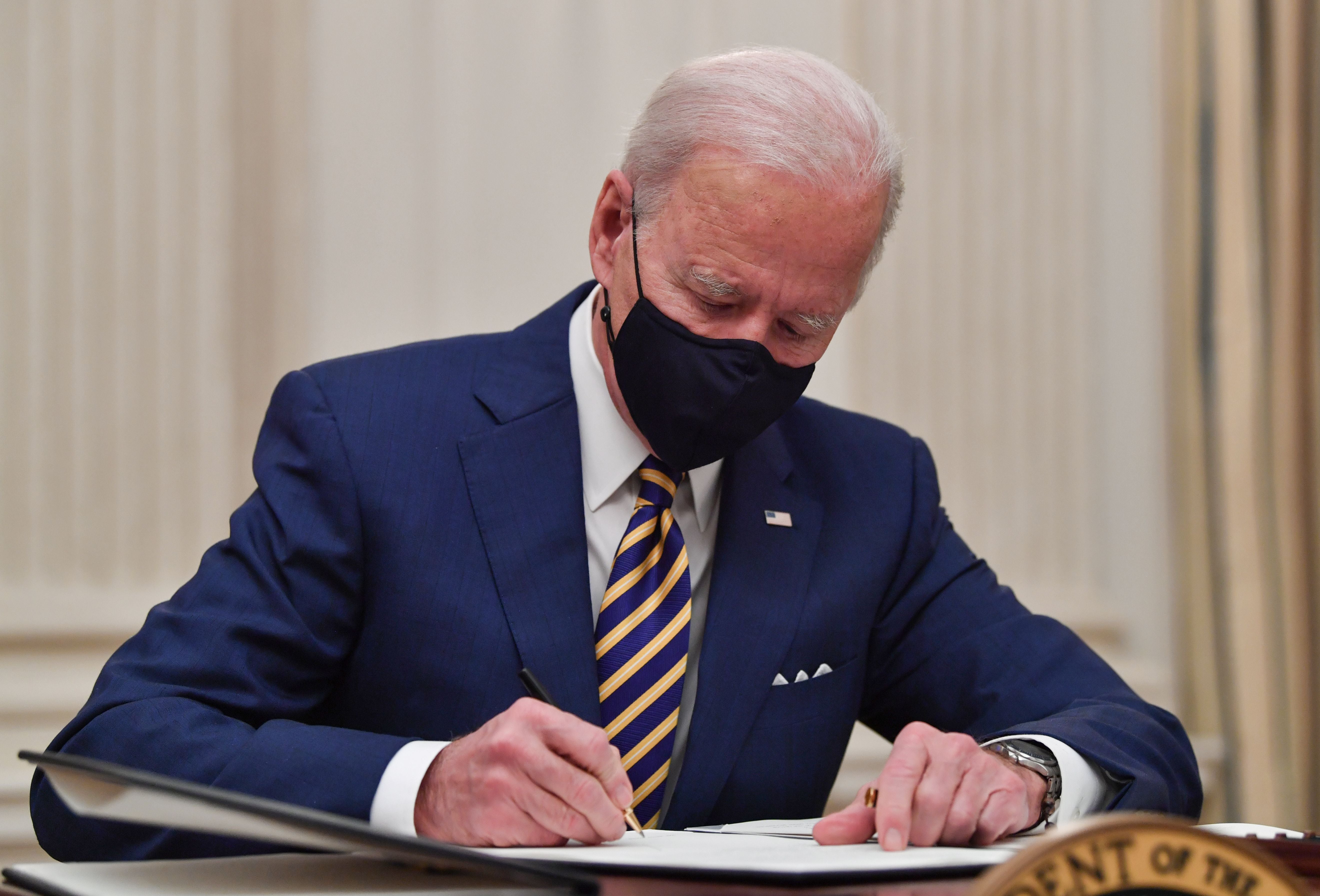 In another sombre address, a day after he revealed the death toll from coronavirus may have reached 500,000 by the end of February, the president signed two orders designed to help confront the pandemic, and put more money into people's pockets.
One of the orders signed on Friday in the State Dining Room of the White House will expand food assistance and the delivery of stimulus cheques to the poorest Americans. A second will boost the minimum wage for federally-contracted workers to $15 an hour. It currently stands at just $10.95 per hour.
"We cannot, will not let people go hungry. We cannot let people be evicted because of nothing they did themselves," he said.
"We cannot watch people lose their jobs. We have to act. We have to act now."
He added: "It's not just to meet the moral obligation to treat our fellow Americans with the dignity and respect they deserve. We must act decisively and boldly to grow the economy for all Americans, not just for tomorrow, but in the future."
Biden signs executive orders to boost food benefits, workers' rights as part of Covid relief push
Days before he was inaugurated, the president unveiled details of a 1.9 trillion "America Rescue Package" that he wants Congress to pass to provide more help to those who have lost their jobs, who are going hungry and who face eviction.
On Friday, he signed measures that do not require congressional approval and can provide speedier help.
"A lot of America is hurting. The virus is surging. Families are going hungry. People are at risk of being evicted. Job losses are mounting again. We need to act. No matter how you look at it, we need to act," he said.
He added: "If we act now our economy will be stronger in both the short and long run."
Earlier on Friday, White House Economic Council Director Brian Deese said the measures were not "a substitute for comprehensive legislative relief".
Yet he said they would "provide a critical lifeline to millions of families."
He added: "The American people are hurting and they can't afford to wait."
Right now, around 16 million are now receiving some type of unemployment benefit, and an estimated 29 million do not have enough to eat. Women, minorities and low-income service workers have been disproportionately impacted, with Black and Hispanic workers facing higher jobless rates than white workers.
"There is a growing crisis in America of hunger," said Mr Deese.
In a comment that may indicate he would rather Congress focused on passing a comprehensive spending measure, rather than the Senate trial of Donald Trump, he suggested putting back the trial to February would likely suit him.
Asked about a February timeline for Mr Trump's impeachment trial, Mr Biden said: "The more time we have to get up and running to meet these crises, the better."
Also on Friday, Senate majority leader Chuck Schumer said Mr Trump's article of impeachment would be sent to the upper chamber on Monday.
Mitch McConnell is among those seeking to push the trial back to February, but Mr Schumer said: "Make no mistake: a trial will be held in the United States Senate, and there will be a vote on whether to convict."
Additional reporting by Reuters