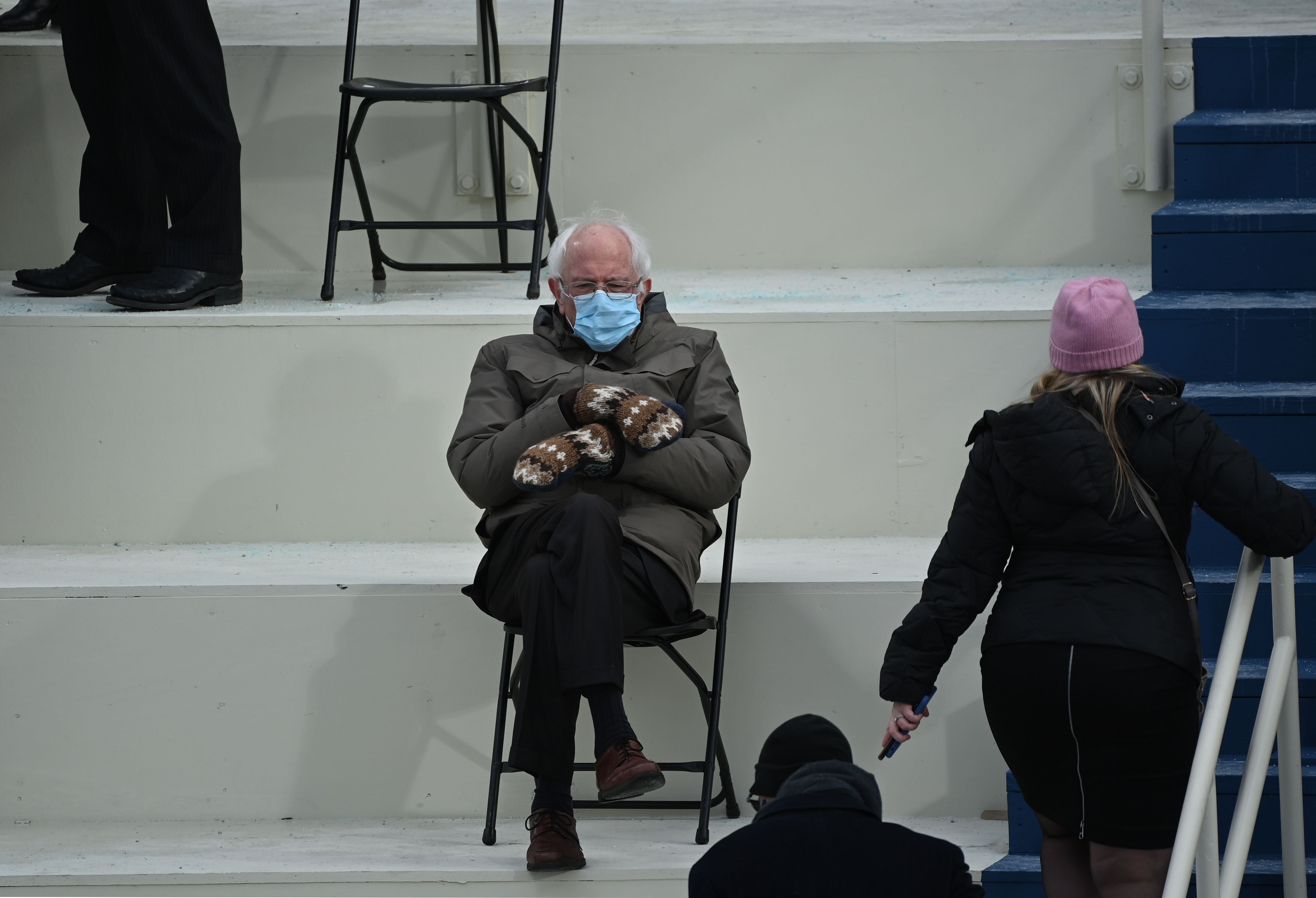 The picture of the Vermont politician huddled on a socially distanced fold-up chair in a casual, grey Burton parka and brown, oversized hand-knitted mittens made from recycled wool and plastic from a constituent, exploded across the Internet.
Sanders was Photoshopped onto the throne from Game of Thrones, into the broadway show Hamilton, the Star Wars franchise and as Samantha in the Sex and The City reboot.
He took trips on subways, to beaches, and appeared in countless famous works of art, as well as endless variations of grumpy sayings from "This could have been an email", in reference to Covid-era work Zoom fatigue, to "you coulda had a bad b***h", from Lizzo's Truth Hurts hit, in reference to his second failed tilt at America's top job.
Addressing the memes, the senator told a CNN reporter: " It "makes people aware that we make good mittens in Vermont."
"We have some good coats as well," he added.
But the memes are still going strong, as well as thousands of requests for those mittens.
After the swearing-in ceremony Mr Sanders had initially laughed off the attention, telling CBS that he wasn't worried about fashion: "In Vermont we dress warm, we know something about the cold."
Eagle-eyed tweeters soon realised he had worn the gloves many times before, including in 2019 during a stop in Pittsburgh where he lent them to Alexandria Cutler, a University of Pittsburgh Medical Center dietary worker who said her hands were cold.
But, after managing to locate the password to her Twitter account, the maker of the mittens finally spoke up.
They were a gift to the senator in 2016, after he failed to clinch the Democratic nomination, from Jen Ellis, a second-grade teacher in Essex Junction, Vermont.
Meanwhile on Capitol Hill, @BernieSanders had this to say of the viral photo of him bundled up on Inauguration Day: It "makes people aware that we make good mittens in Vermont." He added, "We have some good coats as well."

— Jeff Zeleny (@jeffzeleny) January 21, 2021
Ellis told Jewish Insider that she has long admired Sanders for his policies on student debt, free education and healthcare and decided to gift him a pair in 2016, after he lost his bid for the Democratic nomination, handing them over to his daughter-in-law, Liza Driscoll, then the director of the preschool that Ellis's daughter attended.
Although she was delighted to spot them on the campaign trail and at yesterday's event, she, unfortunately, has no plans to make any more.
"Honestly, I don't really do it a lot anymore," said Ms Ellis, who calls the items "swittens", a portmanteau of sweater and mittens because they're constructed from wool untangled from old sweaters, and lined with a fleece made from recycled plastic. (Which is, needless to say, very on-brand for the democratic socialist.)
Mostly because they take over an hour to make per pair, which would eat into her time with her daughter and partner.
"There's no possible way I could make 6,000 pairs of mittens" she said, "… and every time I go into my email, another several hundred people have emailed me … I hate to disappoint people, but the mittens, they're one-of-a-kind and they're unique and sometimes in this world, you just can't get everything you want."
She added: "I've tried not to let all of the mitten business overshadow the gloriousness of sitting with my five-year-old daughter and my partner and watching the first woman be sworn in as vice president," she told JI. "That's amazing. I had to wait four decades for that, and my daughter didn't even have to wait one. So that really is the true star of the day."