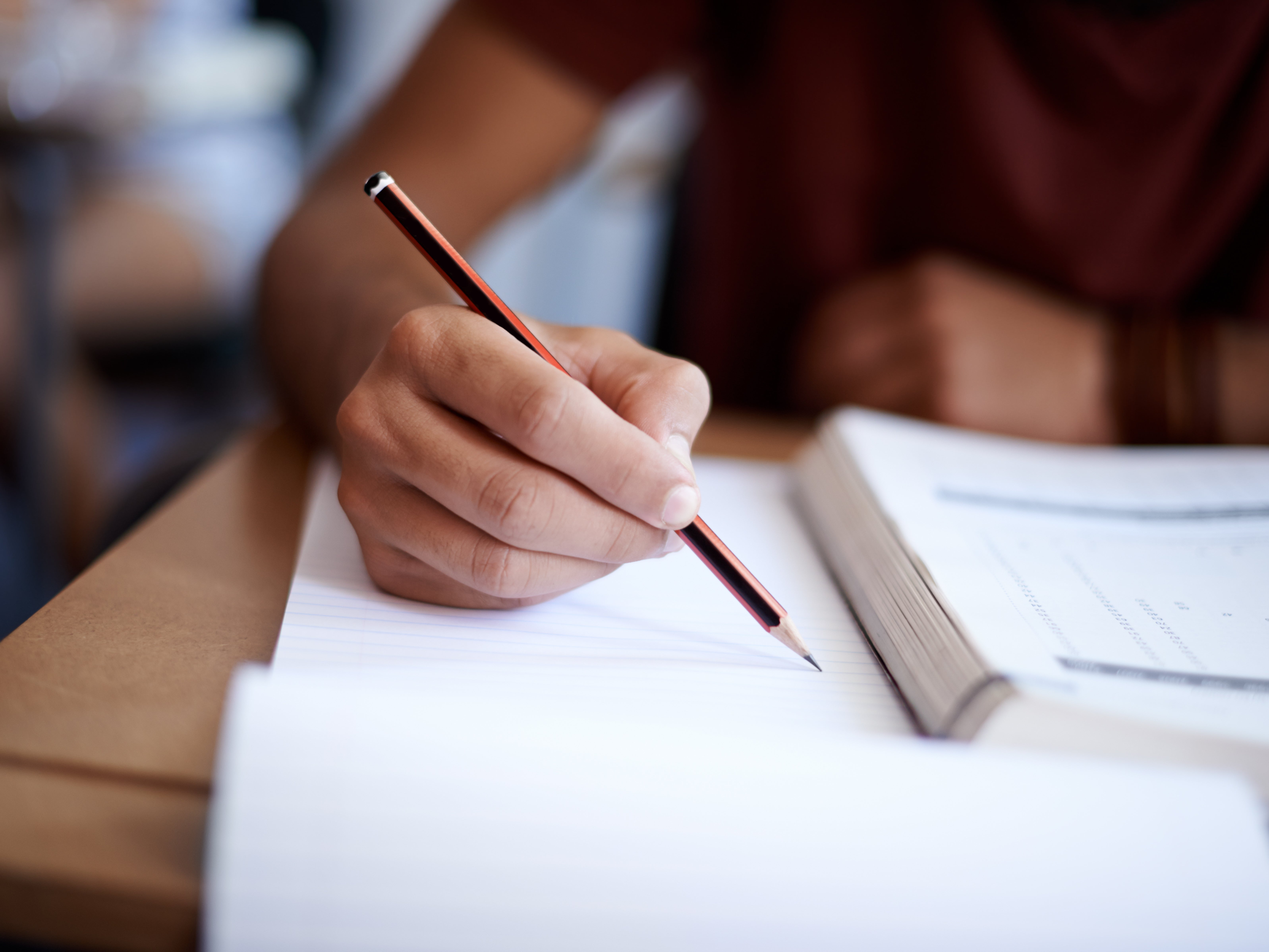 Teachers have called a government proposal for students to take mini exams to help with grading this year "flawed" and "cheeky".
Meanwhile, a leading union has raised concerns over the workload it would add for teachers, which they said was "already considerable".
The Department for Education (DfE) and Ofqual, England's exam regulator, have launched a two-week consultation seeking views on proposals over how this should be done.
It suggested grades would be based on teacher assessments of "the standard at which the student is performing".
Under the plans, teachers could use papers provided by exam boards to assess students, which they would then mark and use as evidence for the given grade.
One teacher told The Independent marking these externally-set tests would take "a huge amount of time" – on top of continuing to teach as normal.
"I'm maxed out on workload already. Significantly more isn't really an option," said the teacher at a West Yorkshire academy, who asked to stay anonymous.
Meanwhile, another teacher said she did not mind doing the extra marking but said "it does seem cheeky when usually people are paid to do it".
The secondary school teacher from Hampshire said she was more worried about inconsistencies between marking.
"My problem is the fact some teachers will mark more generously than others. Not necessarily on purpose, but we are biased to our own students," she said. "In subjects such as history and English, it's very subjective."
Laying out the plans, the DfE consultation document proposed teachers assess students "objectively" and suggested exam boards could provide guidance and training over this, along with papers for teachers to use.
"Provision of papers by exam boards would support consistency within and between schools and colleges," it said.
"The teacher, through the marking of the papers, could consider the evidence of the student's work and use that to inform their assessment of the grade deserved."
Andy Byers, a headteacher in Durham, said it seemed "bizarre" to cancel official exams and suggest replacing them with tests marked by teachers.
"I think the whole proposal is flawed, particularly around appeals and mini-exams where the burden would be on schools and teachers and not exam boards," he told The Independent. "It is also far from clear how they will ensure standards across the country are consistent."
Allowing all students to appeal over their grades is another proposal being considered by Ofqual, but they will be asked to take up the issue with their school or college first.
Mr Byers, of Framwellgate School, said: "Any internally marked, externally set tests will mean an additional burden on schools to moderate."
He added: "This isn't a coherent plan but a muddled set of ideas."
Geoff Barton, from the Association of School and College Leaders (ASCL), said the idea that exam boards could provide papers for teacher to use to assess students has caused "understandable concern".
"In normal years marking of papers is carried out by the exam boards, and transferring this responsibility to teachers adds to their already considerable workload," the union's general secretary said.
"On the other hand, however, teachers may want to take ownership of marking these papers as part of their overall assessment of their students' work, and if this task had to be completed externally it would add more complexity to a complex process."
He added: "Like much else in this consultation, there are arguments in both directions, and we are consulting our members before providing a detailed response."
The DfE and Ofqual launched the consultation last week, saying they wanted to hear what students, parents and education staff thought about proposals for how GCSE, AS and A-levels should be awarded.
The consultation seeks views on what form papers provided by exam boards should take and whether their use should be mandated.
Paul Whiteman from school leaders' union NAHT, said: "It is absolutely vital that teachers are given the flexibility to adapt these assessments to assess students on what they have been taught; a one size test will not fit all."
After the consultation was launched, Gavin Williamson, the education secretary, said: "These proposals should give young people confidence that despite exams being cancelled, they will still receive a grade that reflects their ability.
"This is quite rightly an issue of great public interest and concern and it's important that those working in education alongside students, parents and employers are able to have their say."
Ofqual's interim chief regulator Simon Lebus said: "Students and learners will carry with them for the rest of their lives the grades they are given on the basis of these arrangements, so we must make sure they are as fair as they can be in these difficult circumstances."
The DfE has been approached for comment.
Additional reporting by Press Association