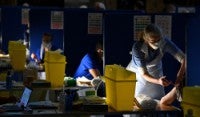 Infection levels in England may have risen at the start of January, scientists track the spread of the coronavirus have said, with swab tests indicating the highest figures were in London.
Researchers from the Imperial College London found that 1.58 per cent were positive for the virus between 6 and 15 January, while London stood at 2.8 per cent.
They say infection levels may have risen in early January, despite the lockdown beginning on 6 January, due to people's activity increasing after the holidays ended.
The report's data is more up to date than the government's daily case figures, the scientists claim, because it does not rely on those being tested developing symptoms.
The developments comes as the UK reported its highest daily death toll yet on Wednesday, with 1,820 people dying within 28 days of testing positive for the virus. It is the second consecutive day that the daily death toll has been a record figure.