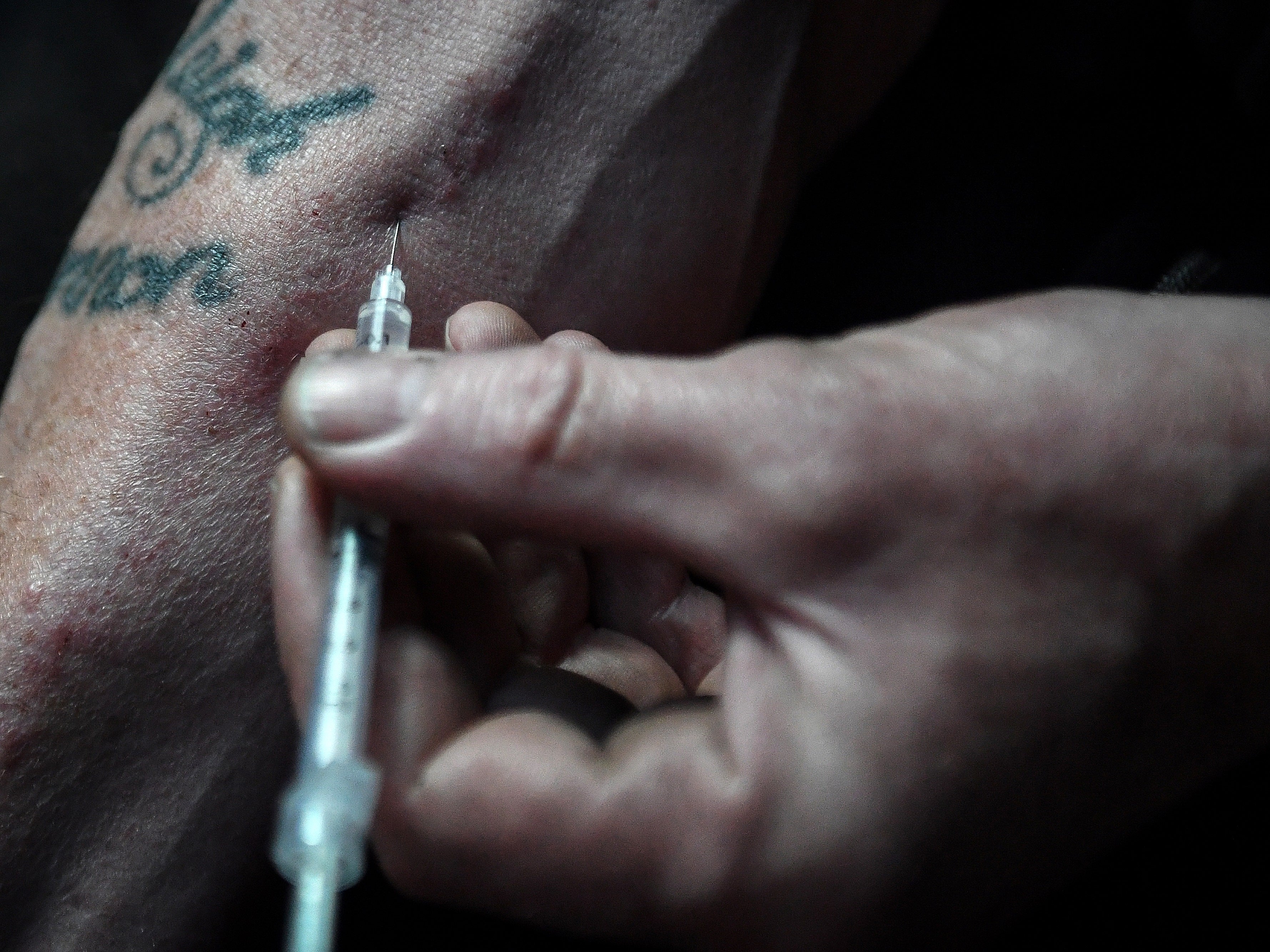 The Scottish government's commitment to spend an additional £250m tackling the nation's spiralling drug deaths crisis has been met with relief among campaigners, sparking "hope at last" that there is now sufficient political momentum behind attempts to tackle it.
Holyrood has long been accused of dragging its feet despite mounting public outrage and a soaring death toll, which – with 1,264 deaths recorded in 2019 – is rising at the worst rate in Europe, prompting health minister Joe FitzPatrick to cede to calls for his resignation in December.
Accepting the criticism that her government "should have done more earlier", Nicola Sturgeon announced an additional £50m for each of the next five years to improve and expand drug treatment services.
"Anyone who ends up losing their life as a result of drug addiction, is not just failed at the time of their death – in most cases, they will have been failed repeatedly throughout their whole life," Scotland's first minister said on Wednesday.
"I believe that if we have the will, we can and we will find the ways to stop this happening. Doing so requires a national mission to end what is currently a national disgrace."
Among the announcements were pledges to reduce stigma, increase the number of people in treatment, meet Scottish Tories' demands for £20m funding for residential rehabilitation clinics, extend the provision of heroin-assisted treatment beyond the country's first such clinic in Glasgow, and to implement new standards in providing opioid substitutes, such as methadone.
After years of underfunding for drug and alcohol services across the UK, the measures and additional funds were welcomed as a possible "game-changer" by the embattled sector.
"Have had to read and reread to believe it's true. The most promising Scottish drug policy announcement I can remember," said Dr Saket Priyadarshi, associate medical director at Glasgow Alcohol and Drug Recovery Services. "Many challenges to overcome and clarifications required, but so much good work ahead to be done. And with a sense of hope at last."
And Karen Biggs, chief executive of the charity and housing association Phoenix Futures, said Ms Sturgeon had "given hope to people in Scotland dealing with drug addiction".
Ms Briggs added that "all who have campaigned, used their voice, empowered others to use theirs and called for action to stop people dying of drug use … have been heard and understood".
Mark McGivern of the Daily Record newspaper, which has campaigned heavily for Holyrood to tackle the crisis, said it was "rare that campaigners are stunned in a good way", welcoming the £250m as "unequivocally, a massive step forward" and "about time, too".
The Scottish government had declared the crisis a public health emergency in 2018 and established a drugs deaths taskforce in 2019, which received £4m in government funding in 2020. But critics had alleged this funding was merely taken from previous budgets for alcohol and drug partnerships, while the taskforce was accused of failing to meet for four months last year.
Scottish Labour leadership candidate Monica Lennon said: "An emotional day for many as people affected by substance misuse finally get the full attention of Nicola Sturgeon and her government. Never again can the opportunity for people to get well be taken from them."


UK news in pictures
Show all 50
Speaking broadly about the announcement, the Scottish Drugs Forum welcomed Ms Sturgeon's personal involvement, which it said would be "taken as an indicator of the strength of government commitment and will help ensure that change happens at a much faster pace than we have seen to date".
Its chief executive, David Liddell, described the measures as "comprehensive", noting that Holyrood ministers had "obviously been in listening mode".
"The commitments made in terms of service development are the early steps in providing a comprehensive effective treatment system. The delivery of that system must be the priority as the evidence is clear – we need to increase treatment capacity, accessibility and quality.  Being in treatment is the key means to prevent drug overdose deaths."
Ms Sturgeon also addressed the work of activist Peter Krykant, who has risked prosecution to create a safe place for people to inject drugs safely by using a crowdfunded van which he parks daily in Glasgow city centre.
While Westminster continues to oppose overdose prevention centres, it is argued that Scotland's Lord Advocate can provide legal cover, and following a recent meeting with Mr Krykant, Ms Sturgeon told MSPs that her government is "continuing to explore how we overcome the legal barriers that currently restrict us".
Welcoming the announcements on the same day the Scottish Crown Office told him he would not face court action over a charge relating to his efforts, Mr Krykant said: "I hope that we can all start to see more openness across all sectors now, everyone needs to be sharing information and getting the best systems in place with the extra money, this could and should be a game-changer."
Although the row over safer drug consumption facilities is but one instance in which Holyrood has been accused of using Westminster's opposition as political cover, the day's announcements illustrated the sharp differences between the two approaches.
Holyrood's announcement came just hours after the UK government pledged £148m to "cut drugs crime" in England and Wales.
The Home Office and Department of Health and Social Care also unveiled "Project Adder", a three-year pilot combining "targeted and tougher policing with enhanced treatment and recovery services", which will run in Blackpool, Hastings, Middlesbrough, Norwich and Swansea Bay.
But campaigners criticised the crime-heavy rhetoric of Westminster's announcement. Drug deaths are also soaring in England and Wales, where the treatment landscape has been devastated by a lack of funding.
"It is more than disappointing that the rhetoric from No 10 and the Home Office continues along the failed 'tough on drugs' criminal justice approach, when we know, from the evidence, that drug policy reform needs to be implemented to achieve the best outcomes," said Niamh Eastwood, director of Release, a national centre of expertise on drugs and drugs law.
Westminster's funding announcement included £80m for treatment services – which Westminster touted as "the largest increase in drug treatment funding for 15 years".
While Ms Eastwood told The Guardian that the funding represented "a drop in the ocean compared to the cuts that the sector has suffered after ten years of austerity", Collective Voice – a charity representing drug and alcohol treatment providers – welcomed the cash injection as "both a practical life-raft for a beleaguered system and a welcome signal of political intent".
But "that intent must now evolve into the established momentum necessary for long-term reform and renewal", said director Oliver Standing, adding that a substantial multi-year funding increase was needed in Autumn's comprehensive spending review to "turn the terrible tide of deaths and reduce the human misery they leave".
In light of a looming review of the nation's drug treatment services by Dame Carol Black – which Mr Standing has said represents a "truly a once-in-a-generation opportunity to reform and renew a once-world-class system impoverished by a decade of austerity and fragmented by localism" – he called on the government to treat its findings "with the focus and drive they will surely deserve".
However, citing leaked emails, The Guardian reported that, ahead of Westminster's £80m announcement, the government-appointed drugs advisor Dame Carol had urged officials to provide some £900m for the ailing sector – more than 10 times the amount delivered.
Suggesting that Holyrood's announcement had cast Westminster's "into the shade", Transform Drug Policy's Martin Powell said: "Hope and optimism. That's what I'm hearing in Scotland right now from the many good people who have struggled to keep people who use drugs alive, and grieved when they couldn't.
"We need that in the rest of the UK too."