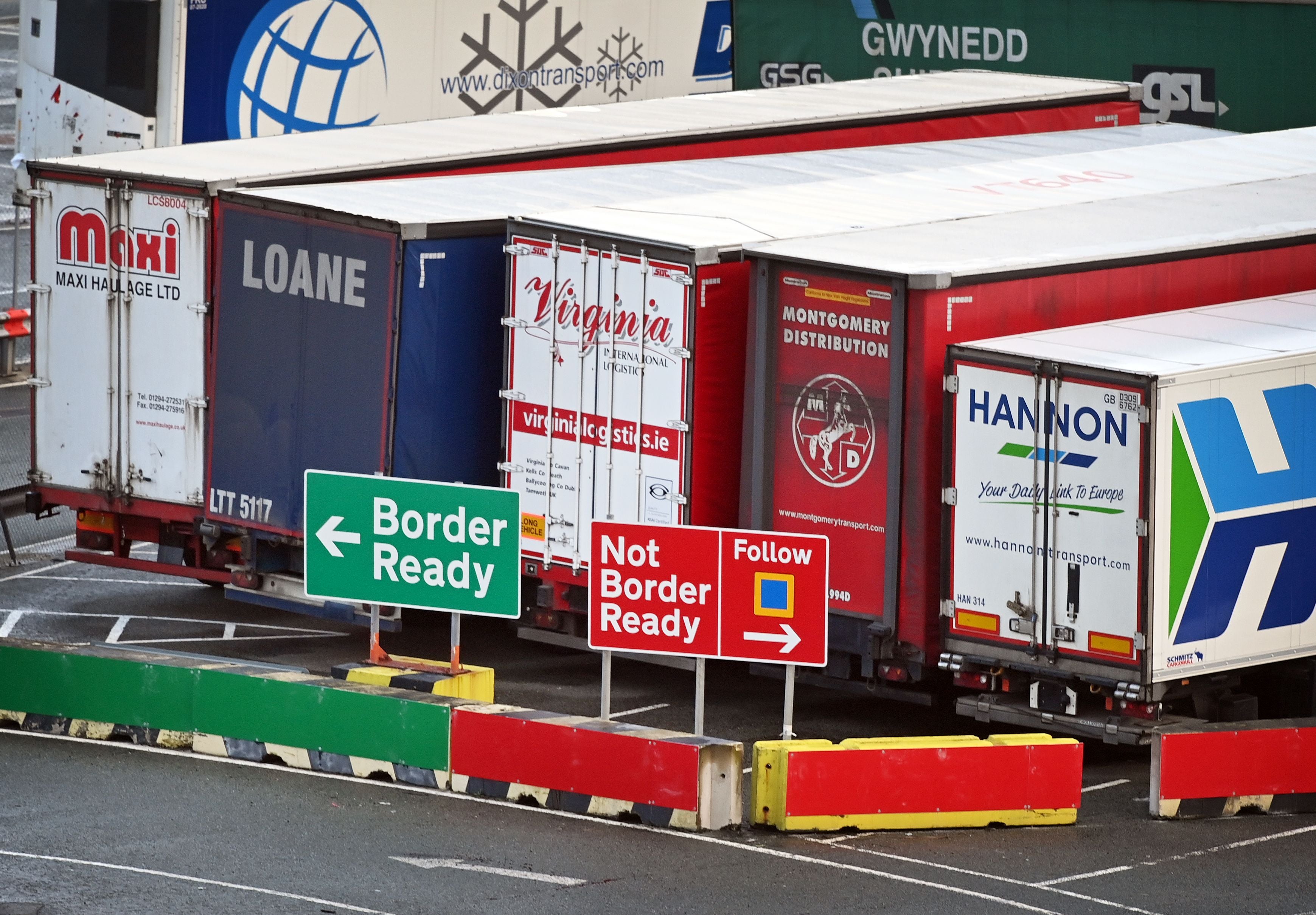 Jobs will be lost in the Northern Irish haulage industry within weeks unless the government comes forward with urgent financial assistance and measures to strip away Brexit red tape, sector figures have warned.
Trucking bosses said they have lost hundreds of thousands of pounds in the opening weeks of 2021, as form-filling and checks at Boris Johnson's customs border in the Irish Sea produced delay, cost and lost business.
The howls of despair come just over a year after Mr Johnson famously told Northern Irish businesses that there would be "no forms, no checks, no barriers of any kind" and they could throw customs declaration forms in the bin.
Appearing before the House of Commons Northern Ireland Committee, Mr Lewis recognised there were "challenges", but said it would only be possible to assess the impact of Mr Johnson's protocol "in a month or two, not in the first few days of January".
But DUP MP Ian Paisley told Mr Lewis that the first few days of January had been "an unmitigated disaster for trade", with firms "haemorrhaging" £100,000 a week and having to lay off staff because they are unable to move produce.
"There's a de facto border, an administrative, red tape blockade, between trade in Northern Ireland and GB and your government promised that there would be unfettered movement," said the North Antrim MP.
"A lot of these companies will not be left standing by the end of this this month, they're laying people off today. They can't wait for three months for you to see how bad this is. This is awful. Please fix it."
And haulage bosses taking part in a round table discussion organised by Labour rejected government claims that the difficulties they face are simply "teething problems" in the post-Brexit system.
Staff were working late into the night to try to get forms filled, lorries were stuck for days at ports and what had previously been overnight jobs were now taking two, three or four days, they said.
Manfreight managing director Chris Slowey said there had been a "massive decline" in shipments from mainland Britain, as major companies gave up on supplying the 1.7 million population of Northern Ireland, resulting in trucks returning empty after making deliveries.
"I move global brands from GB to Northern Ireland and I have done for 30 years," he told the round table. "Those global brands think that Northern Ireland is a bad place to do business at the moment. They don't have the margin to support the additional cost, so they don't want to supply Northern Ireland.
"These are brands that you take for granted in England. The shelves in our stores may not be empty, but we are part of the UK and we don't have the same availability that you have in GB. And we didn't even vote for Brexit."
The problem affected not only food and drink, but also supplies ranging from medicines to car parts and chemicals for water treatment plants, the round table heard. And there were warnings that the situation will worsen when checks are stepped up at the end of a grace period in April.
Haulier John Esler said his company was being "hammered" by the additional bureaucracy, with a 40 per cent drop in income while the cost of doing business has increased.
"We need easements and we need ongoing financial support and I don't believe we are getting any support from our government," said Mr Esler.
"We are a small company, we have no slack. If we don't get help come Easter, the P45s will be coming out. It is as blunt as that.
"Northern Ireland didn't vote for Brexit, I didn't vote for Brexit, but I suspect our secretary of state did and I know that Michael Gove and Boris Johnson did and those are three gentlemen who are more than happy to listen to anything vaguely positive about it, but they ignore us."
Transport coordinator Trevor Donnell, whose company ships heavy machinery to and from the continent, said he was having to reroute consignments via Dublin to avoid using the British "land-bridge" to Europe, as customers were unwilling to absorb the new burden from paperwork.
Peter Summerton, managing director of McCulla Ireland, said the new system imposed "structural and deep" obstacles to doing business.
"What are we trying to do? Break the Northern Irish economy by breaking Northern Irish hauliers?" he asked. "It is not unfettered access. We can move product from Northern Ireland to Spain faster than we can move it from Northern Ireland to GB. We need to get the secretary of state to realise that these are not teething problems."
Road Haulage Association chief executive Richard Burnett told the meeting: "These businesses are on a precipice. They are haemorrhaging money. There needs to be financial intervention immediately.
"These processes need to be eased and there needs to be more flexibility. That documentation can't be completed because there are insufficient customs agents, there is insufficient expertise.
"Hauliers that were doing 370 loads a week are doing 250, and that one-third drop in revenue is unsustainable. We are going to start seeing a domino effect of businesses not able to sustain those losses reducing their fleets significantly and that would mean jobs lost."