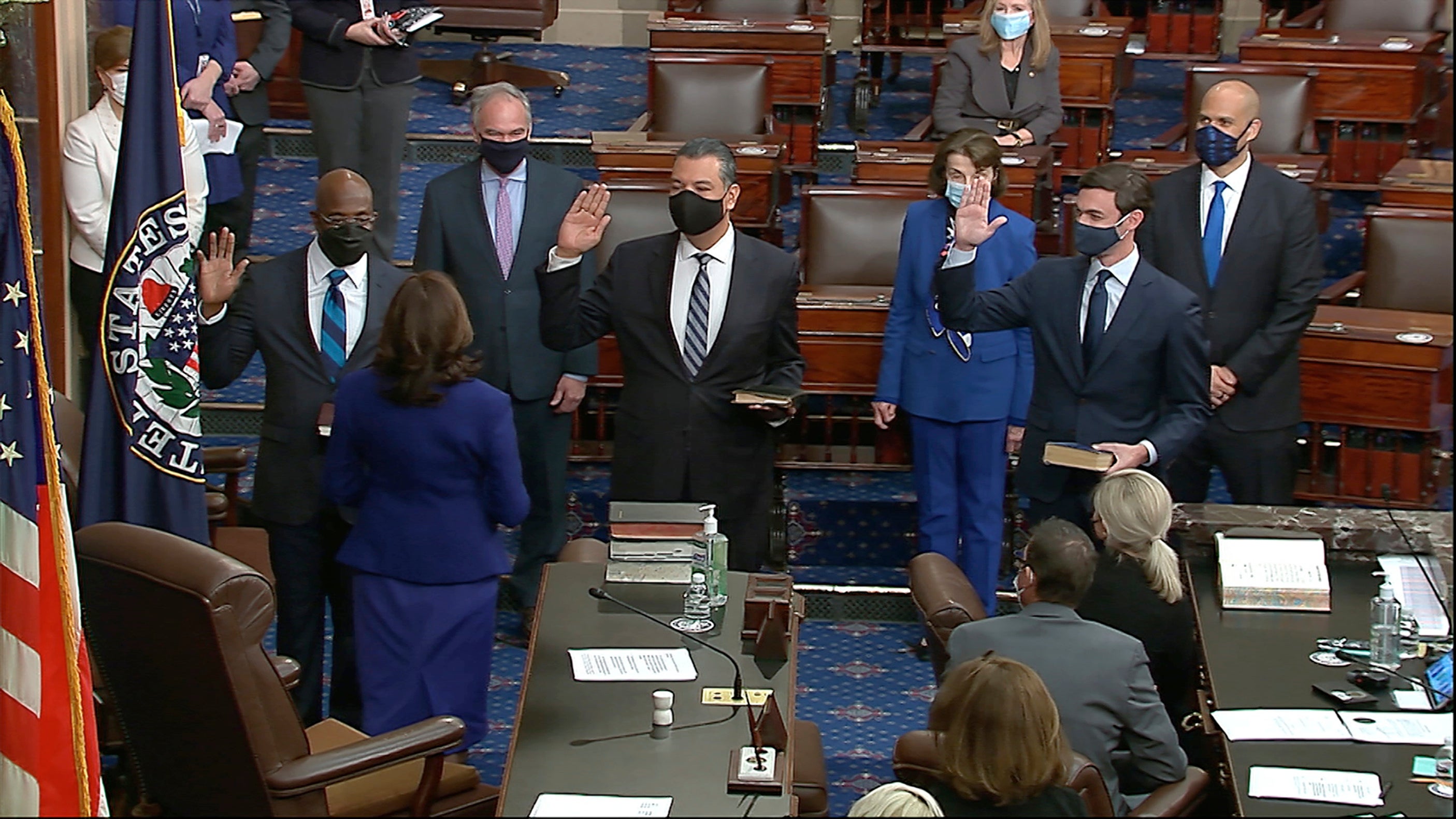 Vice president Kamala Harris has sworn in newly elected US Senators Jon Ossoff and Raphael Warnock of Georgia, as well as her replacement Alex Padilla of California, affirming the slimmest possible Democratic majority in the Upper Chamber of Congress.
Hours after she was inaugurated alongside President Joe Biden, the vice president entered the Senate chamber to a round of applause on Wednesday afternoon. She swore into office the three senators in her first official act.
With a 50-50 split in the Senate, the vice president can deliver a critical tie-breaking vote, providing Democrats a crucial voice in the Democratically controlled Congress, holding a slim majority to set legislative agendas.
Senator Chuck Schumer is now the chamber's Majority Leader, replacing Republican Mitch McConnell. Senator Pat Leahy is the Senate's president pro tempore, replacing Republican Chuck Grassley.
The brief ceremony in the Senate on Wednesday marked another series of historic firsts following the milestone of the vice president's inauguration.
Senator Padilla is the first Latino senator to represent California. Senator Warnock is the first Black senator from Georgia and the first Black senator to represent a former Confederate state.
Senator Ossoff – Georgia's first Jewish senator and the youngest member of the Senate – was sworn in on a book of Hebrew scripture once owned by Rabbi Jacob Rothschild, an ally of Martin Luther King Jr. The civil rights leader was a co-pastor at Ebenezer Baptist Church, where Senator Warnock has preached since 2005;
In his first remarks on the Senate floor as its majority leader, Senator Schumer called the role an "awesome responsibility – awesome, in the biblical sense."
"Today I feel the full weight of that responsibility, a sense of reverence, of awe, in the trust placed in me," he said.
Alluding to the deadlocked Senate under GOP control, he said the Senate won't offer "timid solutions but with boldness and courage."
"We have no choice but to try to work together to reward," he asid.
Vice president Harris, seated at the dais that the so-called "Q Shaman" Jacob Chansley sought to claim during a deadly insurrection on 6 January
"It takes more than a band of hooligans to bring our grand democracy down," Senator Schumer said.
Former GOP majority leader McConnell said "madam vice president is now a part of our American lexicon."