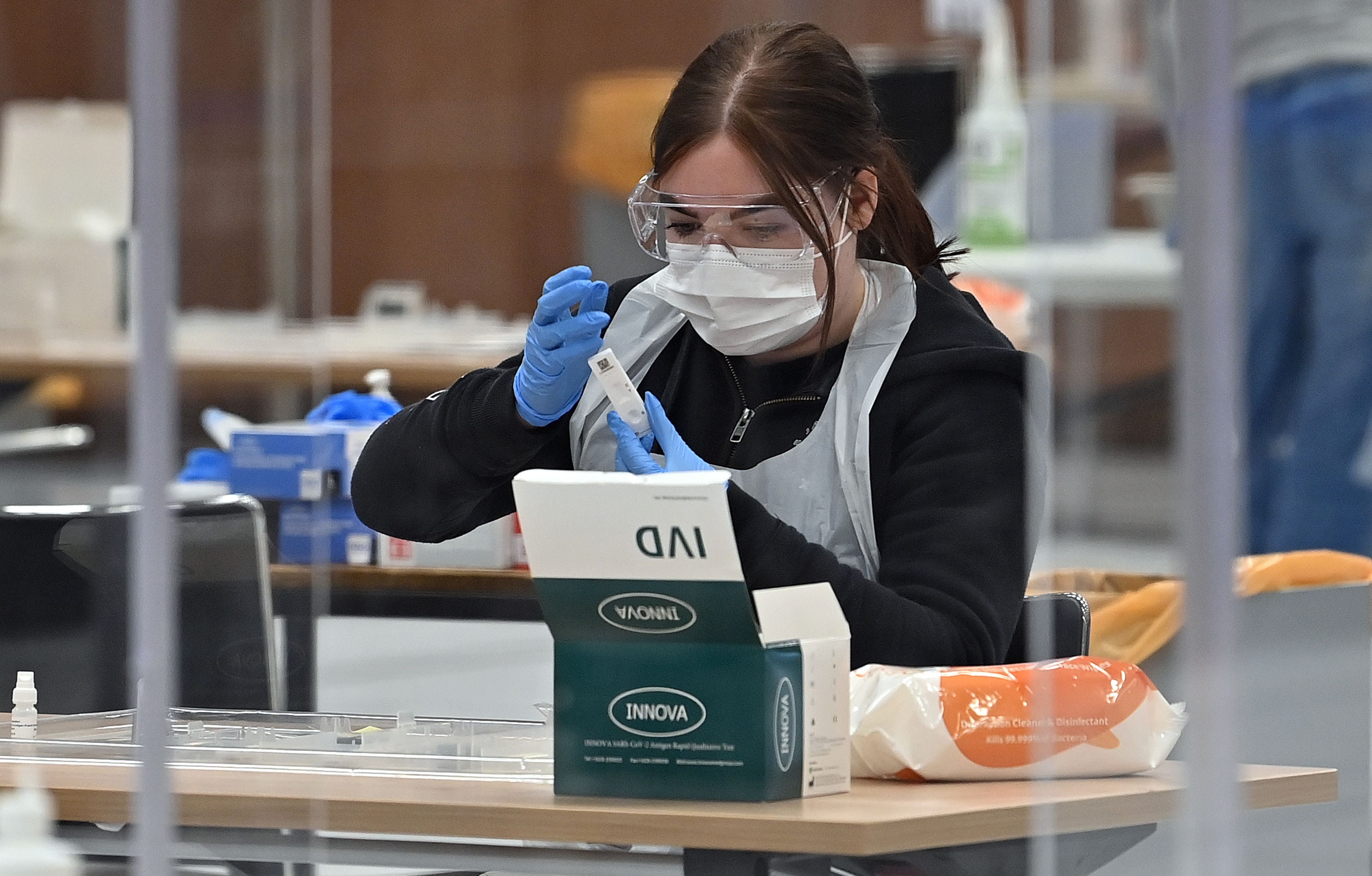 The government has paused a key part of their testing plan for schools following advice from Public Health England (PHE), who said the balance between risks and benefits was "unclear".
Under a scheme announced last month, daily rapid coronavirus testing was made available to staff and students indentified as a close contact of a confirmed Covid-19 case, which they could do instead of self-isolating.
Experts have warned the plan could leave infected people in school, due to concerns over the accuracy of Lateral Flow Devices (LFDs) being used.
In a fresh U-turn, the government said on Wednesday the rollout of daily testing for contacts in schools would be paused, as per PHE's recommendation.
PHE said their new advice was in light of the new coronavirus variant, which has "increased transmissibility and causes higher secondary attack rates", and the fact the "pandemic has entered a new phase".
Given this, PHE said: "The balance between the risks (transmission of virus in schools and onward to households and the wider community) and benefits (education in a face-to-face and safe setting) for daily contact testing is unclear."
The PHE statement added: "In light of this changing situation, we now recommend that the rollout of daily contact testing within schools is paused, other than for schools involved in further evaluation."
A government spokesperson said: "Following pilots and on the advice of NHS Test and Trace, daily contact testing as a replacement to self-isolation was rolled out to keep children in school as much as possible."
"NHS Test and Trace and Public Health England have reviewed their advice, and concluded that in light of the higher prevalence and rates of transmission of the new variant, further evaluation work is required to make sure it is achieving its aim of breaking chains of transmission and reducing cases of the virus in the community."
They added: "We are therefore pausing daily contact testing in all but a small number of secondary schools and colleges, where it will continue alongside detailed evaluation."
The government spokesperson said daily contact testing as an alternative to self-isolation "continues to have the potential to be a valuable tool to keep more young people and staff at school" and pilots would continue to "gather further data and to build the evidence base for the programme".
Geoff Barton from the Association for School and College Leaders (ASCL) said the union was "relieved" at the decision to pause the scheme.
"This use of these tests never really made sense because they don't detect all those with the infection, so we could potentially have ended up with more infectious people in school than under the self-isolation system where close contacts are sent home," Mr Barton said.
On Tuesday, Dougal Hargreaves, the Department for Education's (DfE) deputy chief scientific advisor, said the daily testing programme for coronavirus contacts in schools carried a "hypothetical risk of increasing transmission".
In a British Medical Journal article, experts said: "Scientists have particular concerns that negative Innova (lateral flow tests) results are too inaccurate to rule out Covid."
Concerns had also been raised that the government's plan appeared to go against the manufacturer's instructions for the test.
"Negative results do not rule out SARS-CoV-2 infection and should not be used as the sole basis for treatment or patient management decisions, including infection control decisions," the instructions say.
"Negative results should be considered in the context of a patient's recent exposures, history and the presence of clinical signs and symptoms consistent with Covid-19."
Robin Bevan, the NEU teaching union's president, told Tes earlier this week: "It is a matter of very serious concern that the DfE planned – and continues to advocate – using these tests to make decisions about whether to keep people in schools and classrooms, even after they have been identified as having close contact with the virus.
"The manufacturer's own instructions expressly rule out using the tests in this way. It's as if they never read the 'directions for use'."
ASCL said on Tuesday they remained "extremely concerned" about the use of LFDs in schools as an alternative to self-isolating.
The union said they wanted reassurance negative results were not being used as the "sole basis" for infection control decisions, which is "explicitly advised against in the manufacturer's instructions".
In November, the government said extensive clinical evaluation from Public Health England and the University of Oxford showed lateral flow tests were accurate and sensitive enough to be used in the community, including for asymptomatic people.
Despite the daily testing for Covid-19 contacts being paused, a government spokesperson said: "There is no change to the main rollout of regular testing using rapid lateral flow tests in schools and colleges which is already proving beneficial in finding teachers and students with coronavirus who do not have symptoms."
They added: "Regular testing of staff will increase to twice weekly as further reassurance and to help break chains of transmission during this period."