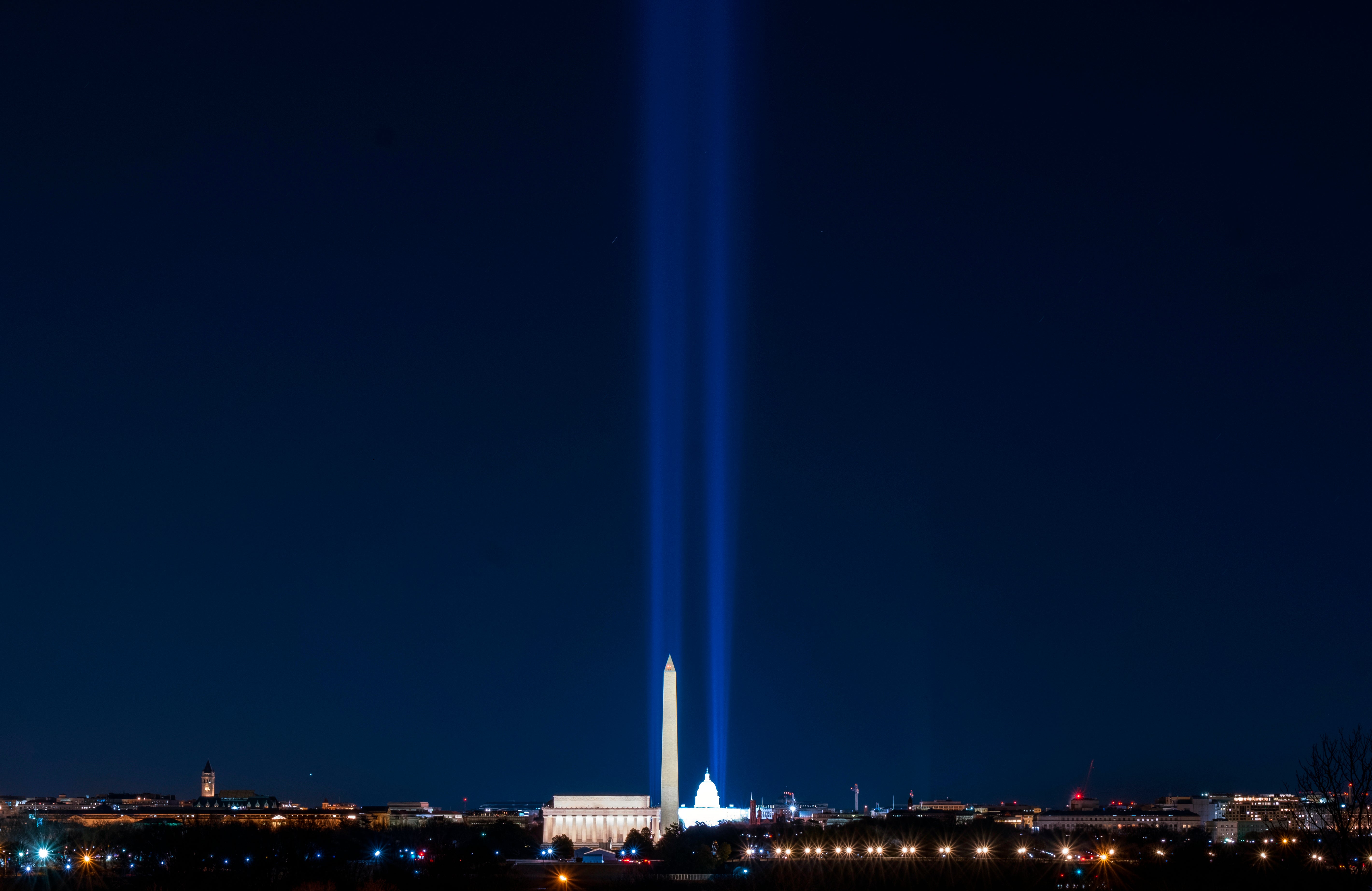 Here are the AP's latest coverage plans, top stories and promotable content. All Times EST. For up-to-the minute information on AP's coverage, visit Coverage Plan at https://newsroom ap.org.
WESTERN-SAHARA-MIGRANT-SMUGGLING — Beneath a star-packed sky in the Sahara, smugglers and handymen unearth a boat buried in the sand, a made-to-order vessel for carrying migrants from the North African coast to Spain's Canary Islands. With seasoned skill, the men hoist the blue-bottomed wooden boat atop a four-wheel drive vehicle that will take it from this inland hideaway to the Western Sahara shore. From there, the boat is meant to take 20 to 30 migrants into the Atlantic Ocean and across what the European Union's border agency calls "the most dangerous migratory route in the world." By Mosa'ab Elshamy. SENT: 1,000 words, photos, graphic.
BIDEN-INAUGURATION — Joe Biden swears the oath of office to become the 46th president of the United States. He will take the helm of a deeply divided nation and inherit a confluence of crises arguably greater than any faced by his predecessors. By Jonathan Lemire. SENT: 1,210 words, photos, video. UPCOMING: Updates throughout the day; 1,300 words after noon inauguration With BIDEN-INAUGURATION-WHAT TO WATCH — No parade, no inaugural balls, but there will be Zoom parties.
BIDEN-INAUGURATION-ANALYSIS — It falls now to Biden to both level with Americans about the deep trouble facing the nation and cast ahead to a brighter future. He will do so knowing that millions of Americans wrongly believe his election was illegitimate, fueled by the lie perpetuated by President Donald Trump By Washington Bureau Chief Julie Pace. SENT: 870 words, photos.
BIDEN-INAUGURATION-DAY ONE — In his first hours as president, Biden will aim to strike at the heart of Trump's policy legacy, signing a series of executive actions that reverse his predecessor's orders on immigration, climate change and handling of the pandemic. By Zeke Miller. UPCOMING: 770 words, photos by 5:30 a.m. With BIDEN-INAUGURATION-DAY ONE-EXECUTIVE ORDERS — Immediate action on a broad range of issues; BIDEN-INAUGURATION-WHERE HE STANDS — Biden's sweeping plans on health care, education and more.
BIDEN-INAUGURATION-HARRIS — The inauguration of Kamala Harris as vice president will mark an expansion of what's possible in American politics. By Kathleen Ronayne and Alexandra Jaffe. SENT: 830 words, photos. Also see INDIA-KAMALA-HARRIS below.
BIDEN-INAUGURATION-SECURITY — Biden's inauguration will take place in a Washington on edge after the deadly riot at the U.S. Capitol. There have been no specific threats made against the Democrat, but the nation's capital is essentially on lockdown. By James Laporta, Lolita C. Baldor and Michael Balsamo. SENT: 930 words, photos.
Find more coverage of the inauguration on the featured topic page in AP Newsroom.
TRUMP-PARDONS — Trump pardoned former chief strategist Steve Bannon as part of a flurry of clemency action in the final hours of his White House term that benefited more than 140 people, including rap performers, ex-members of Congress and other allies of him and his family. By Jonathan Lemire, Eric Tucker and Jill Colvin. SENT: 930 words, photos. Also see TRUMP below.
DREAM-SALE-LOEFFLER — Dream close to being sold, taking Loeffler out of WNBA. SENT: 350 words, photo.
OBIT-HARRY BRANT — Harry Brant, son of supermodel Stephanie Seymour, dies at 24. SENT: 200 words, photos.
INDONESIA-AMERICAN-DEPORTED — American who enthused Bali was queer-friendly being deported. SENT: 400 words, photos.
LOTTERY-JACKPOTS — Mega Millions jackpot now $970 million; Powerball up to $730 million. SENT: 260 words, photo.
TRUMP — Trump will walk out of the White House and board Marine One for the last time as president, leaving behind a legacy of chaos and tumult and a nation bitterly divided. SENT: 780 words, photos. UPCOMING: 850 words after 8 a.m. Trump departure.
INDIA-KAMALA-HARRIS — A tiny, lush-green Indian village surrounded by rice paddy fields was beaming with joy hours before its descendant, Kamala Harris, takes her oath of office and becomes the U.S. vice president. SENT: 310 words, photos.
INAUGURATION-AMERICA'S-CAPITOLS — Normally quiet streets around U.S. state capitol buildings have looked more like battlegrounds recently, putting those who live and work there on edge and instilling a sense of foreboding. SENT: 1,090 words, photos.
EXPLAINING-ELECTION-2020-LEGITIMACY — As Biden is sworn in as the nation's 46th president, Trump's most ardent supporters still believe Biden was not legitimately elected after Trump continues to argue the election was stolen. SENT: 1,090 words, photos.
VIRUS-OUTBREAK-CALIFORNIA — California officials are pinning their hopes on Biden as they struggle to obtain coronavirus vaccines to curb a coronavirus surge that has packed hospitals and morgues. SENT: 740 words, photos, video.
VIRUS OUTBREAK-HUNGER-ASIA — United Nations agencies are warning that more than 350 million people in the Asia-Pacific region are going hungry as the coronavirus pandemic destroys jobs and pushes food prices higher. SENT: 580 words, photos.
VIRUS OUTBREAK-ASIA — China's capital Beijing recorded another seven coronavirus cases amid a lingering outbreak in the country's north. SENT: 250 words, photos. With VIRUS OUTBREAK-THE LATEST.
Find more coverage on the Virus Outbreak on the featured topic page in AP Newsroom.
ISRAEL-ELECTION-ARAB-VOTERS — Prime Minister Benjamin Netanyahu, who has spent much of his long career casting Israel's Arab minority as a potential fifth column led by terrorist sympathizers, is now openly courting their support as he seeks reelection in the country's fourth vote in less than two years. SENT: 1,080 words, photos. With ISRAEL-SETTLEMENTS — Israel pushes settlement construction as Trump leaves office.
INDONESIA-EARTHQUAKE — Grocery stores, gas stations and other shops were reopening in a quake-hit Indonesian city where debris still covered streets and searchers continued to dig in the rubble for more victims. SENT: 330 words, photos.
CHINA-JACK-MA — China's highest-profile entrepreneur, Jack Ma, appeared in an online video, ending a 2 1/2-month absence from public view that prompted speculation about the future of the e-commerce billionaire and his Alibaba Group. By Business Writer Joe McDonald. SENT: 520 words, photo.
FINANCIAL MARKETS — Asian shares were mostly higher ahead of Biden's inauguration, though worries about surging coronavirus cases sapped the Japanese market's early gains. By Business Writer Yuri Kageyama. SENT: 600 words, photos.
BIDEN-INAUGURATION-CELEBRITIES — In a return of the A-list to Washington, a slew of glittery celebrities is descending on the capital virtually or in person to welcome the new Biden administration. By National Writer Jocelyn Noveck. SENT: 490 words, photo.
At the Nerve Center, Jerome Minerva can be reached at 800-845-8450 (ext. 1600). For photos, Shuji Kajiyama (ext. 1900). For graphics and interactives (ext. 7636). Expanded AP content can be obtained from http://newsroom.ap.org. For access to AP Newsroom and other technical issues, contact apcustomersupport(at)ap.org or call 877-836-9477.