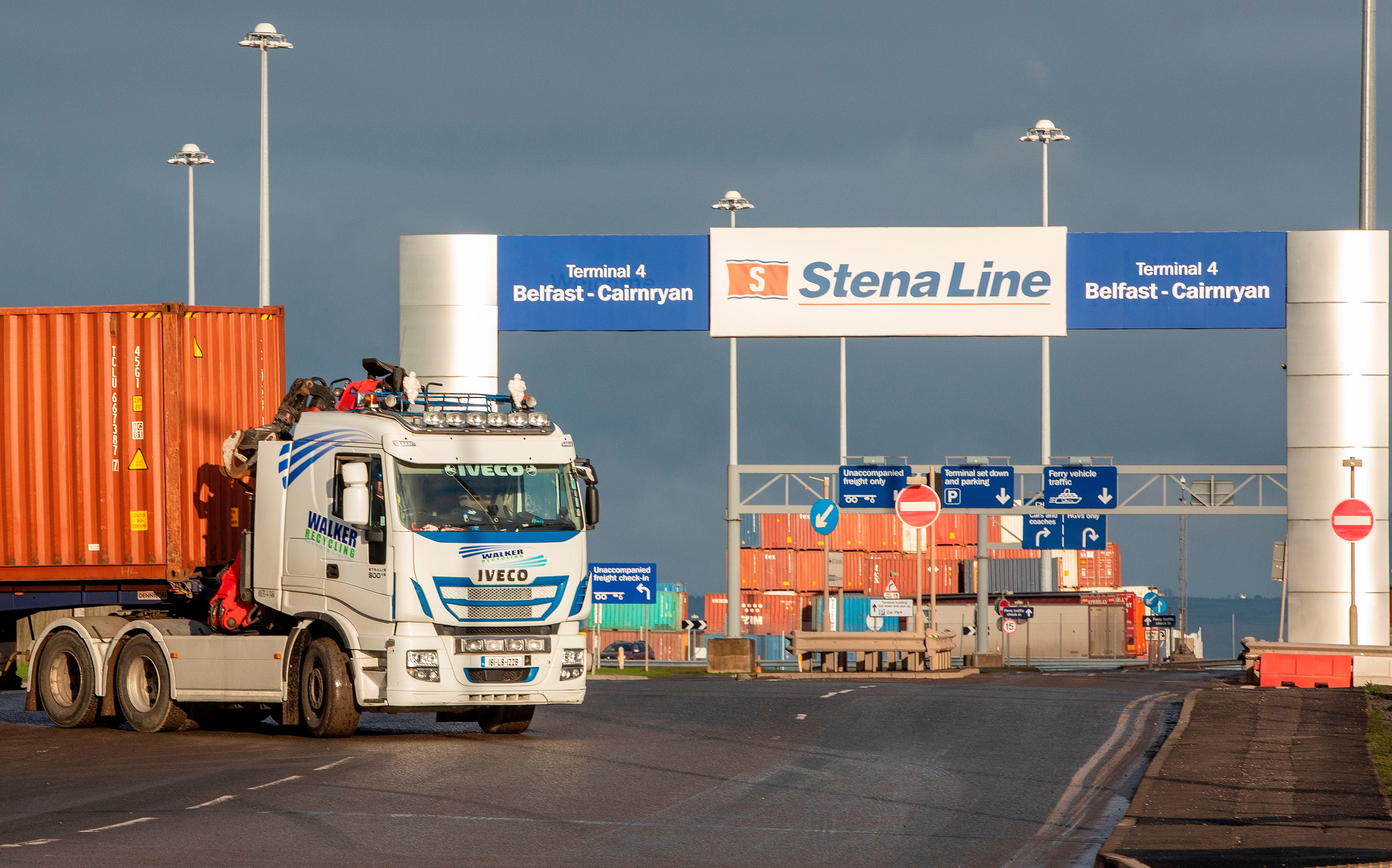 Northern Ireland businesses and hauliers have rejected a government minister's claim that disruptions to supply chains since the New Year were down to Covid and not Brexit – and warned that further difficulties are looming in three months' time.
Manufacturing NI said that new paperwork under Boris Johnson's EU trade deal had led to "turbulence", while the British Retail Consortium said that the rapid introduction of rules agreed only on Christmas Eve had caused "delays and choice issues" in supermarkets.
And the Road Haulage Association Northern Ireland said that the full extent of problems caused by Brexit had in fact been "masked" by the coronavirus outbreak, which had reduced demand at a time when the system was struggling to cope.
Meanwhile, a UK accountancy firm said it had detected signs that significant numbers of small and medium-sized enterprises (SMEs) have stopped exporting to the EU because of uncertainty about the new documentation required because of Brexit.
Michelle Dale, senior manager at UHY Hacker Young, said 20-30 per cent of around 100 export clients had temporarily suspended sales to the rest of Europe because of frustration with the new rules, which in some cases have seen goods sent back because of wrongly-filled forms or EU customers being unwilling to pay new importation charges.
Extra costs and paperwork resulting from Brexit and Mr Johnson's Trade and Cooperation Agreement (TCA) could be "devastating" for small businesses which rely on sales to Europe, she said.
Northern Ireland secretary Brandon Lewis today blamed empty shelves in Northern Irish shops on France's pre-Christmas shutdown of sailings from Dover, which he said had interrupted the flow of goods across the Irish Sea.
Mr Lewis told BBC Radio 4's Today programme: "That's actually something we've seen across other parts of the UK as well, nothing to do with leaving the EU, nothing to do with the Northern Irish protocol but actually to do with some of the challenges we saw with Covid at the Port of Dover just before Christmas and the impact that had on supply lines coming through.
"I have to say supermarket supply lines at the moment are in good fettle."
But RHA Northern Ireland policy manager John Martin told The Independent: "If Brandon Lewis was so concerned about the issues, he would sit down with the sector and discuss our concerns, but he doesn't want to hear the concerns."
Mr Martin said hauliers had lost hundreds of thousands of pounds this month alone through new barriers to trade.
Form-filling which used to take 15-20 minutes was now soaking up six or seven hours, and many GB suppliers were giving up on exports to Northern Ireland because of the extra expense, forcing lorries to return from the mainland empty, dramatically reducing earnings from the trip, he said. Haulage companies reported volumes were down 30-50 per cent.
One haulier reported two articulated lorries loaded with crisps were held up for two days while the country of origin of all the potatoes involved was established. Another had to open up his container for checks on what were suspected to be chicken drumsticks, when the consignment was actually drumstick sweets.
"There are significant reductions in income, but hauliers have the same outgoings," said Mr Martin. "If they were to increase the charges it would be in the region of £6-800 per trip, which could make Northern Irish product uncompetitive in the British market."
Manufacturing NI chief executive Stephen Kelly said: "The UK leaving the customs union and EU's single market was only ever going to cause turbulence.  Tariffs were always a worry, but it is the non-tariff barriers such as customs formalities, rules of origin, conformity assessment and more which we have always said would cause the real hurt.
 "Undoubtedly new friction is disrupting supply chains, regardless of whether that arrives via NI ports or Dublin."
Mr Kelly said too many businesses on the British mainland had shown themselves "unaware, unprepared or unwilling to understand the new responsibilities for shipping goods to Northern Ireland".
BRC director of food and sustainability Andrew Opie said that the disruption to supplies to Northern Irish supermarkets as firms adapted to new rules was now largely resolved.
But he warned larger problems were expected from 31 March, when a UK government "grace period" ends and firms are required to provide export health certificates for all products of animal origin.
"The UK government and EU must take steps to ensure the long term sustainability of the NI grocery market, providing robust controls to satisfy the EU, but recognising the deeply integrated supply chains that exist between NI and GB," he said.
Mr Lewis said the UK was working with the EU to get a "permanent resolution" before the grace period ends.
Ms Dale said she was expecting the number of SMEs halting exports to the EU to rise in the coming weeks as frustration grows over new bureaucratic barriers, including the "rule of origin" rule which makes import duties payable if some or all of the product has originated from outside the EU.
"The number of SMEs who have no option but to halt exporting to the EU could continue to grow," she said.
"These extra costs and paperwork could be devastating for UK SMEs who rely on their EU customer base. EU customers will inevitably look elsewhere if it means they can avoid paying import costs and UK businesses could see part of their client base evaporate."