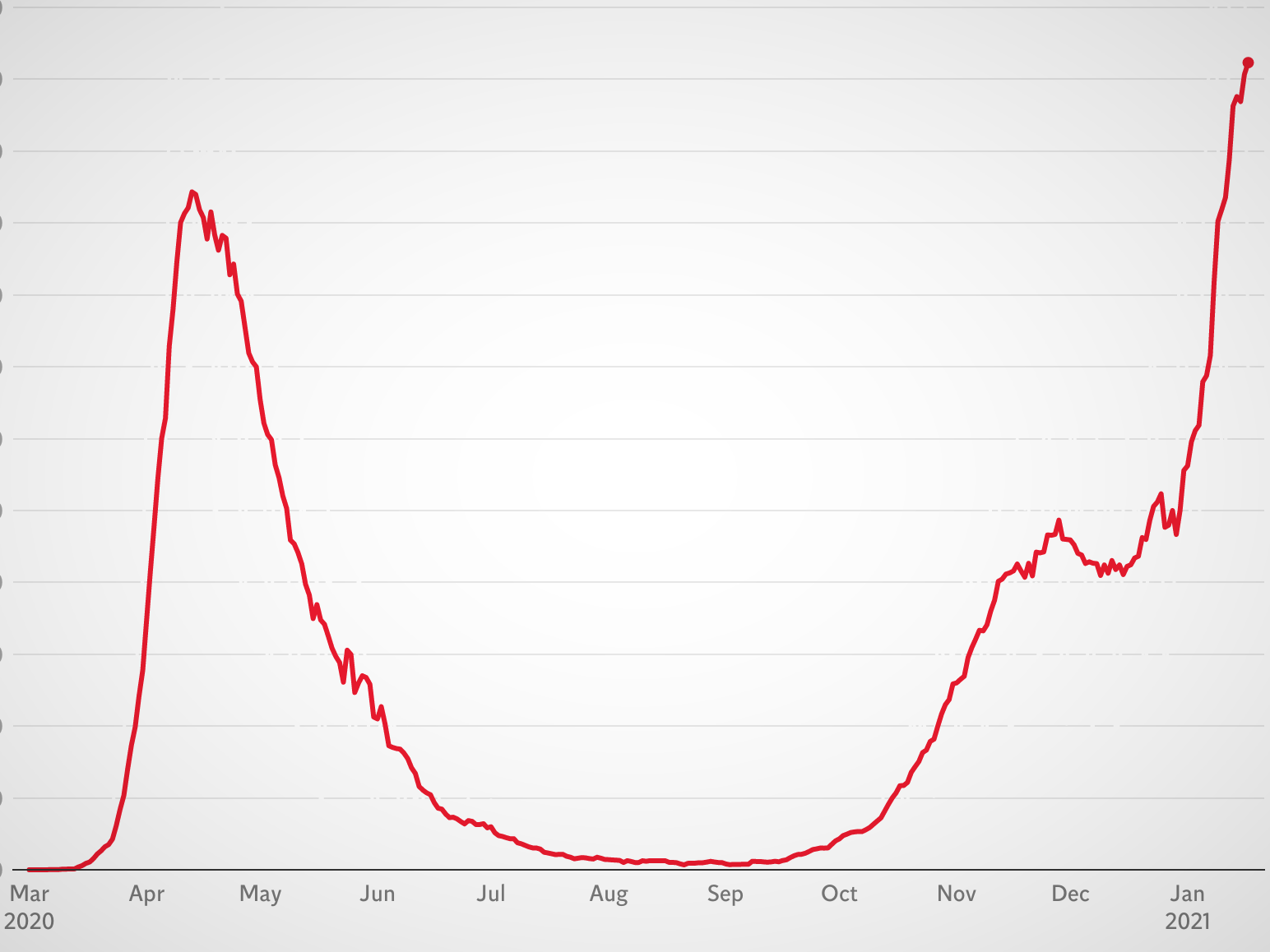 The UK now has the highest death rate from Covid-19 of any country in the world, the latest data has revealed.
An average of 935 daily deaths in the UK over the last week was the equivalent of more than 16 people in every million dying each day from coronavirus.
Figures compiled by University of Oxford-based research platform Our World in Data show that no other country matches the UK's per capita rate of deaths.
The UK overtook the Czech Republic, which had held the top spot since 11 January, after the government published the latest coronavirus deaths on Sunday night.
The weekend's figures tend to be lower due to a lag in reporting, meaning the number of new daily deaths in the UK will likely rise once again when new figures are announced on Monday.
A further 671 Covid-19 deaths recorded on Sunday brings the total number of confirmed deaths from the virus in the UK to 89,261.
This is the highest cumulative death toll in Europe and ranks only behind the US, Brazil, India and Mexico globally – all of which countries have far higher populations.
The UK has experienced more than 3.4 million confirmed infections, the equivalent of one in every 20 people.
Max Roser, a University of Oxford researcher and the founder of Our World in Data, said other countries took quicker and more decisive action in the early stages of the pandemic.
"The last Covid death in New Zealand was in mid-September," he tweeted.
The UK death rate is now higher than it was during the first major wave of Covid-19 infections in April, when it peaked at 13 per million people daily.
The latest government figures also reveal that the number of people in hospital with Covid-19 is much higher than the first peak, suggesting the number of new daily deaths will continue to rise.
Speaking at a Downing Street press conference on Friday, chief medical officer Chris Whitty said the number of hospital admissions and deaths were expected to continue to rise, at least in the short term.
"I'm afraid in the next week we do anticipate the number of people in the NHS and the number of deaths will continue to rise as the effects of what everyone has done continue to feed through," Professor Whitty said.
"The peak of deaths I fear is in the future, the peak of hospitalisations in some parts of the country may be around now and beginning to come off the very, very top.
"Because people are sticking so well to the guidelines we do think the peaks are coming over the next week to 10 days for most places in terms of new people into hospital."