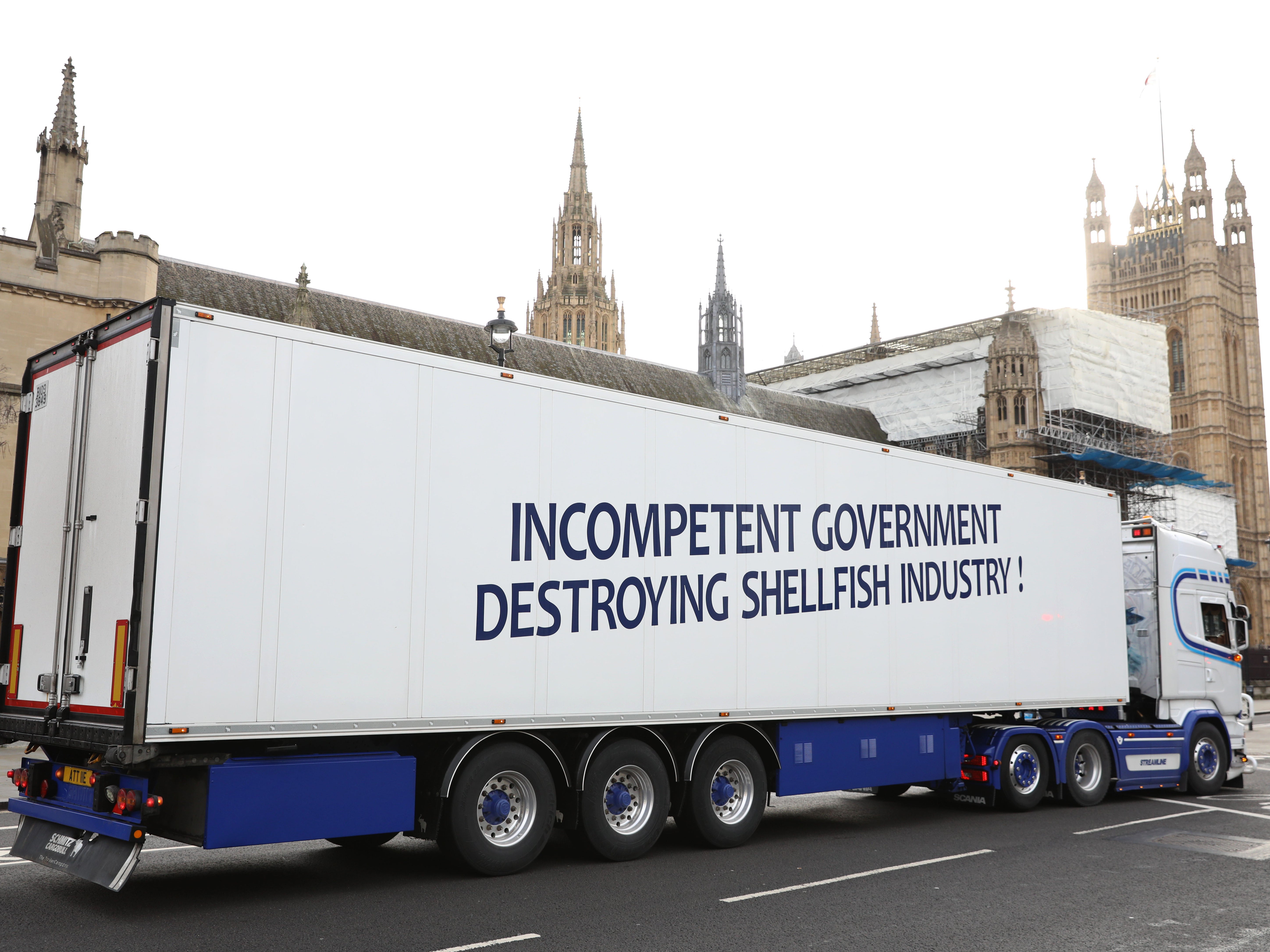 Police in London have fined more than a dozen Scottish seafood workers who took part in a protest on Monday over the "incompetent" government's Brexit fishing deal.
It comes after seafood hauliers from Scotland arrived in Whitehall earlier to protest Boris Johnson's recent trade deal, saying they were "tied in knots with paperwork" when trying to go about their day-to-day jobs exporting seafood to the EU.
Trucks full of the frustrated workers descended on streets near No 10, some emblazoned with "Brexit Carnage" others with "Incompetent Government Destroying Shellfish Industry", as they parked up to begin calling for reform.
Mr Johnson suggested later on Monday that seafood exporters were to blame for their post-Brexit crash in sales, claiming they were "not filling in the right forms".
Continuing to promote an idealistic version of the deal he wagered with the EU, the prime minister said: "Be in no doubt that there are great opportunities for fishermen across the whole of the UK."
A Met Police spokesman said earlier the force were "aware of a protest in Westminster relating to the UK fishing industry" and that "an appropriate policing plan is in place".
Reminding people about the current coronavirus stay-at-home measures, he said: "We would remind those involved that London remains in Tier 4 for Covid restrictions and anyone breaching the regulation will be reported.
"No arrests occurred, but a number of lorries have been stopped and 14 people, who were either drivers or passengers in those vehicles, have been reported via FPN for Covid-related offences."
These are the same 14 people who have now been fined for breaking Covid restrictions currently in action across London and the rest of the country.
Exports of fresh fish and seafood have been severely disrupted since the UK's transition period ended on 31 December, with new checks and paperwork causing massive delays.
Foreign secretary Dominic Raab claimed over the weekend the delays were just "teething problems", telling Sky News' Sophy Ridge on Sunday: "I'm not convinced that that is the result of the agreement."
Meanwhile, some Scottish fishermen have moved to landing their catch in Denmark to avoid the "bureaucratic system" that exports to Europe now involve.
A spokesperson from Eyemouth-based DR Collin & Son, who were taking part in the protest, told reporters today: "The industry is being tied in knots with paperwork requirements which would be easy enough to navigate, given that companies have put in the time and training in order to have all the relevant procedures in place for 1st January 2021.
"However, all the training is going to waste as the technology is outdated and cannot cope with the demands being placed on it – which in turn is resulting in no produce being able to leave the UK."
Referring to Mr Raab's comments, the spokesperson added: "These are not 'teething issues' … and the consequences of these problems will be catastrophic on the lives of fishermen, fishing towns and the shellfish industry as a whole."