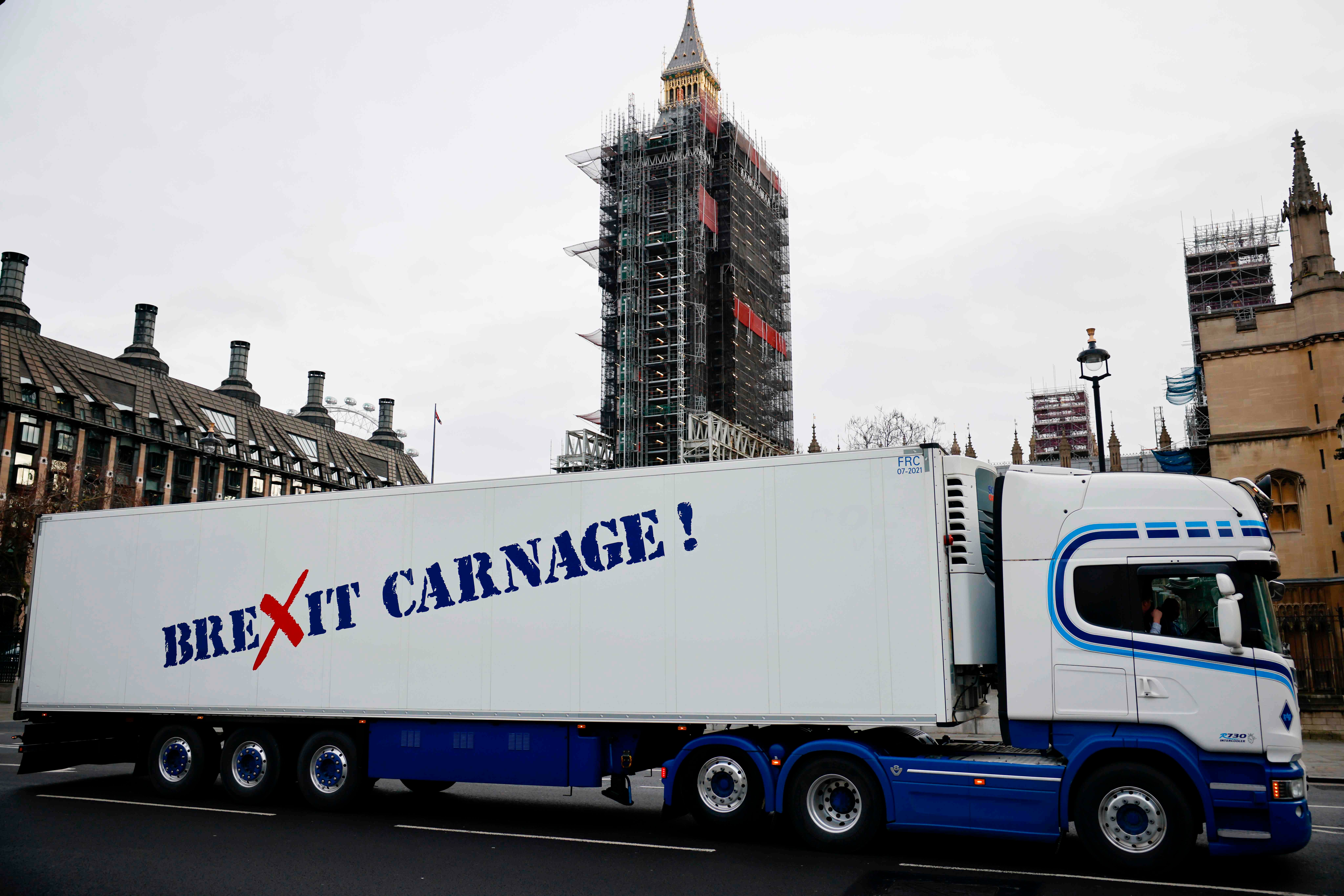 Scottish fishing industry workers descended on Whitehall on Monday to protest Boris Johnson's Brexit trade deal.
Footage showed dozens of large lorries driving through central London adorned with slogans showing workers' fury after experiencing problems exporting fish to the EU.
One truck was emblazoned with "Brexit Carnage", while another said "Incompetent Government Destroying Shellfish Industry", as they parked up just metres from Downing Street.
Others had their business logos proudly displayed amid claims the sector could collapse and that fish prices have plummeted due to the bureaucracy that has left catches rotting at the border.
Mark Moore from the Dartmouth Crab Company joined his Scottish colleagues for the protest and told LBC that the exporting issue was nationwide, and "we are all in this together".
He added: "The situation is almost unworkable and we need change, our industry is spiralling downwards."
Mr Moore said about 50 trucks had been due to travel to the capital.
Exports of fresh fish and seafood have been severely disrupted by delays since the UK's transition period ended on December 31.
Some Scottish fishermen have been landing their catch in Denmark to avoid the "bureaucratic system" that exports to Europe now involve.
On land, lorries transporting freshly-caught produce have been held up at distribution hubs and many have struggled to enter into France – a situation Nicola Sturgeon described as "shameful and disgraceful".
Jimmy Buchan, chief executive of the Scottish Seafood Association, said last week: "The industry in Scotland has basically ground to a halt and businesses that employ hundreds of people in communities around our coastline are losing money.
"In some cases they are close to going under. It is time for our governments to get a grip of what is now a full-blown crisis, and fast, before severe and lasting damage is done to the sector."
Dominic Raab, the foreign secretary, claimed the delays to fishing exports were just "teething problems".
Luke Pollard MP, Labour's shadow environment secretary, responding to Mr Raab's comments, said: "The government should stop blaming the fishing industry and start taking responsibility for the mess it has created by its own incompetence."