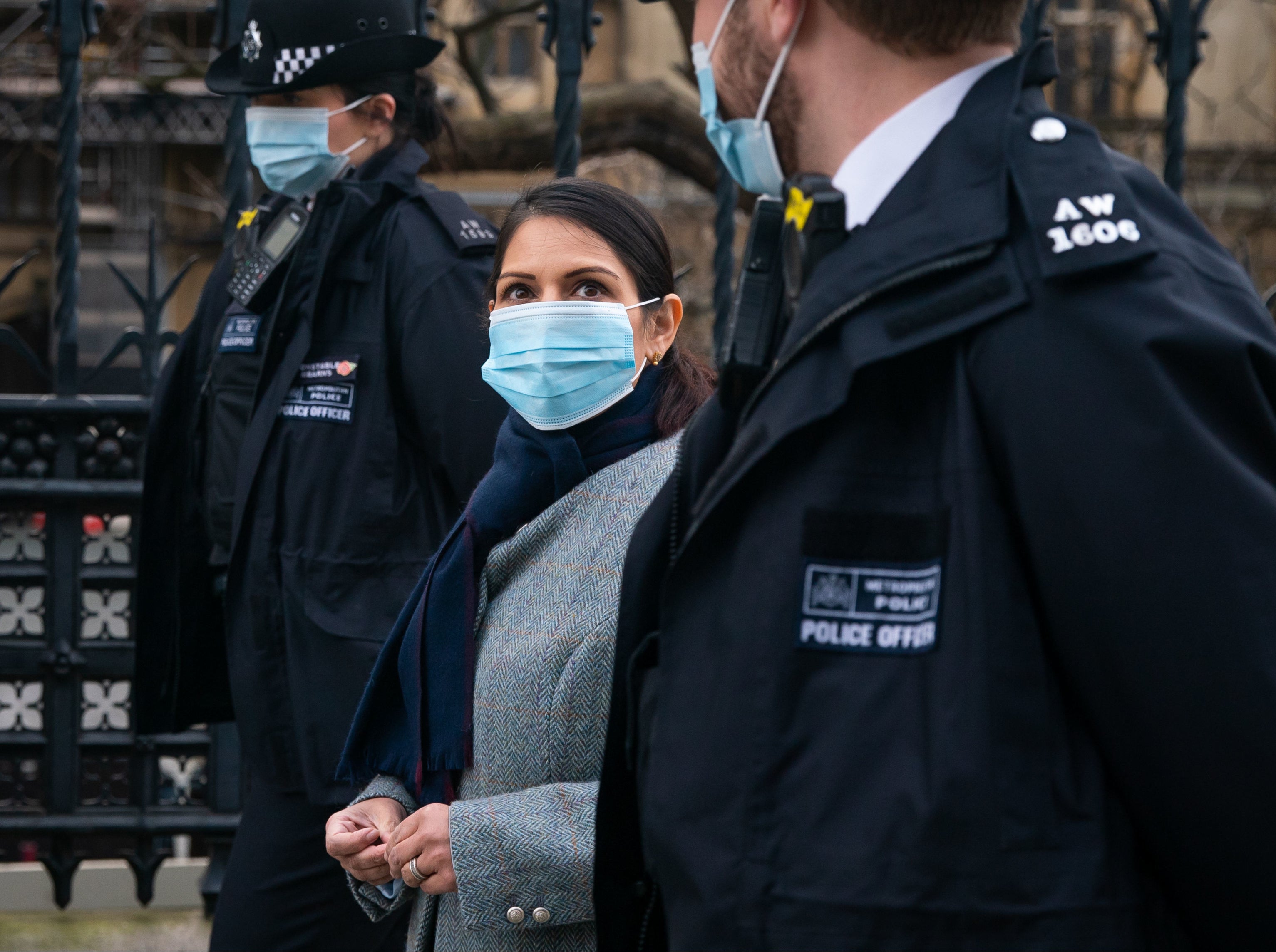 Priti Patel has been accused of dodging parliament following the loss of hundreds of thousands of police records that were deleted by faulty software.
The home secretary said a "major technical operation" was underway to undo the damage caused by the loss of around 400,000 records from the Police National Computer (PNC) – including fingerprint, DNA and arrest history records.
An internal review into the issue, which the home office has said was caused by "human error", is currently underway amid claims it took 48 hours to uncover the error.
Police databases are regularly updated to delete information officers are not legally allowed to keep on file – in particular records of those who have been arrested and then released with no further action.
However Ms Patel has come under fire after neglecting to appear before the commons to explain the failure – instead sending police minister Kit Malthouse.
Labour's David Lammy responded by posting a "missing" poster with the minister's face on it, while the SNP's Joanna Cherry claimed Ms Patel had "sent her junior minister to take the flak".
Shadow home secretary Nick Thomas-Symonds told parliament: "I must ask, where is the home secretary? The loss of hundreds of thousands of pieces of data, data so important for apprehending suspects and safeguarding vulnerable people, is extraordinarily serious.
"It was the home secretary who needed to show leadership and take control. It's what previous home secretaries have done in a crisis – on the passport office, on Windrush, on knife crime, whatever their mistakes, home secretaries came and answered to this House, they didn't just offer a media clip as has happened today.
"This home secretary failing on violent crime, failing on the Windrush compensation scheme, with chaos on border testing, found to have broken the ministerial code, now won't even answer to parliament and the public on this most serious of issues.
"The home secretary likes to talk tough, but when the going gets tough, she's nowhere to be seen."
Mr Malthouse, who described the data loss as "unacceptable", said he was optimistic about the chance of recovering the information and ruled out any criminal intent behind the loss of records.
"While any loss of data is unacceptable, I can say that other tried-and-tested law enforcement systems are in place which contain linked data and reports to support policing partners in their day-to-day efforts to keep us safe."
He added: "I will urge patience while we continue our rapid internal investigation and begin the recovery. I hope the house will appreciate that the task in front of us is a complex one.
"Public safety is the top priority of everyone working at the Home Office and I have full faith that Home Office engineers and our partners in the National Police Chiefs' Council and the police forces across the country, who they are working with, are doing all they can to restore this data.
"While this is rightly our immediate priority, clearly the home secretary and I have commissioned an internal review as to the circumstances which led to this incident so that lessons can be learnt. I will update this House regularly on the process."
Addressing the commons, Mr Malthouse was unable to rule out that any investigations would be damaged by the deletion – noting that "we will know the full extent of the impact of this issue over the next few days as our plan swings into action".
Ahead of the parliamentary debate Ms Patel told the PA news agency: "It is our priority always to keep the public safe.
"We are working with our policing partners, our operational partners and we have been every day since this technical coding error has been identified.
"Everyone is working flat out on this. We want to reconcile the data, we want to correct what has happened but that is a major, major technical operation right now and everybody is working flat out on this."
Additional reporting by agencies