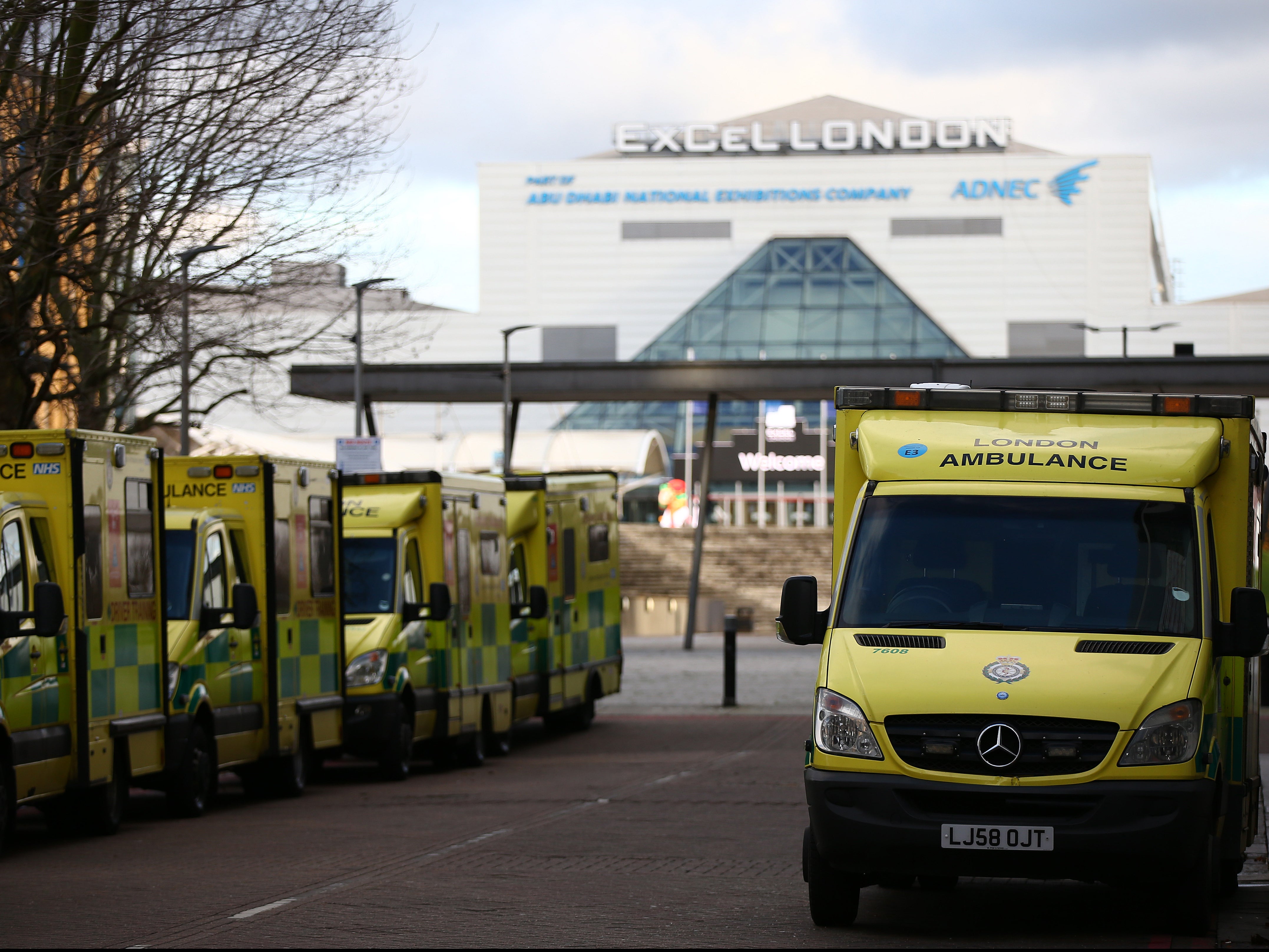 London's Nightingale hospital has been forced to relax its rules for admitting patients after NHS trusts sent only a handful of patients there.
The field hospital, at the ExCel centre, reopened its doors on Monday last week, with 64 beds ready for patients.
But it faced a backlash from hospitals, with many sources warning the criteria to discharge a patient to the site were so restrictive it would not help NHS trusts to free up beds.
By Friday, the lack of patients at the Nightingale, which was rebuilt at a cost of millions after being dismantled following the summer, led the North East London Foundation Trust and NHS England to agree changes to the admissions criteria to allow it to take on more complex patients.
Despite the changes, the hospital still had only 12 patients as of Monday, up from eight at the weekend. Some NHS hospital insiders told The Independent the new criteria still did not go far enough.
The Nightingale hospital has now agreed to take patients whose conditions are more complex than previously and who may need a care home bed.
It has also told hospitals that patients no longer need to have an identified discharge plan in place, and it will take patients who may stay up to 14 days.
Other changes including accepting patients who only have 14 days' worth of medication as opposed to 28 days, as well as people considered obese or severely overweight.
Hospital bosses have also said they are prepared to take in homeless patients and those from outside London.
Patients must have two negative Covid-19 swabs within 48 hours of transfer to the Nightingale or they must have been isolated for 14 days.
One hospital source said: "This definitely widens the scope but two negative Covid swabs is a big barrier. Length of stay at 14 days is better but it could still leave patients stranded."
Some clinicians are reluctant to send patients recovering from stroke or other longer-term conditions, who may need other therapy over a longer period.
Other managers believe the decision to not take Covid patients is a major failure.
One said: "They don't seem to get that most hospitals in London are full of Covid patients."
But there is also frustration within North East London Foundation Trust, which runs the Nightingale, where some bosses believe hospitals in the capital are not taking full advantage of the field hospital or recognising  its value.
The initial phase of the hospital, with 64 beds, could be extended, with NHS England planning a phase two of more than 360 beds.
When it opened last year, the Nightingale was primarily designed to care for severely ill ventilated Covid-19 patients but concerns over its safety and staffing levels meant it cared for just over 50 patients.
Earlier this month, NHS England asked the service's five London areas to provide more than 23 nurses each to help staff the field hospital, despite widespread staff shortages.
It's understood many staff at the Nightingale have been recruited from agencies.
NHS England told The Independent it had worked with hospitals to make sure the criteria were "appropriate in supporting London's wider response to the pandemic".
In a statement, it said: "The NHS Nightingale Hospital London is sufficiently staffed to safely care for new patients and those already admitted, using a combination of NHS staff redeployed from London's hospitals alongside high-calibre staff from bank and agency partners. We are confident that staffing will not be a limiting factor in accepting any future referrals."