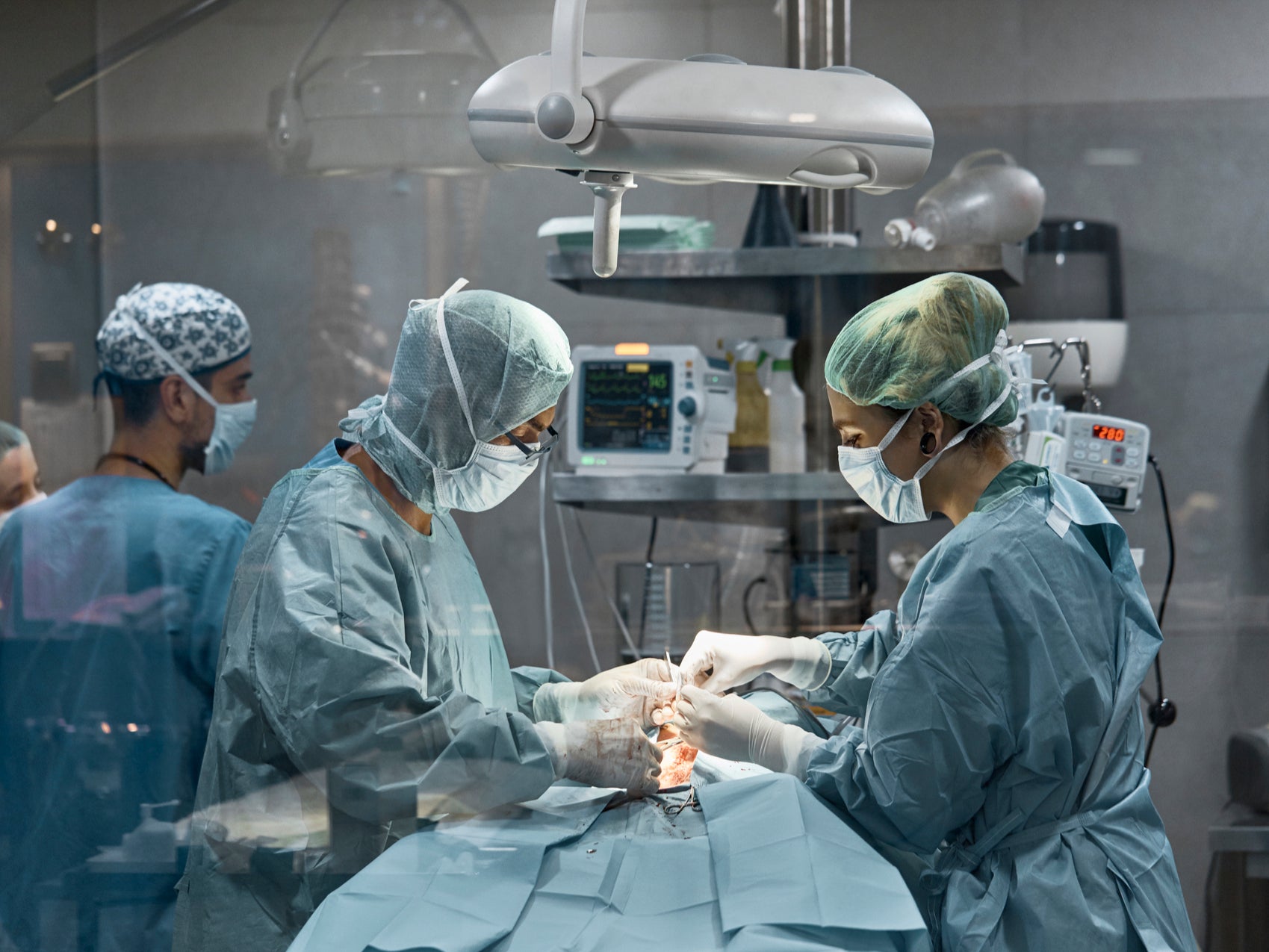 Cancer treatments must not be delayed despite the impact of coronavirus on hospitals, health bosses have warned, amid fears too many operations are being stopped.
In a message to NHS regional directors on Friday, NHS England said hospitals must give cancer the same priority as coronavirus patients.
There are fears at the highest levels of the NHS that large-scale delays in cancer operations will lead to an increase in avoidable deaths and a backlash against the NHS.
London, which is the hardest hit area for Covid in the latest surge, has already cancelled hundreds of operations every week since Christmas, with leaked data showing more than 3,800 cancer patients are waiting longer than the NHS 62-day target for urgent treatment.
Hospitals across the country have had little choice but to cancel operations as the numbers of sick coronavirus patients exceeds numbers of intensive care beds. Operating theatres and surgical recovery rooms have been converted into makeshift intensive care units, with staff redeployed to help support overstretched nurses.
In her letter, NHS England chief operating officer Amanda Pritchard said it was vital each area maintained as much cancer activity as possible despite record numbers of Covid patients.
Each area must have a cancer surgical hub established, with cancer surgery consolidated onto Covid-free sites.
NHS England has told trusts to prepare plans to use up to 100 per cent of private hospital capacity as part of contracts agreed with some private healthcare companies.
Cancer will be given priority for private-sector surgery as part of new surge plans being drawn up this week by hospitals and regions.
The letter said the regions must "ensure that, where local decisions are being taken to redeploy surgical and anaesthetic staff, that provision for P1 and P2 [the most urgent] cancer surgery is prioritised alongside that for patients with Covid".
Under the surgical categories, P1 is for life-threatening surgery needed in the next 72 hours, while P2 is for surgery needed within four weeks or it could lead to the loss of life or a limb.
It also called for greater centralisation of specialist surgery and is part of a broader effort by NHS England to get hospitals to pool their waiting lists for operations to try to keep as much non-Covid activity happening as possible.
Last week it emerged almost 200,000 people had waited more than a year for routine surgery in November, with the latest internal NHS data showing that was now likely to be as high as 240,000.
National Voices, a coalition of 170 health and care organisations, said it had great concerns over the effect on patients.
It said: "Our members have seen urgent cancer treatment being cancelled, a lack of ITU beds for those having heart attacks, and people effectively being turned away from primary care.
"These may now be necessary, unavoidable changes, but they beg answers to urgent questions: to what extent are NHS services open? Where services are closed, how are people being supported while they wait for treatment?"
In a effort to free up beds, NHS England is aiming to see more patients discharged from hospital and monitored at home under so-called "Covid virtual wards".
This not a unique concept: the NHS has begun implementing similar approaches in recent years, using technology to assess patients in their own home and can respond quickly if they deteriorate.
In a letter to hospitals last week, NHS England said: "Given the intense pressure on hospital beds right now, we are recommending that all integrated care systems (ICSs) immediately establish Covid virtual wards to support the earlier and safe discharge of Covid-19 inpatients. Covid virtual wards have been proven to reduce admissions/bed occupancy and improve length of stay, mitigating pressure on beds."
Across the country many hospitals have already introduced pulse oximeters, small devices that clip onto a finger to measure blood oxygen levels.
NHS England has purchased 200,000 for use in the community. They can help track a patient's level of sickness and identify those who need to get to hospital.
Ms Pritchard said 1.2 million people were urgently referred between March and October with a suspected cancer diagnosis, with 176,000 people starting treatment for cancer, 95 per cent within 31 days.
She said: "We want to ensure that the actions which enabled the NHS to sustain cancer services at such high levels during the first wave are in place as we confront the current challenges."
Last week she warned the NHS was about to face the "toughest part" of the pandemic.