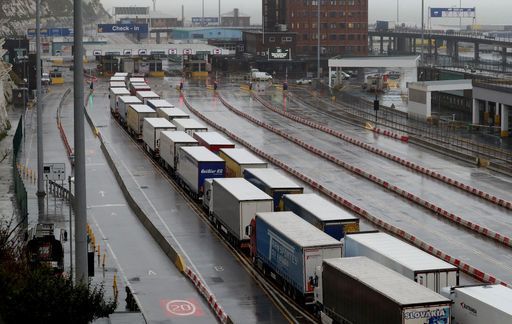 [ad_1]

The "chaos" seen at UK ports due to Brexit would top the news agenda in any other year, a road haulage boss has claimed.
Rod McKenzie, managing director of policy at the Road Haulage Association, said the situation at Dover and other ports is "deteriorating".
His comments came after foreign secretary Dominic Raab defended the UK's deal with the EU, saying there would always be "teething problems" at the end of the transition period.
Mr Raab insisted the agreement was "a great deal" for the fishing industry in particular, some of whose Scottish workers descended on Whitehall on Monday to protest against what they describe as "Brexit carnage".
Exports of fresh fish and seafood have been severely disrupted due to increased bureaucracy and paperwork at UK ports, causing delays to the lorries transporting them.
Meanwhile, some supermarkets in Northern Ireland have had supplies of fresh produce and other goods greatly reduced, resulting in empty shelves in chains across the region.
Queues of lorries have been pictured backed-up at ports including Dover, and Mr McKenzie said that disruption is likely to get worse.
He suggested the problems at ports are not getting the media attention they might have done due to the seriousness of the ongoing coronavirus pandemic.
Speaking to talkRADIO on Monday, Mr McKenzie said: "The situation at Dover, and at the Irish ports, would be right at the top of the news agenda in any other year.
"What we have is a chaotic situation, which is deteriorating, based on a really small number of the usual amount of lorries that go over the Channel and over the Irish Sea to bring us goods, because everything we need comes on the back of a lorry."
He added: "And that flow is being disrupted at the moment by a brand new mountain of red tape, which was introduced when we left the EU."
The Scottish fishing industry has been hit particularly hard by the disruption.
Fishermen say that the additional red tape and delay caused by the EU-UK Trade and Cooperation Agreement has led to them losing huge sums from consignments unable to reach European export markets.
But appearing on the BBC's Andrew Marr Show on Sunday, Mr Raab claimed the Brexit deal was positive for the industry "both short term and long term".
"We get control over our fisheries back – full control as an independent coastal state – there is an immediate 15 per cent uplift in our access to fisheries for the UK sector in the first year. That rises to two-thirds in the five-year transition period, then we have annual negotiations," he said.
Mr Raab added: "Of course, we've always said as we leave the transition period with a deal – but even more if we hadn't had a deal – there will be some teething problems. We're very focused on working with all of the different sectors, including the fishing industry, to resolve any of these teething problems."
[ad_2]

Source link