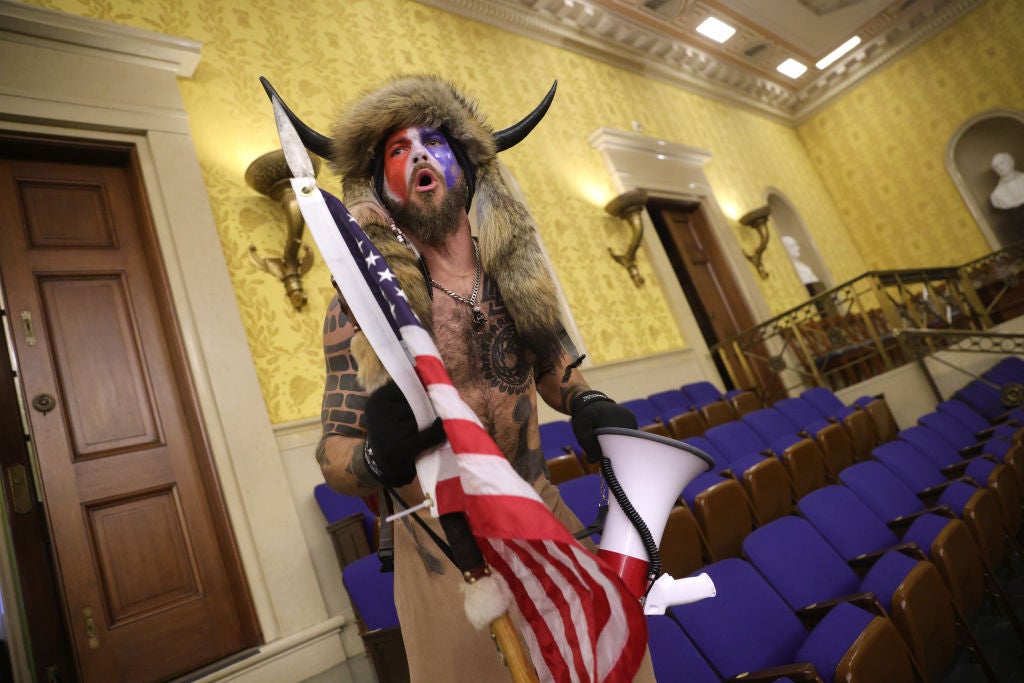 Jacob Anthony Chansley, who calls himself the "QAnon Shaman", says Mr Trump invited him to storm Congress as lawmakers certified Joe Biden's election victory.
Mr Chansley, also known as Jake Angeli, handed himself in to authorities on Saturday and was subsequently charged with crimes including violent entry and disorderly conduct.
His lawyer, however, claims the 33-year-old behaved "peacefully" and should therefore have his charges dropped.
"My client had heard the oft-repeated words of president Trump," said attorney Albert Watkins. "The words and invitation of a president are supposed to mean something."
Speaking to CBS KMOV4 on Thursday, Mr Watkins added: "Given the peaceful and compliant fashion in which Mr Chansley comported himself, it would be appropriate and honorable for the president to pardon him Chansley and other like-minded, peaceful individuals who accepted the president'ss invitation with honorable intentions."
Mr Chansley was among hundreds of pro-Trump rioters who breached the heart of American democracy to protest against false claims by the president that the election was rigged in favour of Mr Biden.
He was pictured wearing fur, horns, white and blue face paint and gained entry to the Senate chamber, carrying an American flag and a spear around 6ft in length.
Last Wednesday's ugly scenes have been described as some of thhe "darkest" in modern US history, prompting a ramping up of security ahead of Mr Biden's 20 January inauguration.
Thousands of National Guard troops were deployed to the Captiol this week as Democrats began attempts to remove Mr Trump from office over his role in the attacks.
Mr Trump has been charged with "incitement of insurrection" and on Wednesday became the first president in US history to be impeached twice.
He now faces trial in the Senate, where a two-thirds majority is required for a conviction.