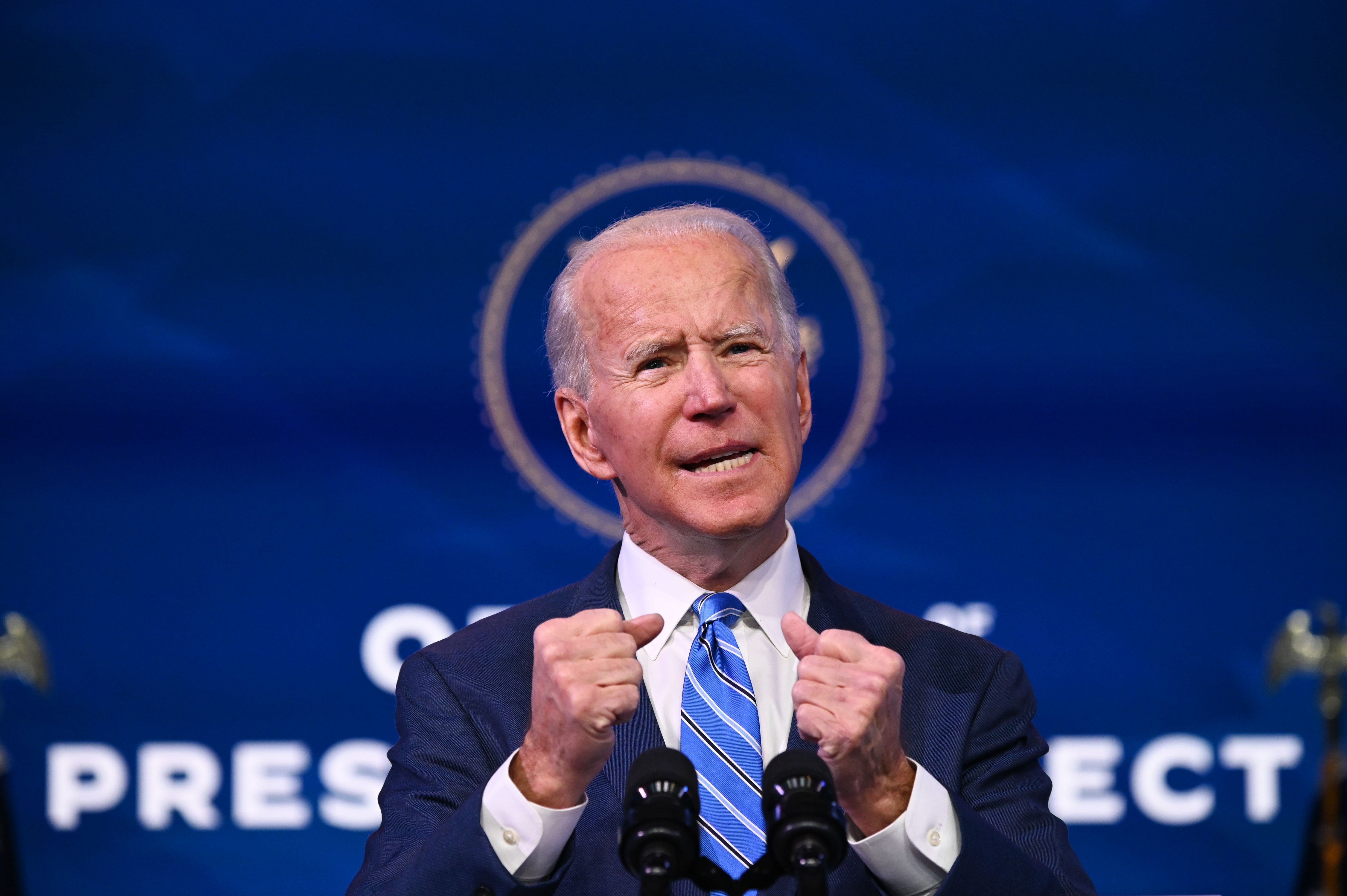 Joe Biden has unveiled a $1.9 trillion Covid relief plan that includes $1,400 checks for most Americans as he prepares to boost the government's pandemic response.
The huge financial package includes $400bn to directly combat coronavirus, accelerate vaccinations, and reopen closed schools within 100 days of its passing.
Mr Biden's American Rescue Plan will also include $1,400 direct stimulus payments, and $350bn to help state and local governments cover funding gaps brought on by the pandemic.
The stimulus checks would supplement the $600-per-person figure that was passed by Congress in December.
"We will finish the job of getting a total of $2,000 in cash relief to the people who need it the most," said Mr Biden.
"The $600 already appropriated is simply not enough. You just have to choose between paying rent and putting food on the table. Even for those who have kept their jobs these checks are really important."
Mr Biden officially announced the plan in a speech in Wilmington, Delaware, on Thursday evening, that he will use to kick-off his presidency ahead of next week's inauguration.
The plan has an extra $160bn for a national vaccine programme, including $20bn for distribution and $50bn for increased testing.
"During this pandemic, millions of Americans through no fault of their own, have lost the dignity and respect that comes with a job and paycheck," said Mr Biden.
"Millions of Americans never thought they'd be out of work, many could never envision the idea, are facing eviction, waiting for hours in their cars to feed their families as they drive up o a food bank
"Millions have kept their jobs but have seen their hours and pay checks reduced, barely hanging on as well."
Mr Biden also attacked the slow pace of the vaccine rollout under the Trump administration.
"The vaccine rollout in the United States has been a dismal failure thus far," he said.
"Tomorrow I will lay out our vaccination plan to correct course and meet our goal of 100 million shots at the end of my first 100 days as president.
"This is one of the most challenging operational efforts we have ever undertaken as a nation.
"We will have to move heaven and earth to get more people vaccinated and create more places to get them vaccinated, to mobilise more medical teams to get shots in people's arms, to complete vaccine supply and to get it out the door as fast as possible."
Mr Biden wrapped up his speech, which made no mention of Donald Trump or his impeachment, by promising Americans his honesty.
"There will be stumbles, but I will always be honest with you about both the progress we're making and what setbacks we meet." he added.
"Here is the deal,  the more people we vaccinate, the faster we do it, the sooner we can save lives and put this pandemic behind us and get back to our lives and our loved ones."
Mr Biden's plan was welcomed by Senate Democratic leader Chuck Schumer and House Speaker Nancy Pelosi.
"When president-elect Biden was elected, he told the American people that 'Help is on the way.'  With the Covid rescue package the president-elect announced today, he is moving swiftly to deliver that help and to meet the needs of the American people," they said in a joint statement.
"House and Senate Democrats express gratitude toward and look forward to working with the president-elect on the rescue plan.
"American families face an extraordinary combination of health and economic crises – from Covid-19 to racial inequality to climate change – all of which demand big, bold, and immediate action.
"The emergency relief framework announced by the incoming Biden-Harris administration tonight is the right approach."
An estimated 23.2 million Americans have contracted the virus and more than 386,000 have died from it during the pandemic.
More than 10.2 million Americans had received their first inoculations as of Wednesday, with states now being urged to vaccinate anyone over the age of 65 to increase the pace.
The winter virus surge, and the restrictions put into place to combat the spike,  has also continued to harm the economy.
The Labor Department says that in the first week of 2021, 1.15 million Americans filed a new unemployment claim, up 25 percent from the week before.
The US also lost 140,000 jobs in December, the department reported.