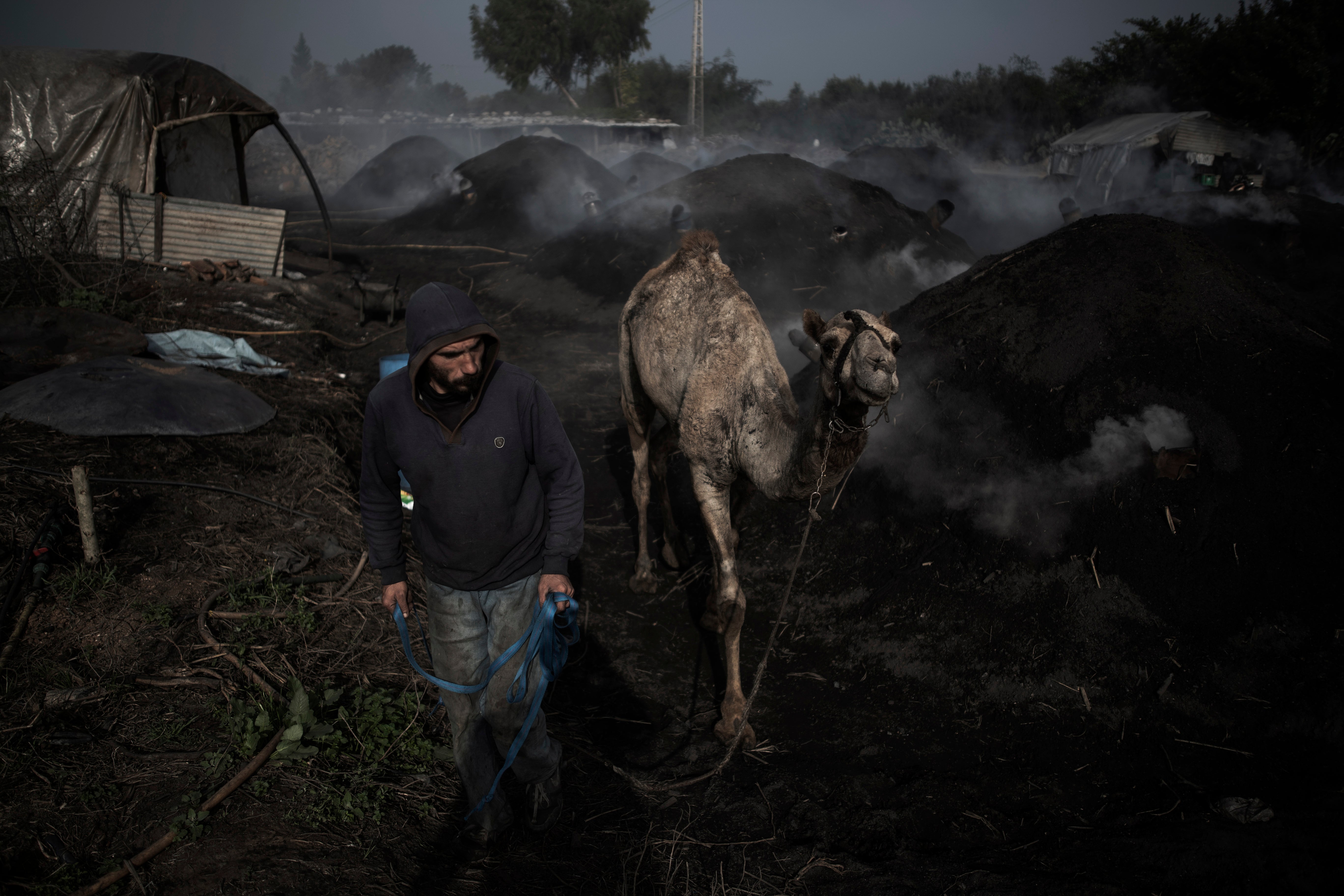 Here are the AP's latest coverage plans, top stories and promotable content. All Times EST. For up-to-the minute information on AP's coverage, visit Coverage Plan at https://newsroom.ap.org.
CAPITOL BREACH-MILITARY-POLICE — An Associated Press review of public records and social media shows at least 21 current or former members of the U.S. military or law enforcement have been identified as being at or near last week's Capitol riot, with at least a dozen under investigation. In many cases, those who stormed the Capitol appeared to employ tactics, body armor and radio headsets similar to those of the police they were confronting. By Michael Biesecker, Jake Bleiberg and James LaPorta. SENT: 1,510 words, photos
VIRUS OUTBREAK-BIDEN — President-elect Joe Biden unveils a $1.9 trillion coronavirus plan to end "a crisis of deep human suffering" by speeding up vaccines and pumping out financial help to those struggling with the pandemic's prolonged economic fallout. By Ricardo Alonso-Zaldivar and Bill Barrow. SENT: 1,130 words, photos. With VIRUS OUTBREAK-BIDEN'S PLAN — Highlights of the proposal. SENT: 570 words, photo; BIDEN — Biden will have to steer a massive coronavirus relief bill through an evenly divided Senate as President Trump's impeachment trial looms. SENT: 740 words, photos.
CAPITOL BREACH-LONE OFFICER — Amid all the noise since a mob laid siege to the U.S. Capitol, an officer hailed as a hero has stayed silent. Capitol Police officer Eugene Goodman was alone before a crowd of rioters. He retreated upstairs and led them away from Senate chambers. Senators were still meeting at the time. Some believe he saved their lives. Public records show he's an Army veteran who's worked for the Capitol Police since at least mid-2009. A House bill introduced Thursday would give him the Congressional Gold Medal. By Jeffrey Collins. SENT: 700 words, photos, video. WITH CAPITOL BREACH-SEDITION — A little-used Civil War-era statute that outlaws waging war against the United States is getting a fresh look after the attacks on the Capitol in Washington. The last successful prosecution for seditious conspiracy in the U.S. came in 1995 in a case involving Islamic militants who plotted to bomb New York City landmarks. Last week, the acting U.S. attorney for D.C. said "all options are on the table," including sedition charges, for use against the Capitol invaders. By Larry Neumeister. SENT: 880 words, photos.
VIRUS OUTBREAK-EUROPE-LOCKDOWNS — Most of Europe kicked off 2021 with earlier curfews or stay-at-home orders amid sharp spikes in coronavirus infections increasingly blamed on the more contagious variant first detected in the U.K. But authorities in Spain say the variant causing havoc elsewhere is not to blame for its sharp resurgence of cases and that the country can avoid a full lockdown even as its hospitals fill up. By Aritz Parra. SENT: 1,000 words, photos.
VIRUS OUTBREAK-DEEP SOUTH — The coronavirus vaccines have been rolled out unevenly across the U.S., but some states in the Deep South have had particularly dismal inoculation rates. Data from the states and the U.S. Centers for Disease Control and Prevention shows that less than 2% of the population in Alabama, Georgia, Mississippi and South Carolina had received its first dose of a vaccine at the start of this week. Public health researchers note that it has typically lagged in funding public health systems and addressing disparities in care for its large rural population. By Sudhin Thanawala. SENT: 1,000 words, photo.
ISRAEL-NETANYAHU CHALLENGER — Israeli Prime Minister Benjamin Netanyahu's top challenger in upcoming elections is promising a tough line toward Iran and the Palestinians. Yet Gideon Saar says he's confident he has the tools to avoid what appears to be a collision course with the incoming Biden administration. Saar is a former star in the ruling Likud party. He's accused Netanyahu of turning the movement into a sycophantic tool for survival as the prime minister faces a corruption trial. By Josef Federman. SENT: 1,065 words, photos.
FEDERAL EXECUTIONS-JOHNSON — The U.S. government has executed a drug trafficker for a series of slayings in Virginia in 1992, despite his recent COVID-19 infection. Corey Johnson received a lethal injection Thursday at the federal prison complex in Terre Haute, Indiana. He's the 12th inmate put to death there since President Donald Trump resumed federal executions in July. Attorneys for the 52-year-old Johnson argued the injection would cause excruciating pain due to lung damage from his coronavirus infection last month. Johnson's execution and Friday's scheduled execution of Dustin Higgs are the last before next week's inauguration of President-elect Joe Biden, who opposes the federal death penalty and has pledged to end its use. By Michael Tarm and Denise Lavoie. SENT: 980 words, photo.
_______________________________
_______________________________
AUSTRALIA-PIGEON — A pigeon that Australia declared a biosecurity risk may get a reprieve after a U.S. bird organization declared its identifying leg band is fake. SENT: 710 words, photos.
COLLEGE-ADMISSIONS-BRIBERY — Fashion designer Mossimo Giannulli is asking to serve the remainder of his five-month prison term at home, saying he spent eight weeks in solitary confinement before being transferred to a minimum security camp this week. SENT: 400 words, photo.
ELECTION-2021-NYC-MAYOR — Former presidential candidate Andrew Yang has officially entered the race for mayor of New York City. Yang joins a crowded Democratic primary field that includes longtime elected officials and veterans of the administration of Mayor Bill de Blasio. SENT: 410 words, photos, video.
LOTTERY JACKPOTS — Wednesday night's Powerball jackpot was worth at least $550 million and grew to an estimated $640 million without a winner. The next drawing is Saturday. SENT: 200 words, photos.
AIRLINES-SECURITY — Airlines and airports say they are stepping up security before next week's presidential inauguration, with Delta, United and Alaska saying they will prohibit passengers flying to the Washington area from putting guns in checked bags. SENT: 800 words.
GRAY WOLVES-ENDANGERED — Wildlife advocates on Thursday asked a federal court to overturn a U.S. government decision that stripped Endangered Species Act protections for wolves across most of the nation. SENT: 290 words.
VIRUS-OUTBREAK-BRAZIL-MANAUS OXYGEN — Hospital staffers and relatives of COVID-19 patients are rushing to provide facilities with oxygen cylinders just flown into the Amazon rainforest's biggest city as doctors choose which patients will get to breathe amid dwindling stocks and an effort to airlift some of them to other states. The shortage of oxygen in Manaus is such that the local government's provider is considering diversion of some of the supply from neighboring Venezuela. By Mauricio Savarese and David Biller. SENT: 930 words, photos. WITH: VIRUS-OUTBREAK-BRAZIL — Oxygen shortage in Amazon city forces mass patient transfer. SENT: 960 words, photos.
VIRUS OUTBREAK ASIA — China says it is now treating more than 1,000 people for COVID-19 as numbers of cases continue to surge in the country's north. The National Health Commission said 26 of the patients were in serious condition. Also, 144 new cases have been recorded over the past 24 hours. The province of Hebei, just outside Beijing, accounted for 90 of the new cases, while Heilongjiang province further north reported 43 new cases. But local transmissions occurring elsewhere showed the virus' ability to move through the country despite quarantines, travel restrictions and electronic monitoring of citizens. SENT: 370 words, photos.
VIRUS-OUTBREAK-VACCINE-EMPLOYERS — As vaccinations continue across the U.S., some companies are offering financial incentives to encourage their workers to get the shots. Grocery delivery service Instacart said Thursday it will provide a $25 stipend to workers who get the shots. Other companies, like Target, DoorDash and Albertsons, saying they're not giving bonuses for vaccines but are trying to ensure their workers get access to the shots soon. By Alexandra Olson and Dee-Ann Durbin. SENT: 1050 words, photo.
VIRUS-OUTBREAK-BRITAIN-VACCINE — Researchers writing in a British medical journal are recommending that ethnic minorities should be considered "extremely vulnerable" to COVID-19, a distinction that could give groups hard hit by the pandemic earlier access to potentially life-saving vaccines. They say "systemic racism" is the fundamental cause of higher coronavirus mortality among ethnic minority communities. By Danica Kirka. SENT: 510 words.
VIRUS OUTBREAK-BRITAIN-SOUTH AMERICA — The U.K. is banning travel from the whole of South America and Portugal amid concerns over a new variant of the coronavirus in Brazil. British Transport Secretary Grant Shapps says that as of 4 a.m. Friday, arrivals from more than a dozen countries, including Argentina, Chile and Peru, will be halted "following evidence of a new variant in Brazil." SENT: 360 words, photos.
Find more coverage on the Virus Outbreak on the featured topic page in AP Newsroom.
TRUMP IMPEACHMENT — President Donald Trump's impeachment heads to the Senate, where members will serve not only as jurors but witnesses and victims to the deadly Capitol siege. By Lisa Mascaro and Mary Clare Jalonick. SENT: 1,130 words, photos, video. With TRUMP IMPEACHMENT-SENATORS — Republican senators again face the choice of whether to convict Trump. SENT: 1,080 words, photos; TRUMP IMPEACHMENT MANAGERS — The nine Democrats who will argue the case for impeachment. SENT: 900 words, photos; CONGRESS-EXPLAINING 2ND IMPEACHMENT — House Speaker Nancy Pelosi must figure out the best strategy for arguing the case. SENT: 1,250 words, photos.
CONGRESS-SCHUMER — Future Senate Majority Leader Chuck Schumer has never taken on such a torrent of challenges as he confronts now, with the opening days of both the Biden administration and Democratic control of the chamber coming at the very moment an impeachment trial gets underway. Schumer has one overriding mandate: Help Joe Biden become a successful president. By Andrew Taylor. SENT: 1,020 words, photo.
UNITED STATES-AFGHANISTAN — The U.S. military has reached its goal of reducing the number of troops in Afghanistan to roughly 2,500, a drawdown that appears to violate a last-minute congressional prohibition on troop withdrawals. President Trump ordered the troop reduction in November. By Robert Burns and Lolita C. Baldor. SENT: 820 words, photos.
INAUGURAL POET — The country's next inaugural poet is an old pro at ceremonial occasions — and she's only 22. Amanda Gorman has written for everything from a July 4 celebration featuring the Boston Pops Orchestra to the inauguration at Harvard University for school president Larry Bacon. By Hillel Italie. SENT: 670 words, photo.
INDONESIA-EARTHQUAKE — A strong, shallow earthquake has shaken Indonesia's Sulawesi island, toppling homes and buildings, triggering landslides and killing at least 15 people. More than 600 people were injured during the magnitude 6.2 quake that struck just after midnight Friday and sent people fleeing their homes in the darkness. By Niniek Karmini and Yusuf Wahil. SENT: 590 words, photos.
NKOREA-PARTY-CONGRESS — North Korea has rolled out developmental ballistic missiles designed to be launched from submarines and other military hardware in a massive nighttime parade. The weaponry displays punctuated leader Kim Jong Un's defiant calls to expand a nuclear and missile program that threatens his Asian rivals and the U.S. State media said Kim took center stage at the parade Thursday night that was held to celebrate the ruling party meeting that ended this week. By Kim Tong-hyung. SENT: 700 words, photos.
GAZA-WOODCUTTERS — Woodcutters in Gaza are looking for work as the population climbs and trees disappear in the blockaded Palestinian territory. One of them says jobs are increasingly rare, and so are green spaces. More than 2 million people are crammed into a 360-square-kilometer strip in the enclave wedged between Israel, Egypt and the Mediterranean Sea. By Wafa Shurafa and Fares Akram. SENT: 460 words, photos.
HAITI-PRESIDENTIAL-POWERS — Haiti is bracing for widespread protests as opposition leaders demand that President Jovenel Moïse step down next month as an increasingly tired and angry population worries he is amassing too much power as he enters his second year of rule by decree. By Evens Sanon and Dánica Coto. SENT: 990 words, photos.
INDONESIA-PLANE CRASH — More searchers and rescuers have joined the search for wreckage and victims from an Indonesian plane that crashed last weekend in the Java Sea. The mission coordinator says the aerial search for the crashed Sriwijaya Air jet is being expanded too. Searchers are using an underwater metal detector and remotely operated vehicle to find human remains, the plane's cockpit voice recorder and more wreckage. SENT: 300 words, photos.
UNITED NATIONS-MALI-PEACEKEEPERS — The United Nations says a fourth U.N. peacekeeper from Ivory Coast has died from injuries inflicted by an improvised explosive device and an attack by unidentified gunmen in northern Mali's Timbuktu region. In Wednesday's incident, the U.N. initially reported that three Ivorian peacekeepers died and six were injured. SENT: 240 words.
FLINT WATER — A new investigation of the Flint water disaster led to charges against nine people, including former Michigan Gov. Rick Snyder and key members of his administration, who are accused of various crimes in a calamitous plan that contaminated the community with lead and contributed to a fatal outbreak of Legionnaires' disease, authorities said Thursday. By David Eggert, Ed White and Corey Williams. SENT: 920 words, photos, video.
POLICE ACCOUNTABILITY NEW YORK — New York's attorney general sued the New York Police Department, calling the rough treatment of protesters against racial injustice last spring part of a longstanding pattern of abuse that stemmed from inadequate training, supervision and discipline. By Michael R. Sisak. SENT: 760 words, photos.
POLICE SHOOTING-WISCONSIN-KENOSHA — A Black man who was shot in the back by a white police officer in Wisconsin, triggering several nights of violent protests over the summer and leaving him partially paralyzed, said in an interview broadcast Thursday that he was prepared to surrender just before the officer opened fire. SENT: 710 words, photos.
AMERICA-PROTESTS-CHICAGO-POLICE — The president of the Chicago Police officers' union says 17 officers and supervisors have been suspended for their involvement in an incident in which several officers were captured on video lounging in the office of a congressman during last summer's unrest. The video showing officers in the office of Democratic Rep. Bobby Rush at a time of widespread vandalism that happened in the city and around the country in the wake of George Floyd's death in Minneapolis. By Don Babwin. SENT: 380 words, photos.
GRAND CANYON-HELICOPTER CRASH — The pilot of a helicopter that crashed in the Grand Canyon in 2018, killing five British tourists, says he lost control of the aircraft after a "violent gust of wind" sent it spinning. The National Transportation Safety Board issued its final report Thursday. Investigators found that tailwinds, potential downdrafts and turbulence were the probable cause of the crash on the Hualapai reservation outside the national park. By Felicia Fonseca. SENT: 1,015 words, photos.
UNITED STATES-AFGHANISTAN — The U.S. military has reached it goal of reducing the number of troops in Afghanistan to roughly 2,500, a drawdown that appears to violate a last-minute congressional prohibition on troop withdrawals. President Donald Trump ordered the troop reduction in November. He said Thursday that troop levels in Afghanistan had reached a 19-year low, although he did not mention a troop number. By Robert Burns and Lolita C. Baldor. SENT: 830 words, photo.
FINANCIAL MARKETS — Asian shares are mixed after a late slide in several Big Tech stocks left major indexes lower on Wall Street. U.S. futures were trading slightly lower after President-elect Joe Biden announced his plans to propose a $1.9 billion package to help along a recovery from the coronavirus pandemic. The S&P 500 retreated in the last hour of trading to close 0.4% lower. The benchmark index was weighed down by losses in Apple, Microsoft and other huge tech companies. Small-company stocks continued to rally, a sign that investors are feeling more optimistic about the economy. Treasury yields also rose. By ELAINE KURTENBACH. SENT: 900 words, photos.
US-CHINA-BLACKLIST — The U.S. government has blacklisted Chinese smartphone maker Xiaomi Corp. and China's third-largest national oil company for alleged military links, heaping pressure on Beijing in President Donald Trump's last week in office. U.S. investors will have to divest their stakes in Chinese companies on the military list by November this year, according to an executive order signed by Trump in November. By Zen Soo. SENT: 380 words, photo.
OBIT-PETER-MARK-RICHMAN — Peter Mark Richman, a character actor who appeared in hundreds of television episodes and had recurring roles on "Three's Company" and "Beverly Hills 90210," has died. He was 93. His publicist says Richman died Thursday at his home in Los Angeles of natural causes. SENT: 280 words, photo.
BIDEN-INAUGURATION-ENTERTAINMENT — Lady Gaga will sing the national anthem at Joe Biden's inauguration and Jennifer Lopez will give a musical performance on the West Front of the U.S. Capitol when Biden is sworn in as the nation's 46th president next Wednesday. By Jocelyn Noveck. SENT: 855 words, photos.
BOOKS-TRUMP-IMPEACHMENT — A bound edition about President Donald Trump's second impeachment will feature a foreword from an estranged associate — former Trump attorney Michael Cohen. Skyhorse Publishing announced that "The Second Impeachment Report" comes out Feb. 9. SENT: 170 words, photo.
OBIT-JOANNE-ROGERS — Joanne Rogers, the widow of Fred Rogers, the gentle TV host who entertained and educated generations of preschoolers on "Mister Rogers' Neighborhood," has died. She was 92. The concert pianist was married to Fred Rogers for more than 50 years until his 2003 death. By Mark Kennedy. SENT: 480 words, photos.
JETS-SALEH — The New York Jets reached an agreement in principle with San Francisco 49ers defensive coordinator Robert Saleh to hire him as their head coach. Saleh replaces Adam Gase who was fired on Jan. 3 after going 9-23 in two seasons. Saleh is recognized as an energetic leader who is well liked by his players and had been the 49ers' defensive coordinator under Kyle Shanahan since 2017. By Dennis Waszak Jr. SENT: 910 words, photos.
BRAZIL-CABRERA-ARRESTED — Two federal police officers in Brazil say Argentine golfer Ángel Cabrera has been arrested for extradition to his homeland to face charges for several crimes allegedly committed from 2016 to last year. Two officers based in Rio separately confirmed to The Associated Press that Cabrera was the man arrested. The police statement says officials in Argentina have charged the suspect with assault, theft, illegal intimidation and repeated disrespect to authorities. By Mauricio Savarese. SENT: 310 words, photo.
At the Nerve Center, Sophia Tulp can be reached at 800-845-8450 (ext. 1600). For photos, Courtney Dittmar ext. 1900. For graphics and interactives, ext. 7636. Expanded AP content can be obtained from http://newsroom.ap.org. For access to AP Newsroom and other technical issues, contact apcustomersupport(at)ap.org or call 877-836-9477.