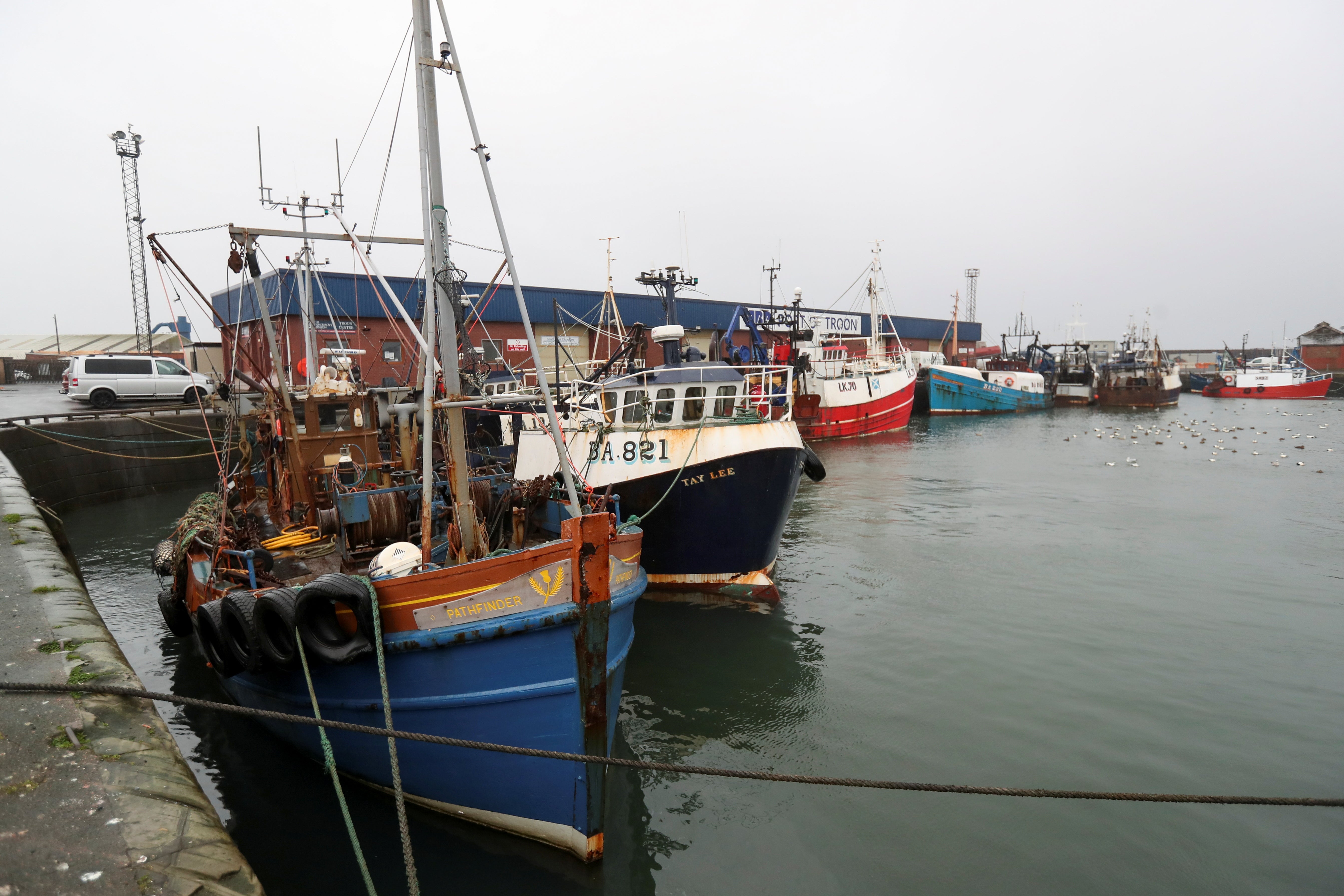 T
he reality of Brexit has blown Scottish fleets out of the water.
Many exports of fish and shellfish to the European Union this year have been stuck in transit – and rotted.
Industry groups report that exports to the Continent have halved, prices for the fleet's catch have collapsed and that many boats stand idle.
Lobby groups are up in arms, warning that businesses are on the verge of collapse, and demanding action from UK ministers.
Boris Johnson, asked about the chaos this week, insisted it was "temporary". The food and environment minister minster, George Eustice, described the difficulties on Thursday as "only teething problems".
"When people get used to using the paperwork goods will flow," he claimed.
But is this true? Or could this be a permanent – possibly even lethal – blow to an industry that was presented as one of the great victors of Brexit and whose interests were prioritised above so many other sectors by ministers in the trade deal negotiations?
First, it's important to be clear about the nature of the problem.
A majority of the fish landed in Scotland is sold to the EU market – species such as coley and megrim as well as shellfish such as scallop and langoustine are mainly bought by EU restaurants and markets.
But Brexit on 31 December made the UK a third country in relation to the European Union's single market and customs union.
That made it instantly necessary for anyone exporting animal produce into the EU – including fish and seafood exporters – to produce a considerable (and entirely new) amount of paperwork.
For fish, these range from Catch Certificates, to Export Health Certificates (with vets required to sign off each consignment), to Safety and Security Declarations.
Exporting fish to the EU is now a process with more than a dozen laborious bureaucratic steps, according to the government's own guidance.
Many firms that export seafood were not ready for these bureaucratic requirements, also known as non-tariff barriers.
They filled in forms incorrectly, or incompletely, and many consignments were not allowed into the EU as a result.
Some were rejected by new border computer systems on both sides of the Channel.
These delays are especially damaging for a sector such as seafood, because exports are fresh, often live in the case of shellfish, and spoil rapidly, which renders them valueless.
These blockages have rippled down the logistics and supply chains.
Some large logistics firms – which transport goods across borders – have temporarily stopped taking seafood from some Scottish smaller suppliers in their lorries because if the paperwork for only a part of their shipment is incorrect the entire consignment risks being held up.
The result is that it's safer for these firms not to take even potentially problematic batches.
Some Scottish boats have been landing their catches in Denmark to avoid these new problems of exporting from the UK to the EU. But this is threatening the Scottish fish processing sector, which employs some 8,000 people (60 per cent more more than are employed directly in fishing).
Others have simply stopped fishing – since there is no point landing fish if it is impossible to sell the catch.
The problem is by no means limited to Scotland. Merchants in Dorset have cited similar export difficulties, but Scotland is the largest centre of fishing in the UK,
After whisky, seafood is Scotland's second largest export.
The industry there is calling for a six-month "grace period" to allow companies to get used to the new bureaucratic requirements and sellers can be trained in how to navigate the system.
The problem is that, even if the UK government were willing to grant this, it would require cooperation from the EU.
In the wake of Brexit the leverage of London in Brussels is essentially zero.
European customers for Scottish seafood might, conceivably, lobby their governments to temporarily help ease the import requirements, given that the disruption threatens to push up their prices or even make certain species unavailable.
Yet experts are sceptical of success.
"What incentive is there for an EU, which had to give up fishing quota share to get a deal done, to go out of its way to ease the predictable consequences of an industry that has been outwardly hostile to its interests throughout the negotiations?" asks Sam Lowe of the Centre for European Reform.
It should be stressed that these new border frictions problems were extensively highlighted by trade analysts.
But the UK government refused to request a phase-in period for the new trade requirements in the negotiations.
And on Christmas Eve Boris Johnson claimed – entirely wrongly – that the deal his government had concluded would lead to "no non-tariff barriers" with the EU.
Any fishing business hearing those words from the prime minister might well have concluded that they did not need to prepare for new paperwork, or take seriously the preparation advice being produced by the government.
Analysts also warned that rhetoric from Brexiteers of taking full control of UK waters – and the presentation of larger national catch quotas as a tremendous boost for the UK fishing industry – was misleading and potentially dangerous given the large reliance of UK fleets on sales to the EU market.
The risk was always that the cost of the new bureaucratic sales burdens would outweigh the benefits of higher quotas.
The Scottish industry believes the situation can be salvaged.
"With some breathing space the system can be fixed and rebooted, and companies will then be able to keep moving," says Donna Fordyce, the chief executive of Seafood Scotland.
And the prime minister hinted at compensation for fishermen affected by the crisis on Wednesday, on top of a £100m fund to develop fishing post-Brexit as promised recently by Michael Gove.
Yet even with short-term financial support the longer the chaos continues the greater grows the danger of a permanent shift in supply and demand patterns in the European seafood trade – and permanent damage to the UK's fishing communities which were promised a "sea of opportunity" from Brexit.
"For some businesses a temporary disruption may be manageable but in this sector and on this scale, businesses face losing their livelihoods altogether without more time to adjust," said Allie Renison of the Institute of Directors.
"Lose a customer here and in many cases it's for good."
Asked about the crisis on Thursday, the leader of the House of Commons, Jacob Rees-Mogg said the government was "tackling the issue" and joked: "The key is they're now British fish and they're better and happier for it."
It's unlikely Scottish fisherman at risk of losing their livelihoods will see the funny side.