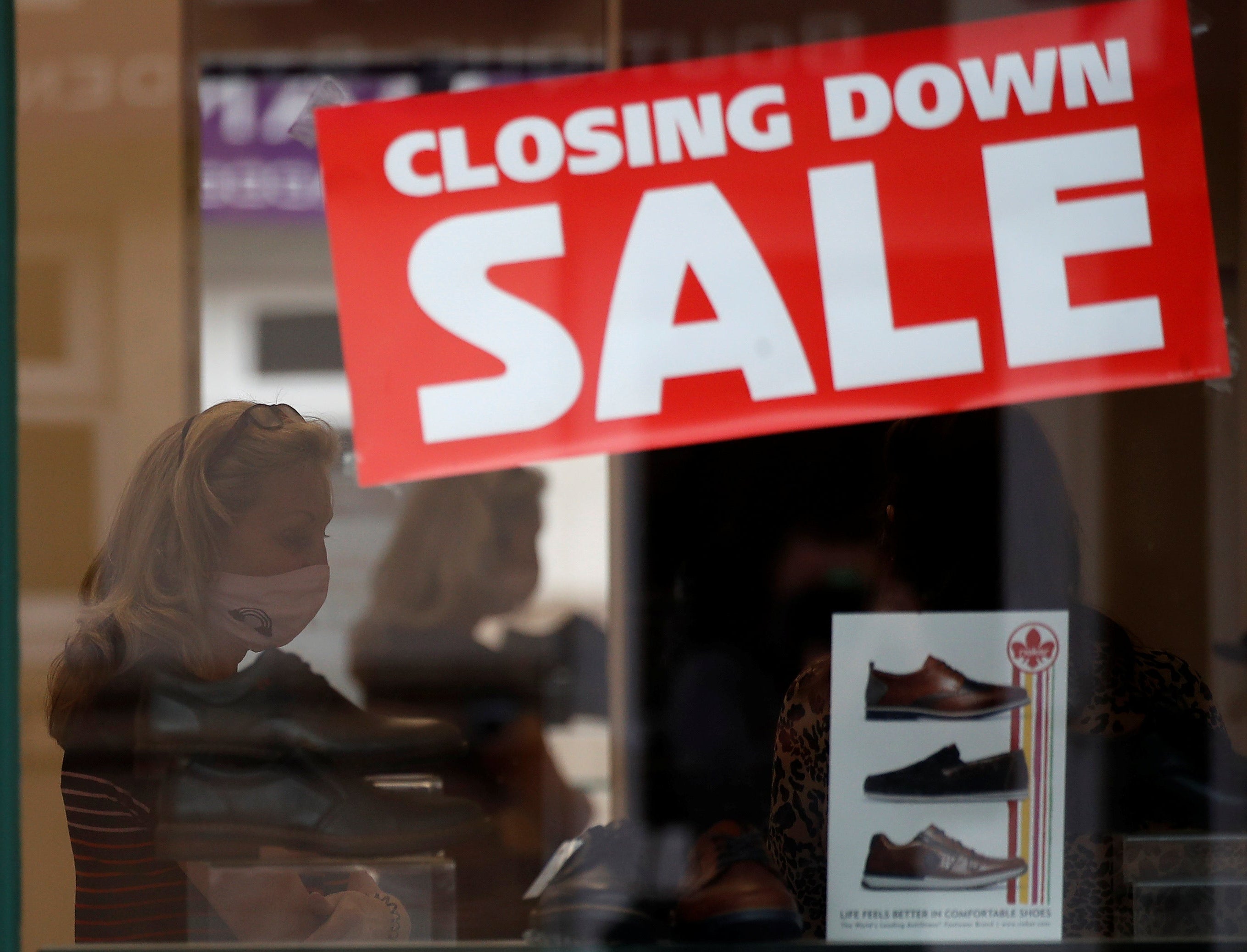 More than 400,000 jobs could be cut on UK high streets as consumers continue to shop online and commuters shift permanently to working from home much of the time, according to research.
Analysis by economists at KPMG suggests a shift towards home working will become permanent after the pandemic with hard-up businesses taking the opportunity to reduce their rent bills by cutting back on expensive city centre office space.
The authors forecast that offices will largely become "collaboration hubs" where many workers come to meet rather than sit at desks and performs tasks individually which can be effectively completed at home.
That will reduce the flow of commuters into towns and cities by between 10 per cent and 27 per cent on pre-Covid levels, KPMG estimates.
The level in each town is expected to be dependent on the proportion of workers in jobs that can be effectively carried out from home.
For example, in Hemel Hempsted and Bracknell, around 27 per cent of jobs are expected to be carried out from home compared to 12 per cent in Scunthorpe and Plymouth.
This will hurt retailers and restaurants dependent on commuters for sales impacting jobs in town centres. Businesses support services – from taxis to gardening to security services – are also expected to see reduced demand.
According to KPMG, high streets could lose between 20 to 40 per cent of their shops, cafes and other businesses as people make fewer trips into town centres and make more purchases online.  That would affect up to 5 per cent of the local workforce and in excess of 400,000 jobs.
The shift in behaviour is also likely to present opportunities for new jobs but will require government to help rethink the purpose of town centres, the report said.
According to KPMG, larger cities are likely to weather the changes better than smaller towns because they have more cultural and hospitality venues which provide a draw for visitors.
"The challenge for government, as it turns its focus to the levelling-up agenda, is to incorporate the changes brought about by the pandemic into its strategy," said Yael Selfin, chief economist at KPMG UK.
"The pandemic has added a new dimension to the levelling-up agenda. While some of the more deprived areas may be less impacted by the pandemic directly, as they had a smaller proportion of office workers and retail space to start with in their centres, they will still need to rethink their path for growth in light of the changes brought about by it.
"Our findings offer only a glimpse of locations' starting point. It highlights some of those that may need to go further in developing new ways to attract people to their centres compared to others where the offering is already relatively rich.
"Covid-19 has made it essential for places to galvanise their centres for the new way of living."
Chris Hearld, head of regions at KPMG UK, commented: "As we leave the pandemic behind, towns and cities across the UK will need help and space to rethink the purpose of their centres.
"Fostering collaboration between businesses and local policymakers can help rethink the journey to work with a focus on lower carbon, more customer-orientated and better-connected transport networks, and it will be important to prioritise investment in high-speed broadband and 5G connectivity."