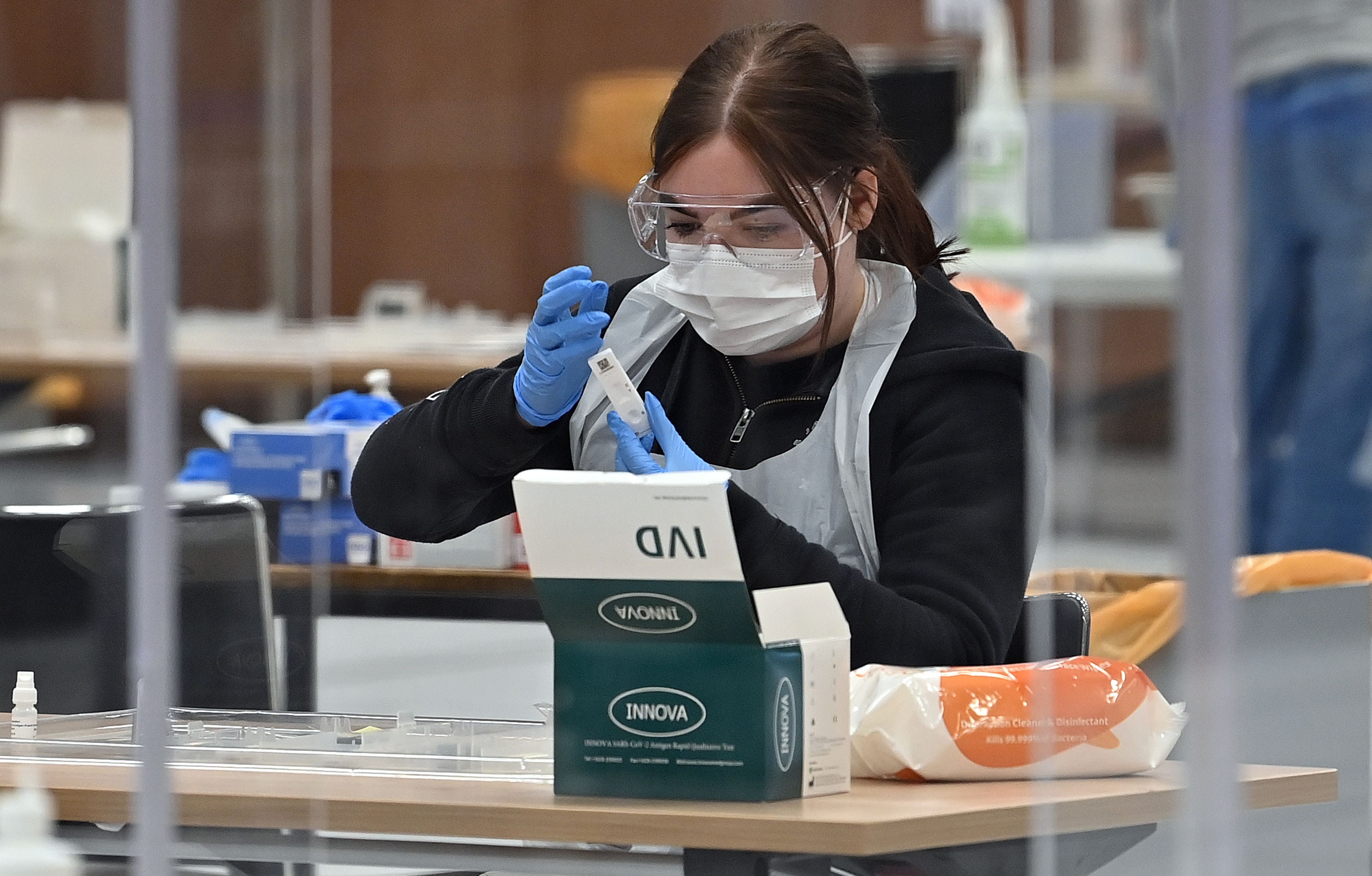 [ad_1]

Experts have cast doubt over a new coronavirus testing scheme for schools, warning it "may increase rather than decrease" cases.
Plans were announced last month for a round of mass testing of students and staff at the start of term, as well as weekly Covid-19 rapid tests for staff and daily ones for close contacts of a positive case instead of precautionary self-isolation.
Experts have called into question the testing scheme using lateral flow devices (LFD), which turn results around within minutes, in schools – which have now moved online to all but vulnerable and key worker children.
Writing in The British Medical Journal, they warned using testing to manage classroom outbreaks without isolating close contacts risks increasing the spread of the virus.
"Scientists have particular concerns that negative Innova (lateral flow tests) results are too inaccurate to rule out Covid," the article, written by a number of experts including University of Birmingham biostatistics professor Jon Deeks and former southeast England regional director of public health Mike Gill, said.
They warned serial testing of close contacts "may increase rather than decrease Covid cases in schools" as "the possibility that some close contacts who are infected will test negative and will spread the virus is not negligible".
The experts – which also included Royal Statistical Society members – warned this strategy is "contrary" to scientific guidance.
Under the schools testing scheme, daily contact testing would allow those who are in close contact with someone who has tested positive to return to school or college if they agree to be tested for seven days following last contact with a positive case and that test is negative.
Julie McCulloch from the Association of School and College Leaders, said: "Our understanding is that lateral flow tests generate a proportion of false negative results, and this will therefore mean that close contacts who test negative, but are in fact positive, will be admitted to schools."
In the BMJ article, the experts warned mass-testing with lateral flow tests deigned by Innova, a US-based diagnostics company, will "miss many" cases that are not yet symptomatic but still infectious. This would "falsely reassure those testing negative, if they are not properly informed of the test's limitations," the scientists wrote.
Andy Byers, a secondary school headteacher, said he had started testing staff who are in school this week. Although he said this had gone well, he told The Independent  he had "significant concerns about mass rollout".
"We struggle for space to have a permanent test set up when all the students are back, staffing is a worry, but my biggest concerns relate to the reliability of the tests, obtaining consent, and the sheer time it takes out of the school day for staff and students," he said.
The Framwellgate School Durham headteacher told The Independent: "The question mark over reliability means I would be reluctant to have students testing positive in and not ask close contacts to self isolate."
When asked about concerns over children spreading coronavirus in school before a positive result came through with an LFD test, Innova president Daniel Elliot claimed: "If you look at the virus kinetics … there is an extremely short period of perhaps hours where somebody would fall into that range."
He told BBC's Today programme on Wednesday: "It is just highly unlikely they are going to be spreading – if you do regular testing and repeated testing, so if you were to test every single day or perhaps three times per week – you are going to capture those students and you are going to be able to remove them from the circulation before they spread the virus."
A Department of Health and Social Care spokesperson said: "Around one in three people with coronavirus have no symptoms meaning they can pass on the disease without knowing it.
"To protect the health of the teaching workforce and students we are making rapid-result coronavirus tests available to schools and colleges to allow them to test staff and students regularly."
They added: "We are examining how daily contact testing arrangements and repeat testing can help find people without symptoms of coronavirus and break the chains of transmission."
Additional reporting by Press Association
[ad_2]

Source link