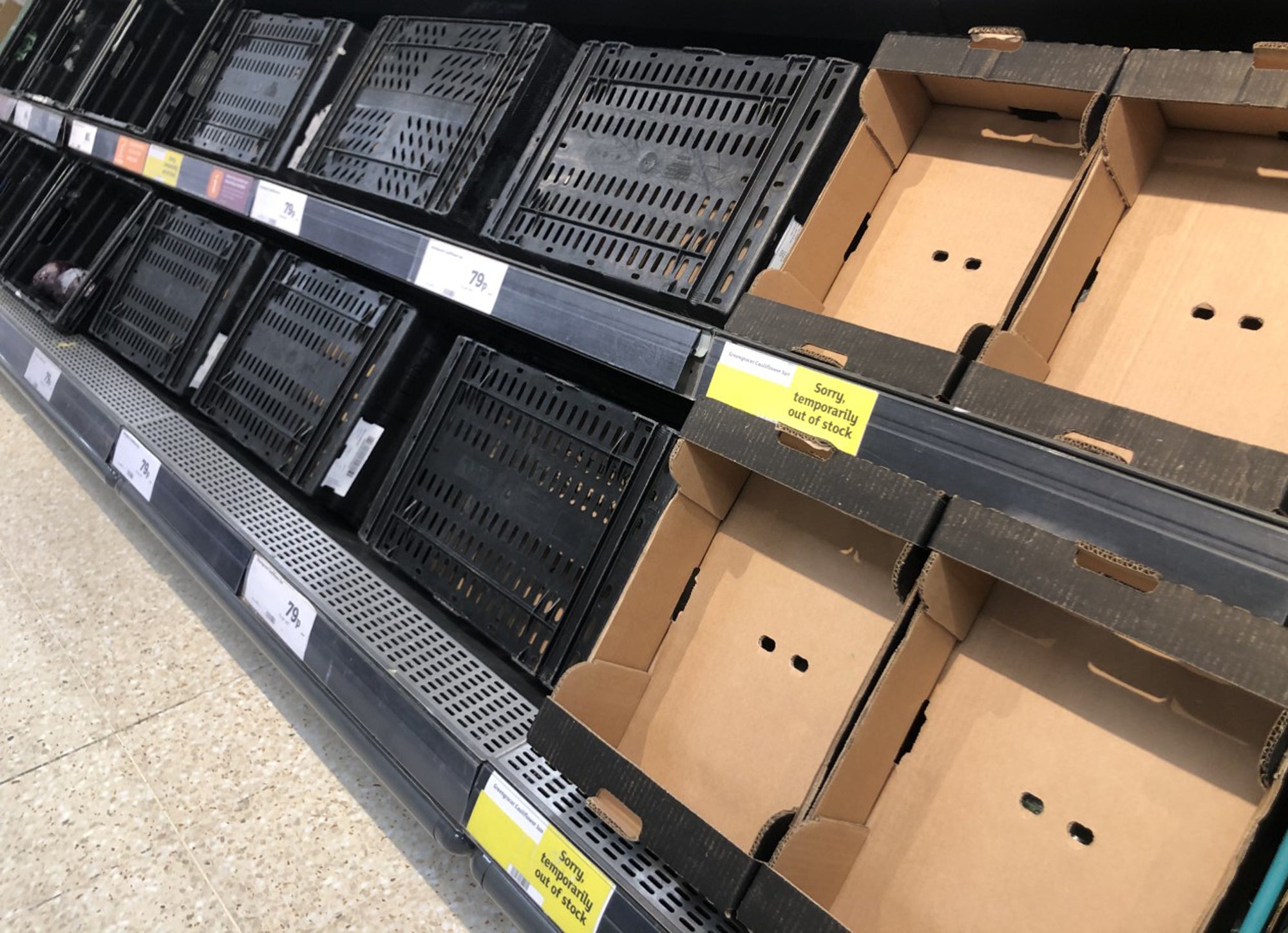 Boris Johnson has said he is ready to take unilateral action to safeguard food supplies to Northern Ireland if necessary, but dismissed current disruption as "teething problems".
The prime minister was confronted in the House of Commons by DUP Westminster leader Sir Jeffrey Donaldson, who said direct government intervention was needed to deal with empty supermarket shelves.
The Road Haulage Association has warned that the supply chain is "within days of falling apart" because of new Brexit paperwork making it much more complicated and expensive to transport goods from the British mainland to Northern Ireland.
But Mr Johnson played down the seriousness of the problem, caused by the introduction of a customs border down the Irish Sea under the terms of the EU withdrawal agreement which he signed.
He said he was ready if necessary to invoke Article 16 of the agreement's Northern Ireland Protocol, which gives the UK the right to take "appropriate safeguard measures" without consulting Brussels if the settlement causes "serious economic, societal or environmental difficulties".
But he insisted that the situation at the border had not yet reached that level.
Sir Jeffrey told the Commons: "The prime minister promised us that Northern Ireland will continue to have unfettered access to the UK internal market.
"And yet in my constituency consumers are facing empty supermarket shelves. They can't get parcels delivered from Great Britain.
"Small businesses can't bring spare parts on raw materials into Northern Ireland from Great Britain. Steel importers are facing tariffs and we have many other problems all caused by the Northern Ireland Protocol.
"So what I and the people of Northern Ireland need to know from the prime minister, as leader of the United Kingdom is what his government is going to do to address this, if he will consider invoking Article 16 of the Northern Ireland Protocol to resolve these issues?"
Mr Johnson responded: "At the moment goods are flowing effectively and in normal volumes between Great Britain and Northern Ireland. So far no lorries have been turned back.
"Yes of course there are teething problems. What I can say is that if there are problems that we believe are disproportionate then we will have no hesitation in invoking Article 16. "
Following prime minister's questions, Michel Gove blamed "the impact of Covid" and "steps taken by the French government at their border" for disruption.
"It is important to stress that freight volumes are at normal levels for this time of year, there have been no significant queues and supermarkets are now generally reporting healthy deliveries of supplies into Northern Ireland," he said.
He said the government was "working with companies across Great Britain" to help companies understand the new border systems.
But Sir Jeffrey, who had also asked Mr Gove an urgent parliamentary question, said the problems were "greater than maybe he recognises".
"Businesses in Northern Ireland are having difficulty ordering spare parts for equipment, importing raw materials. Just this week our steel manufacturers have ben informed that they face a 25 per cent tariff on some steel imports directly as a result of the Northern Ireland protocol," he told the Commons.


UK news in pictures
Show all 50
"In relation to consumers, they continue to face difficulties in supermarkets: it's not the case that all the supermarket shelves are fully stocked and we met yesterday with some of the main supply chain people in Northern Ireland.
They talk of ongoing difficulties in bringing goods in from Great Britain to Northern Ireland. These are issues that need to be resolved."
Mr Gove said: "There have been some online sales organisations that temporarily paused the distribution of goods to Northern Ireland but the majority of parcel distributors continued to distribute goods.
"We're working with those who had paused – a small number, admittedly – in order to ensure that they resume normal service."