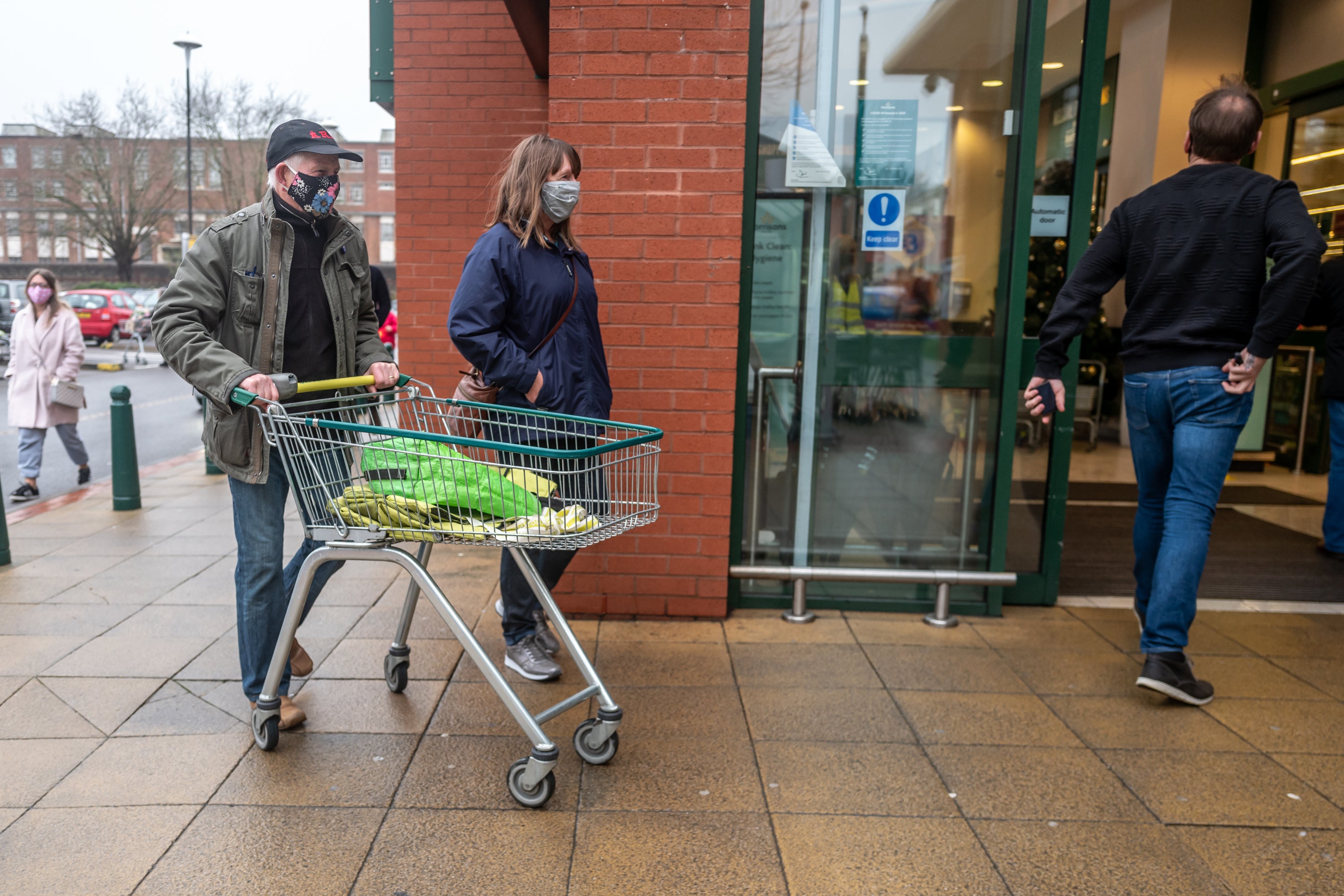 Supermarkets should ban shoppers who refuse to wear face coverings, Matt Hancock says, as the Covid crisis continues to worsen.
The health secretary praised Morrisons for taking the strong action, telling a press conference: "That's the right approach."
The comment came after the store broke ranks, saying: "Those who are offered a face covering and decline to wear one won't be allowed to shop at Morrisons unless they are medically exempt."
Later on Monday, Sainsbury's also confirmed it will post trained security guards at shop entrances to "challenge" any customers not wearing a mask or shopping in groups.
It suggests the government will continue to change the law to outlaw shopping by refuseniks – despite protests from some supermarket staff about non-compliance.
Instead, Mr Hancock said: "I am delighted that the police are stepping up their enforcement. But it isn't just about the government.
He added: "It's about how everybody behaves. I applaud the action Morrisons is taking today."
The health secretary also ruled out removing support and childcare "bubbles" – even if the lockdown is further tightened in the weeks to come.
And he insisted the plan to vaccinate the 15 million most vulnerable people by mid-February would be achieved, saying: "Yes, we are on track to meet that target."
The pledge came despite a new vaccination plan admitting the target to inoculate 2 million a week may not be achieved until the end of January.
Steve Powis, the NHS medical director, said there are now 13,000 more Covid-19 patients in hospital than there were on Christmas Day.
"Less than a fortnight into 2021, the number of people in hospital with Covid has already gone up by a third, a rise of around 8,000."
And, pointing to the bleak outlook, he added: "We are still to see the full impact of the Christmas loosening of restrictions."
Mr Hancock came under pressure over the rules on leaving home to exercise, after Boris Johnson was spotted cycling in east London at the weekend – 7 miles from Downing Street.
"It is OK to go for a walk with one other person around a park, but you should stay two metres apart from that other person," he said.
"And, likewise, it is OK, if you went for a long walk and ended up seven miles away from home, that is OK.
"But, you should stay local, you should not go from one side of a country to another, potentially taking the virus with you."
Asked when the lockdown will be eased, Mr Hancock declined to give a date, implying it would not be before over-60s have been vaccinated, in March or April.
That age group can also die from Covid and make up a significant proportion of people in hospital, while being less at-risk than over-70s, he said.
The other key issue is whether the vaccine will stop or reduce transmission by those given it – which will not be known for some weeks or months.