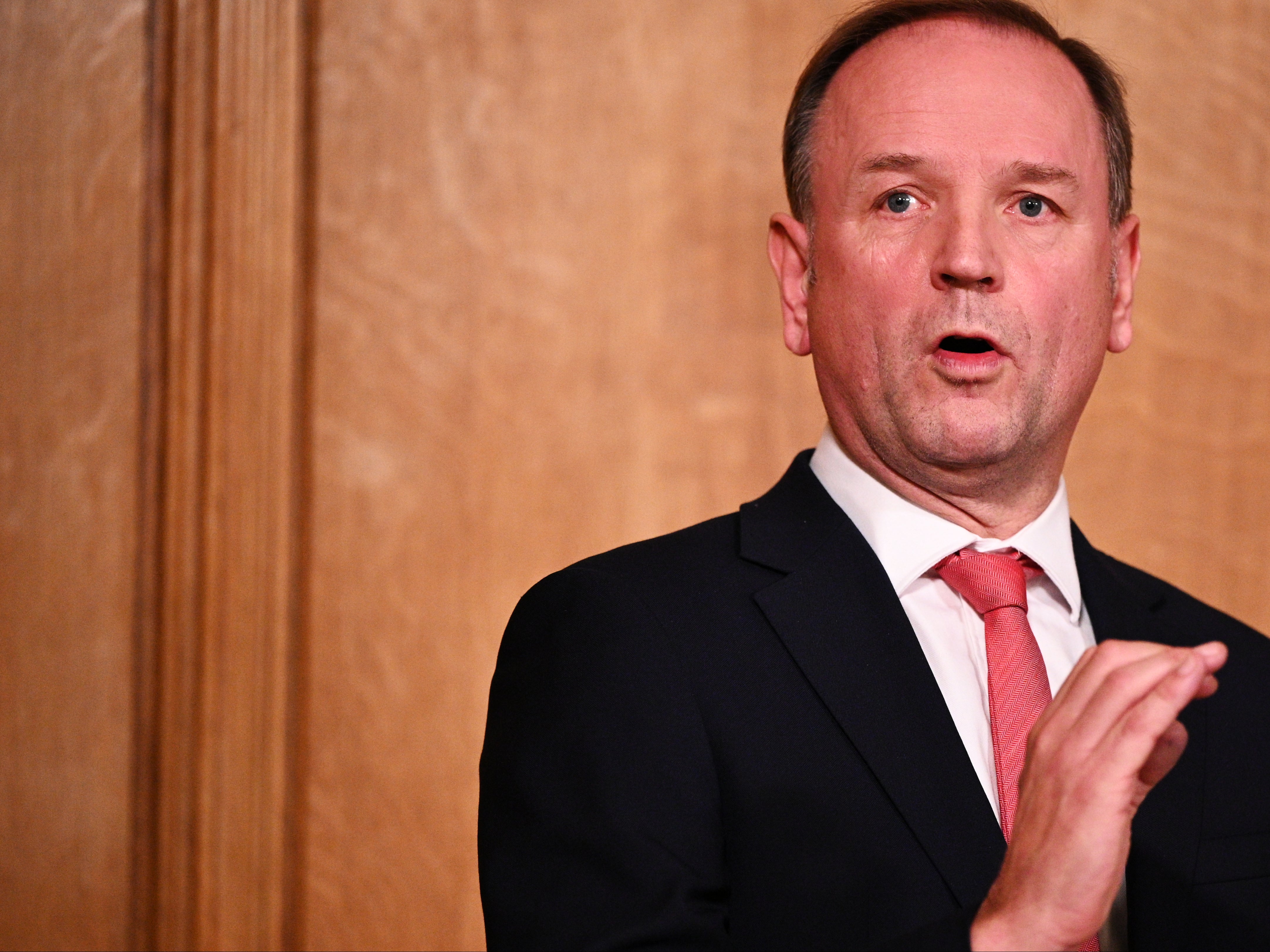 Speaking to the Public Accounts Committee on Monday afternoon Sir Simon said there were now worrying hospitalisations of patients across the NHS.He said: "We are facing an incredibly serious situation. We have more than 30,000 severely ill coronavirus patients in hospitals across England.
"That is up by 13,000 just since Christmas Day. In London perhaps one in 30 people has the coronavirus, in parts of London, it may be twice that number and if you look across other regions of England. The issue is the coronavirus is once again on the rise, in Merseyside for example, in just the last week, there has been a further 50 per cent, increase in the number of Covid hospitalisations.
"So this is a very serious moment for the country and for the National Health Service, and it's worth remembering that this affects all ages. A quarter of the Covid admissions to hospital right now are for people aged under 55. So this is something that we all have to take extremely seriously."
He added that the biggest thanks the public could offer the NHS was to stay at home and not put themselves at risk adding: "We now know how this virus spreads and in many parts of the country, it is spreading out of control.
Sir Simon was speaking as the government published its vaccination plan to tackle the coronavirus pandemic with 2.5 million people across the UK now having received at least one first dose of either the Pfizer/BioNtech or Oxford/AstraZeneca vaccines. In England, more than 374,000 people have had both doses of a vaccine.
The MPs were told the number of vaccinations had tripled in the past with Sir Simon saying there was a huge "team effort" to ramp up the programme. Seven new mass vaccination centres have been opened today with thousands of over 80's being invited for vaccinations in coming days.
The NHS England chief executive said there had been a large number of people willing to become vaccinators meaning theer would be enough staff to deliver the vaccinations.
He added the programme would be in "three phases" saying: "This is a sprint to mid-February, and then a sprint from mid-February through to the end of April, to extend vaccination for the rest of the higher risk groups identified by the Joint Committee on Vaccination and Immunisation, and then there will be a marathon from April through the summer into the autumn where we're offering everybody in the country who wants it over the age of 80."
Asked by commitee chair Meg Hillier whether we should change the prioritisation for vaccines for people who work in supermarkets and teachers Sir Simon said: "I think there is a strong case, particularly in respect of teachers and other key workers, once the first high priority groups have been vaccinated, for asking JCVI to consider specifically those groups."
He said NHS England's central expectation was that around three quarters of the people offered a vaccine may have one, but he said this could be higher with around 80 per cent of people aged over 65 taking up the offer of a flu jab this year.
England's chief medical officer, Professor Chris Whitty, urged the public to "stay at home unless you absolutely have to" as the next few weeks will be the "worst weeks of the pandemic".
Professor Chris Whitty said the vaccine rollout offered hope that lockdown restrictions could be lifted in the coming months, but described the current UK death rate as "appalling".
During a BBC phone-in on the current high case rates, he said: "I don't think we're yet at the peak, I'm afraid.
"I think we will be at the peak if everybody can double down and absolutely minimise their contacts.
"The point of the lockdown is to bring that forward, but it only works if everyone really thinks about every individual interaction they have and try and minimise them."
Prof Whitty said the the new variant of coronavirus was causing a "significant problem", telling BBC Breakfast: "We will get through together, but at this point in time we're at the worst point in the epidemic for the UK."