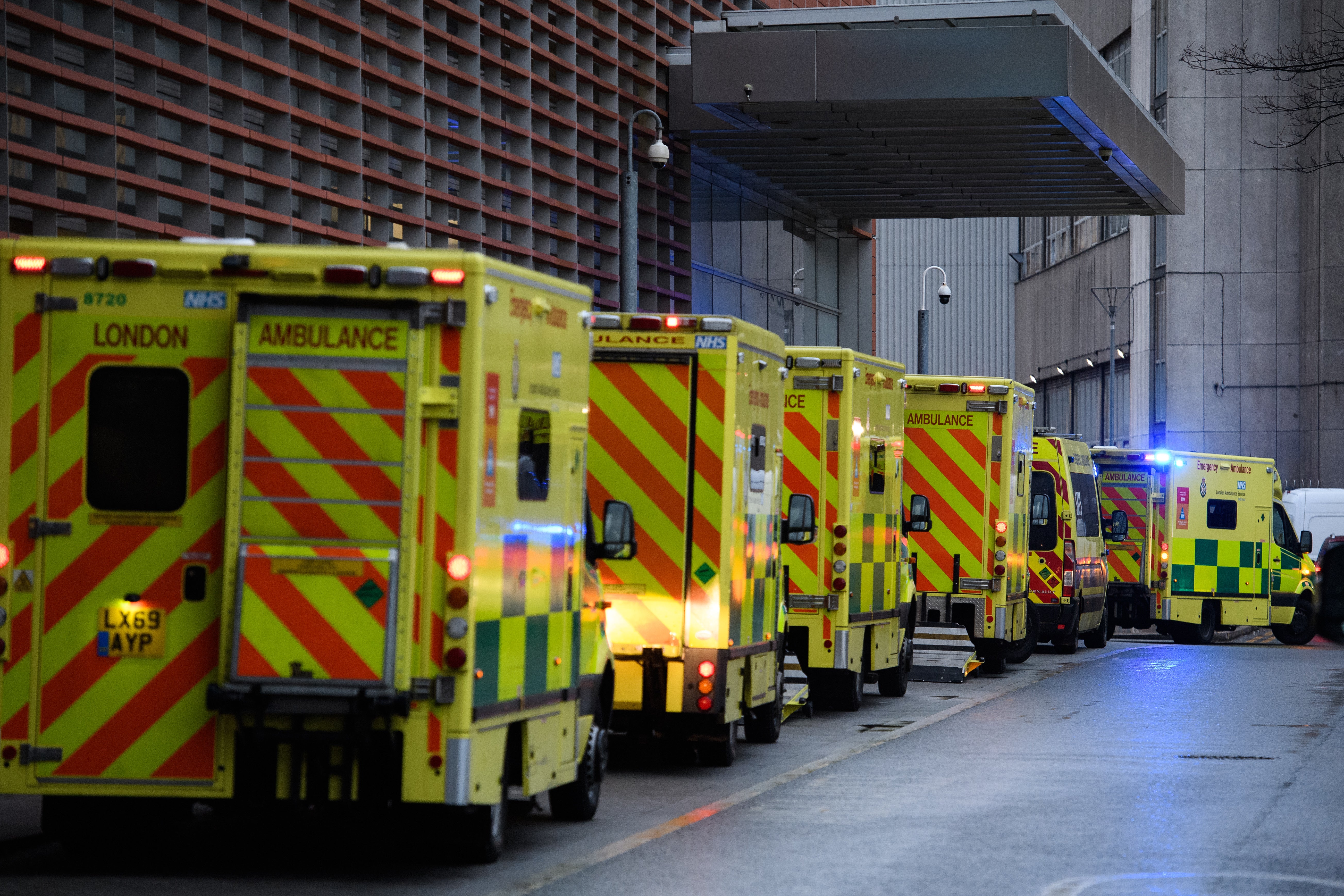 Patients are waiting up to nine hours in the back of ambulances to be passed into the care of hospitals, a leading paramedic has warned.
Tracy Nicholls, chief executive of the College of Paramedics, said that handover delays have reached a scale that "haven't been seen before", with ambulance services facing "unprecedented pressure" amid a deluge of Covid-19 hospitalisations that have pushed the NHS to the brink.
Patients in emergency calls classified as category two – such as those involving a suspected stroke or chest pains – should be seen by paramedics within an average of 18 minutes but are being forced in some cases to wait up to 10 hours.
"It [the ambulance service] is under unprecedented pressure," Ms Nicholls told Sky News on Sunday.
"We are very used to seeing ambulance services take some strain over the winter months due to the normal pressures we would see any particular year.
"But this year particularly has seen incredible pressure because of the clinical presentation of the patients our members are seeing. They are sicker."
Scientists have warned that the rising trend in Covid cases, hospitalisations and deaths could continue throughout January, with the impact of social mixing over the Christmas period yet to be fully felt.
The number of coronavirus patients in hospital in England stood at a record 29,346 as of 8am on Friday, up by 30 per cent from the week before, while admissions are continuing to hit new heights.
According to the latest NHS England figures, 3,697 hospital people were admitted to hospital on 5 January, passing the previous record of 3,587 set the day before. During the first wave of the pandemic, admissions peaked at 3,099 on 1 April.
With more and more people requiring emergency responses, England's ambulances services have been left overwhelmed.
"We are seeing the ambulance handover delays at a scale we haven't seen before," Ms Nicholls said.
"Our members have reported to us they can wait as little as half an hour. We've had some members wait five, six, seven, eight and even nine hours.
"But I would say the hidden risk – your viewers can see the ambulances at the hospitals – that doesn't take into account the huge number of patients that are waiting for an ambulance that can't get to them."
Ms Nicholls said that while there "does not appear" to be a delay in ambulance response times for category one life-threatening callouts, there is for category three and four calls.
"Category three calls would be things like abdominal pains or falls, and some of those patients in those high-pressure areas have waited up to 10 hours," she said.


UK news in pictures
Show all 50
Experts warned that the problems in the capital were reflected in ambulance services across the country.
Matt Hancock, the health secretary, warned on Sunday that "the pressure on the NHS is very, very bad" as a result of the ongoing third wave.
"The single biggest thing that anybody can do is to follow the stay at home guidance," he told Sky News.