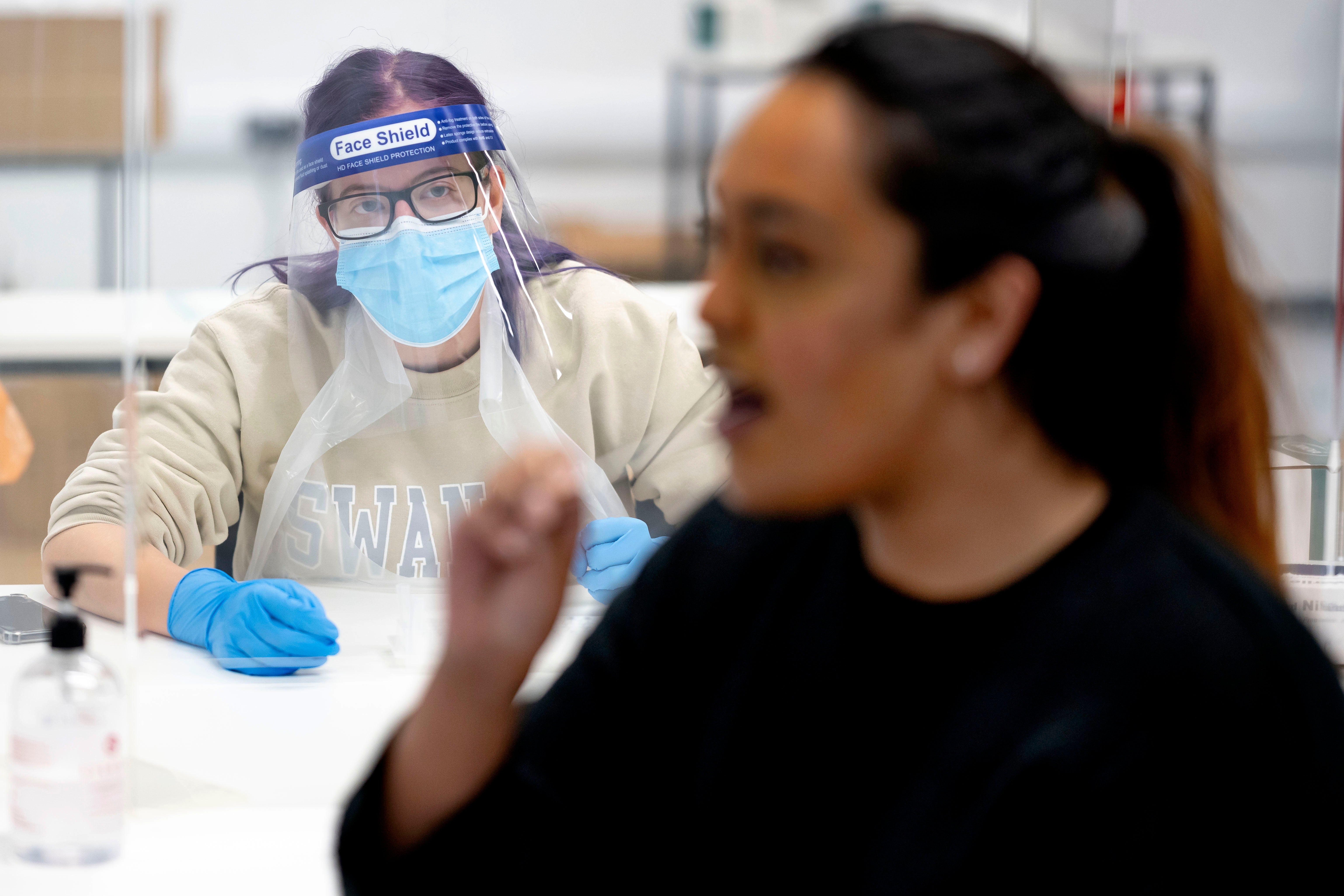 The government is set to roll out asymptomatic testing across the whole of England in a bid to curb the rapid spread of coronavirus, despite concerns surrounding the accuracy of the results.
As part of efforts to scale up community-based screening – with symptomless infections accounting for roughly one-third of all cases – Downing Street has announced that lateral flow tests capable of returning a result within 30 minutes will be made available to all members of the public from next week.
England's 317 local authorities have been told to specifically target people who are unable to work from home during the current lockdown, with plans also in place to expand this rapid testing in workplaces and offices throughout the country.
Having spent more than £700m on the handheld devices, which can be self-administered from home and do not require laboratory processing, the government is hopeful they will provide the bedrock for the UK's mass-testing strategy in the months to come.
However, government analysis from Liverpool's mass testing programme revealed last month that the devices missed 30 per cent of cases with a high viral load and up to half of positive infections that were detected by PCR tests – widely regarded as the "gold standard" of diagnostics.
Experts have warned that the lateral flow devices, which are already being widely used across the NHS and in care homes, are inaccurate and could influence people's behaviour on the back of a false negative result.
"This is a seriously dangerous policy to implement," Professor Jon Deeks, leader of the Cochrane Collaboration's research into Covid-19 tests, told The Independent. "The government is disregarding the fact that [infected] people getting false negative results will increase the spread of Covid.
"They will behave as if they haven't got Covid and they will end up transferring the virus to other people. At the end of the day, that will be fatal spread with this disease.
"If you have Covid and you're using this test, you're more likely to get a negative result than a positive test. It's a massive risk."
Downing Street has insisted that "extensive clinical evaluation" of the tests, conducted by Oxford University and Public Health England, has shown the devices to be "highly reliable, sensitive and accurate in multiple settings".
Prof Deeks, like many other scientific experts, has acknowledged that that the tests will identify those asymptotic cases that would otherwise have flown under the radar. However, he warned that the risks of the tests outweighed the benefits.
"Yes there are benefits, that you'll catch people who will be missed otherwise," he said. "But that's all the government is looking at. You have to put into the equation the harms as well."
Previous laboratory validations conducted last year suggested the devices were susceptible to missing only 5 per cent of infections when a high level of virus was present in an individual.
The discrepancy between this analysis and the results from the Liverpool testing pilot could be due to the fact laboratory tests are undertaken in a controlled environment where there is little scope for human error, scientists have said.
Prof Deeks warned that the self-tests were likely to return a higher percentage of false negatives within the community when administered by untrained members of the public, and accused the government of "continually overstating" the accuracy and safety of the devices.
"In the information they sent to schools before Christmas, they said this test was as good as a PCR test, which is frankly wrong," he added.
Dr Fiona Godlee, editor-in-chief of the British Medical Journal, told The Independent there was "justified concern that widespread use of the test will cause harm by giving people false reassurance".
"There is no good evidence to support use of lateral flow tests in this setting," she said.
More than 100 local authorities in England have already deployed the tests. Prior to the national lockdown, care home visitors were required to return a negative result using the device before entering the building.
Secondary schools have also begun setting up testing sites and have started to screen staff and pupils who are unable to be educated at home, such as the children of critical workers. Primary school teachers will meanwhile be sent home testing kits.
The government said that test and trace has also been mobilised to expand workforce testing using the lateral flow devices. Fifteen large employers in England, including John Lewis and Amazon, have already begun screening their staff for Covid.
To date, the lateral flow devices have identified 14,800 positive infections that would otherwise not have been detected without targeted asymptomatic testing, the government said.
Health secretary Matt Hancock said the programme was "highly effective in breaking chains of transmission".
"Lateral flow tests have already been hugely successful in finding positive cases quickly – and every positive case found is helping to stop the spread – so I encourage employers and workers to take this offer up. We must all do all we can to stop the spread of Covid."
Despite the criticism and controversy, many scientists have sought to defend the use of rapid-result rests, arguing that the devices have a role to play in tackling the spread of Covid-19.
Professor Sir John Bell, a member of the government's Scientific Advisory Group for Emergencies, said identifying a symptomless infection would always be a "win" for society.


UK news in pictures
Show all 50
"You need to remember the counterfactual that these are people who are not going to get tested at all," he said last month. "You have to think of what the benefits are of finding even a majority of people but not everybody, that's a key element to this."
He pointed to the example of the NHS, which has been piloting the lateral flow tests for a number of months now.
"In the first wave, a failure to test for asymptomatic carriers among healthcare workers was a major driver of infections in hospitals," he said.
"There's a million people from NHS using these on a twice-weekly basis and it's identified 3,500 positives. These are people who would never have been identified before: 3,500 healthcare workers, wandering around wards with vulnerable people. How many people do you think they'd have infected if they hadn't been caught? It's a very big number."
Professor Louise Kenny, the head of the Faculty of Health and Life Sciences at the University of Liverpool, said some of the negative discourse around the lateral flow devices had been "unethical", adding that there was no perfect solution.
"There isn't a magic bullet or a golden ticket, but what we do have is a very helpful, useful public health intervention," she said.
Vicky Head, the director of public health for Milton Keynes, said asymptotic testing would "help to reduce the number of Covid-19 cases, limit the number of people who might fall very ill, and protect the NHS".
Not all public health directors have shared this optimism, though. Speaking last month, Liverpool's Matt Ashton said that "a negative test is not a green pass to ignore social distancing, hand hygiene, the wearing of face coverings and all the other measures that are in place to prevent the spread of the virus."