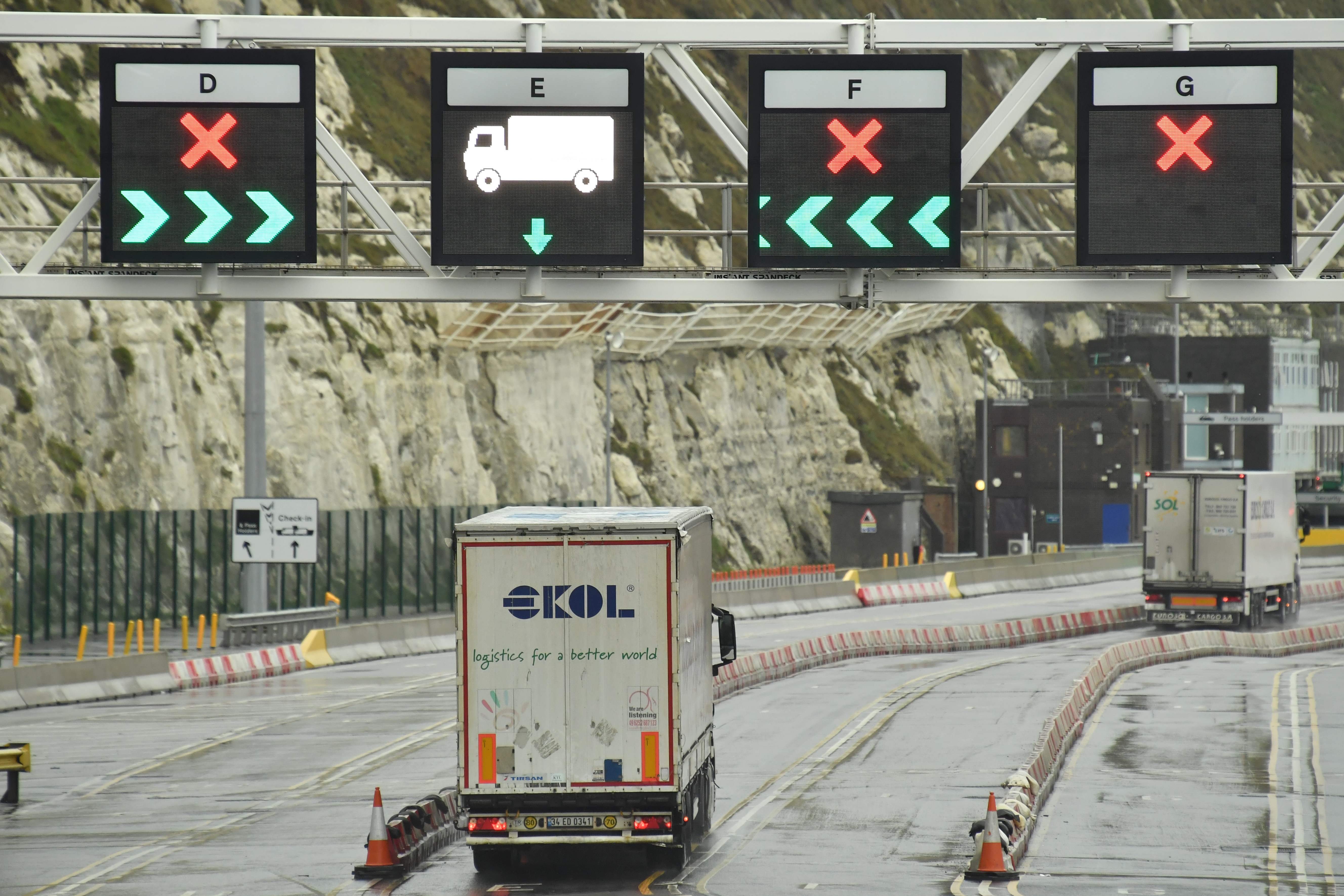 Cabinet Office minister Michael Gove has warned of increasing disruption at Channel ports over the coming weeks as a result of Brexit.
Queues have so far been avoided at Dover and the Eurotunnel terminal at Folkestone because of abnormally low traffic, currently running at just 40 per cent of historic levels for the time of year as companies hold back from testing the new arrangements in place since 31 December.
But the new thickets of Brexit red tape are already causing problems, with parcel courier DPD suspending road deliveries from the UK to the EU for five days in the hope of getting on top of the increased administrative burden.
The company said as many as 20 per cent of parcels destined for Europe are having to be returned because of the new customs forms required by Boris Johnson's EU trade deal.
The suspension came as Scottish seafood producers said they had been hit by a "perfect storm" of administrative burdens, with queues and rejected paperwork causing "utter confusion".
And Marks and Spencer said that "complex administrative processes" resulting from Brexit, as well as tariffs on some products, were "significantly impacting" on its activities in Ireland, France and the Czech Republic.
M&S is one of at least 50 companies hit by rules-of-origin regulations which require tariffs on items imported to the UK before being reimported to an EU state, according to the British Retail Consortium.
Percy Pig sweets are among the products affected, said M&S chief executive Steve Rowe, who said: "Tariff-free doesn't feel so tariff-free when you look at the small print."
Feared gridlock in Kent has failed to materialise in the week since new rules came into effect, with a spokesperson for the Port of Dover saying that traffic had been "running smoothly since the end of the post-transition period".
But new official figures show that this was due largely to unusually low volumes of freight traffic, with an average of just 1,584 lorries arriving to cross the Channel each day, compared to 4,067 the same week last year.
Around 700 lorries have been turned back at the border since the end of the transition period, but the majority of these were not due to Brexit, but to failure to obtain a negative Covid test as required by French authorities, said the Cabinet Office.
Mr Gove warned that "the real challenge and potential for significant disruption" will start on Monday, when traffic flows are expected to begin returning to normal levels, with 40,000 trucks heading for France each week.
He appealed to drivers to make sure their papers are in order before they set off, including the new Kent Access Permit (KAP) – or "Kermit" – which allows them to head for the ports.
Around 18,000 KAPs with 24-hour validity have so far been issued, and around 150 fines of £300 have been handed out to truckers for failing to obtain a permit or attempting to jump queues at the ports.
"We have always been clear there would be changes now that we are out of the customs union and single market, so full compliance with the new rules is vital to avoid disruption," Mr Gove said.
Road Haulage Association spokesperson Paul Mummery said that while a majority of trucks have so far cleared customs formalities successfully, a "significant" proportion were being turned back for having the wrong paperwork, an issue which he expected to become more visible as traffic levels pick up over the coming weeks.
"We will see supply chain friction in the coming weeks," he told The Independent.
"We don't expect it to be as visible as the queues we saw in Kent before Christmas, but the impact will be there just the same, in the form of trucks parked up at inland checkpoints or standing idle in the depot waiting for paperwork to be completed before they set off.
"We're expecting disruption for around six months until the new systems are bedded in."
Ferry company DFDS said it was experiencing "a high volume of vehicles being refused and delayed at the ports of Calais, Dunkirk and Dover due to incorrect paperwork being presented at check-in".
In a message to customers, DPD said it was pausing its road operations to the EU until 13 January, after a "challenging few days" following the new year transition, with teams working round the clock to deal with new administrative burdens.
Leaving the EU's single market and customs union had resulted in "an increased burden with new, more complex processes", and "delays and congestion at UK ports and more rigid requirements for Channel crossings", the company said.
Mr Mummery told The Independent there were concerns that complex new documentation and the prospect of delays may deter exporters from shipping products, reducing opportunities for hauliers.
"Some firms may find a way of doing business that focuses more on the domestic market," he said. "We have heard that there are firms in the EU that have decided that working in the UK is not worth their while this year. There will be firms in this country who will anticipate the ache of the new procedures and decide not to focus on export markets.
"If you are looking at hundreds of pounds to fill in forms and then you have delays built in, time is money and it may well be that with tight cost margins, they will say it is just not worth it."
Shadow transport secretary Jim McMahon said: "The government promised it had a plan to make sure things ran smoothly for businesses and hauliers post-Brexit.
"It's clear the problems caused by its poor preparation and delaying tactics have not gone away. Ministers have to get a grip on this and make sure essential workers are actually able to do their jobs, or we risk seeing a repeat of the chaos on our roads at Christmas."