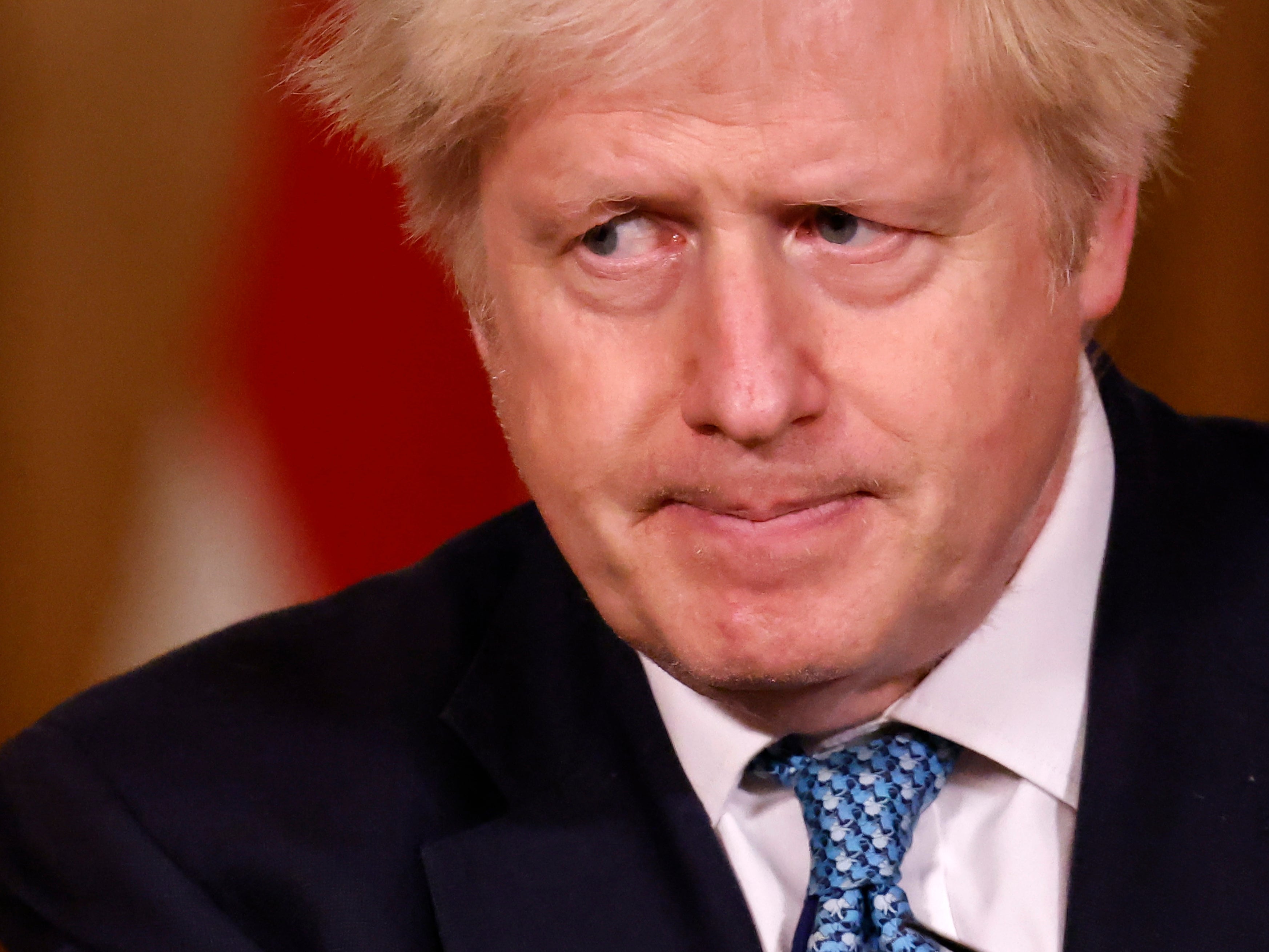 P
olitics on both sides of the Atlantic is often treated as a game – an unreal theatre of pure rhetoric. Events in Washington DC show what happens when rhetoric becomes real and the mob turns violent. After voting through lockdown last night, our MPs switched on CNN and watched in horror as armed Donald Trump supporters stormed the US Capitol building and forced elected politicians to hide in their offices. Boris Johnson condemned the "disgraceful scenes". But the PM is now under pressure to condemn the disgraceful human being who caused it to happen.
Inside the bubble
Policy correspondent Jon Stone on what to look out for on Monday:
Matt Hancock will appear before the Commons health committee to update MPs on the latest developments in the pandemic. Fresh from the Commons debate yesterday, the Lords will consider the new lockdown regulations today. But events in the US will distract, as MPs respond to the thwarted mob takeover of the US Capitol building.
Daily briefing
THE HORROR, THE HORROR: Westminster will be dominated by the jaw-dropping scenes in Washington, as Trump supporters laid siege to the US Capitol. Boris Johnson said the US "stands for democracy around the world and it is now vital that there should be a peaceful and orderly transfer of power". Work and pensions secretary Therese Coffey had the unfortunate job of defending PM's bland response. Asked on ITV's Peston why Johnson hadn't criticised Trump personally, she said he "has been clear tonight that we need a peaceful and orderly transition". Opposition MPs urged him to condemn the man behind the mob, while Labour leader Keir Starmer described events as "horrendous" and condemned Trump supporters. "These are not 'protestors' – this a direct attack on democracy and legislators carrying out the will of the American people." Scotland's first minister Nicola Sturgeon went further and attacked Trump himself: "Shame on those who have incited this attack on democracy."
FINISHING LINE … NOT IN SIGHT? MPs voted through England's lockdown by an overwhelming majority (only 16 voted against) – despite Boris Johnson's admission national restrictions may have to be pushed beyond a mid-February review. The PM told irritable Tory backbenchers it would be a "gradual unwrapping" rather than a "big bang". But he also claimed the vaccine meant it would be a "sprint" to the finish rather than a "marathon". So it's a slow, gradual sprint through the winter – with no definitive finishing line. Got it? Mark Harper, chair of the Tories' Covid Recovery Group (CRG), called for a "substantial relaxation" of curbs as soon as the four top priority groups get the jab. Vaccine minister Nadhim Zahawi said he was "absolutely" confident the government would get 13.9 million vulnerable people vaccinated by mid-February – adding that community pharmacies would be brought in to assist the roll-out. Council leaders have urged No 10 to make a decision on May's crucial mayoral and local elections "as soon as possible", after Johnson hinted at a delay.
UNACCUSTOMED AS WE ARE: The scale of Brexit implementation problems is now becoming clear, as hauliers and retailers told MPs on Northern Ireland committee about struggles with the new customs system. Seamus Leheny from Logistics UK said some lorries were being held at customs control for six to eight hours for not having the right paperwork as they crossed from GB to NI. Warning of a "huge shortage" of customs agents, Robert Hardy, director of one of the companies tasked with taking care of customs forms, predicted pressure will build over "cumbersome" arrangements for the Irish Sea border. The Democratic Unionist Party (DUP), somewhat predictably, called the whole thing an "unmitigated disaster". Having run out sandwiches in French outlets, Mark and Spencer is now experiencing shortages in its stores in the Republic of Ireland as it too gets to grips with customs complexities.
RIP IT UP AND PART AGAIN: Problems, schmoblems. So says zealous Brexiteer Daniel Hannan, who has urged No 10 to hurry up and get on with diverging from the EU in as many ways as possible. The new Tory peer (and former MEP) wants the government to cull a raft of consumer and worker protections. It's time to rip up "regulatory barriers", he said – targeting "everything from planning restrictions that inflate the cost of housing, to staff ratio rules that give us the most expensive childcare in Europe". Meanwhile, more sober voices warned how fragile the Brexit trade deal actually is. Professor Catherine Barnard told MPs it was "very unstable" and could easily be terminated. She warned tariffs were still possible if "the deal is brought to an end" or "because there could be cross-retaliation". The legal expert added: "If you are a car manufacturer and you're thinking of investing in a new plant … you don't know whether tariffs are going to be imposed."
ALGORITHM AND BLUES: A-level and GCSE results will be decided by teacher-assessed grades this year after the scrapping of exams, education secretary Gavin Williamson has confirmed. He said the government would "trust in teachers rather than algorithms" after last year's disastrous experience. The grades would be given "fairly and consistently" he promised – but also admitted "the details will need to be fine-tuned". Amid growing calls for his sacking, the PM's press secretary Allegra Stratton said Johnson thought Williamson had been working "to his utmost ability", as if to say: "C'mon – he's trying his best!" God loves a trier. Ask Nigel Farage – he's been trying to win a seat in the Commons for years. His latest attempt sees The Brexit Party officially changing its name to Reform UK, after approval from the UK elections watchdog. Farage called it "great news" and said his outfit will campaign for changes to the voting system, Lords, BBC and other institutions he hates.
THE MADNESS OF KING DONALD: If you're still catching up with news from the US, lawmakers did manage to return to the US Capitol to finish certifying Joe Biden's victory after the terrifying eruption of mob violence. Officials say one woman was shot by police during the riots, while three others died as a result of "medical emergencies". What about Donald Trump? Well, CBS is reporting that the demented megalomaniac's own cabinet members had been discussing the idea of using the 25th Amendment to declare him unfit for office. It looks like Mike Pence has broken with the would-be dictator, standing firm against his attempt to subvert democracy. Pentagon chief Christopher Miller suggested it was Pence and congressional leaders – not Trump – that called in the National Guard last night. Meanwhile, Trump has been locked out of Twitter for 12 hours. The social media giant said it required the removal of three tweets for "severe violations" – or it would remain locked for good.
On the record
"In the first wave of the pandemic the government was repeatedly too slow to act … This is not just bad luck, it's not inevitable, it follows a pattern."
Keir Starmer on Boris Johnson's failing.
From the Twitterati
"Any UK politician who gave Trump the time of day should be ashamed right now."
Manchester mayor Andy Burnham on the demagogue's British enablers…
"If this were Belarus or any other country, Boris Johnson would be calling for the return of order, defence of democracy and an end to undermining elections by a corrupt leader. But as it's his pal Donald Trump – he can't bring himself to make the call."
…and Peter Kyle MP is equally scathing.
Essential reading
Andrew Feinberg, The Independent: US intelligence officials warn what comes next after Trump riots
Aja Hannah, The Independent: What if the rioters were black? I think we know the answer?
Emily Tamkin, New Statesman: The storming of the US Capitol is the logical end to the Trump presidency
Bret Stephens, The New York Times: Impeach and convict him – right now
Sign up here to receive this daily briefing in your email inbox every morning