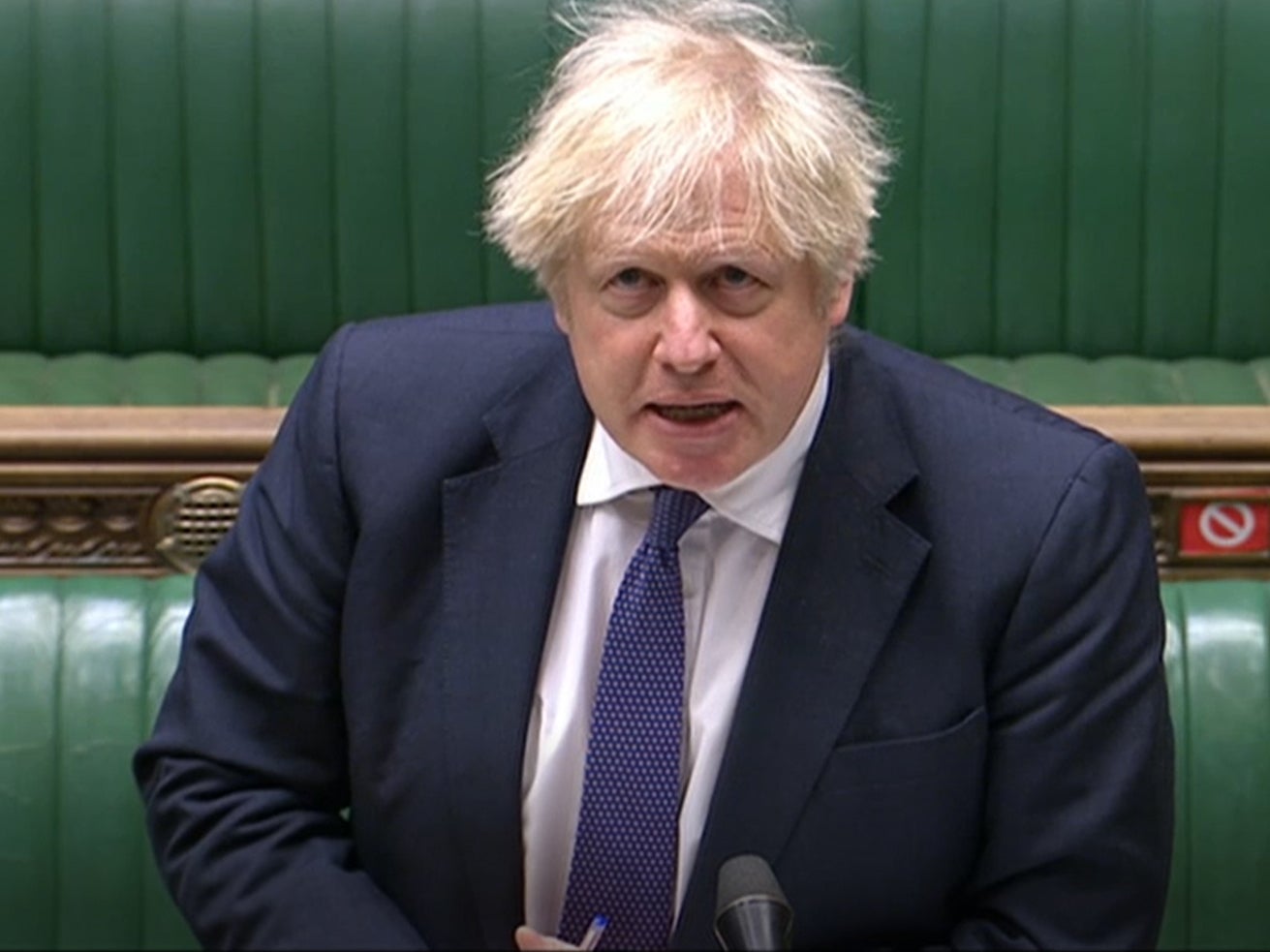 Boris Johnson has secured legislation allowing him to maintain sweeping new lockdown measures for as long as 12 weeks into the spring, resisting pressure from his own MPs to set an end date for the restrictions.
While the prime minister won an overwhelming 524-16 majority in a vote in the Commons on Wednesday evening, a series of Tory lockdown sceptics bridled at provisions allowing ministers to keep the full England-wide controls in place to the end of March.
Labour backed the prime minister, and the 14-strong Tory rebellion was sharply down from the 55 who opposed November's second lockdown, in a clear sign of acceptance of the need for action on a day when Covid deaths topped 1,000 for the first time since April.
Announcing the curbs on social and economic life on Monday, Mr Johnson said he hoped the vaccination programme will progress fast enough to allow relaxation "by the middle of February, if things go well and with a fair wind in our sails".
But in a statement to the Commons, he said the government will be "extremely cautious" about the timetable, and said only that schools "may" reopen after half-term on 22 February.
He cautioned MPs not to presume that a review scheduled for 15 February will tear up controls. And he resisted demands to commit to further votes over the next seven weeks to allow MPs to cut lockdown short if hospitalisation and death rates fall sharply.
Mr Johnson warned: "Our emergence from the lockdown cocoon will not be a big bang but a  gradual unwrapping.
"That is why the legislation this house will vote on later today runs until 31 March – not because we expect the full national lockdown to continue until then, but to allow a steady, controlled and evidence-led move down through the tiers on a regional basis.
"Carefully brick-by-brick breaking free of our confinement, but without risking the hard-won gains that our protections have given us."
The chair of the lockdown-sceptic Covid Recovery Group of Conservative backbenchers, former minister Mark Harper, said that the end of March was "too far a distance in the future" for ministers to be given powers to extend lockdown and demanded a vote by mid-February.
And Poole MP Sir Robert Syms said the 31 March date was "essentially a blank cheque for three months to Public Health England to do what they wish".
Former minister Sir Desmond Swayne branded lockdowns a "complete failure" and warned that voters would be "back to point a finger of blame" at those responsible for "double-dip recession [and] years of slow growth".
Writing in The Critic magazine, leading CRG member Steve Baker called on the PM for "a clear plan to restore our freedoms in full and fast" to avoid a backlash from voters when it comes to paying the bill for "near-Soviet" state intervention.
Health secretary Matt Hancock told MPs restrictions will be reviewed every two weeks, with a legal obligation to remove them if they are no longer deemed necessary to limit the transmission of the virus.
And he held out the prospect of relaxations for all groups in society as soon as the vaccination of those most at risk begins to drive death rates down, rather than "coronavirus passports" allowing freedoms only to those who have had the jab.
"We will need to see the protection in lived reality on the ground, but we will watch this like a hawk and my aim is to keep these restrictions in place not a moment longer than they're necessary," he said.
Labour's backing helped deliver the huge majority and protected the PM from any risk of a Tory rebellion shredding restrictions.
But leader Sir Keir Starmer said the government was to blame for the "stay at home" order and the closure of shops, pubs and restaurants because it had been "repeatedly too slow to act" in response to scientists' warnings of the need to prepare for a second wave this winter.
The escalation in cases forcing a third lockdown was "not just bad luck, it's not inevitable, it follows a pattern", said Sir Keir.
"We had a tiered system that didn't work and then we had the debacle of the delayed decision to change the rules on mixing at Christmas," he told MPs.
"The most recent advice about the situation we're now in was given on 22 December but no action was taken for two weeks until Monday of this week.
"These are the decisions that have led us to the position we're now in – and the vaccine is now the only way out and we must all support the national effort to get it rolled out as quickly as possible."
With seven mass vaccination centres due to open in sports stadiums and conference centres next week, shadow health secretary Jonathan Ashworth called for the government to ramp up its programme to as many as 6 million doses a week.
The prime minister said he had "no choice" but to plunge England into lockdown on Monday due to figures showing that the new variant of Covid-19 was driving up infections, with one in 50 now infected nationwide.
He said: "We are in a tough final stretch made only tougher by the new variant, but this country will come together and the miracle of scientific endeavour, much of it right here in the UK, has given us not only the sight of the finish line, but a clear route to get there.
"After the marathon of last year, we are indeed now in a sprint – a race to vaccinate the vulnerable faster than the virus can reach them and every needle in every arm makes a difference."
Some 12 Conservative MPs voted against the lockdown provisions: Sir Graham Brady (Altrincham and Sale), Philip Davies (Shipley), Richard Drax (South Dorset), Karl McCartney (Lincoln), Stephen McPartland (Stevenage), Esther McVey (Tatton), Anne Marie Morris (Newton Abbot), Andrew Rosindell (Romford), Sir Desmond Swayne (New Forest West), Sir Robert Syms (Poole), Sir Charles Walker (Broxbourne) and David Warburton (Somerton and Frome). Tory MPs Sir Christopher Chope (Christchurch) and Chris Green (Bolton West) acted as tellers for the No vote.
The legislation was also opposed by DUP MPs Paul Girvan, Carla Lockhart, Ian Paisley and Sammy Wilson.