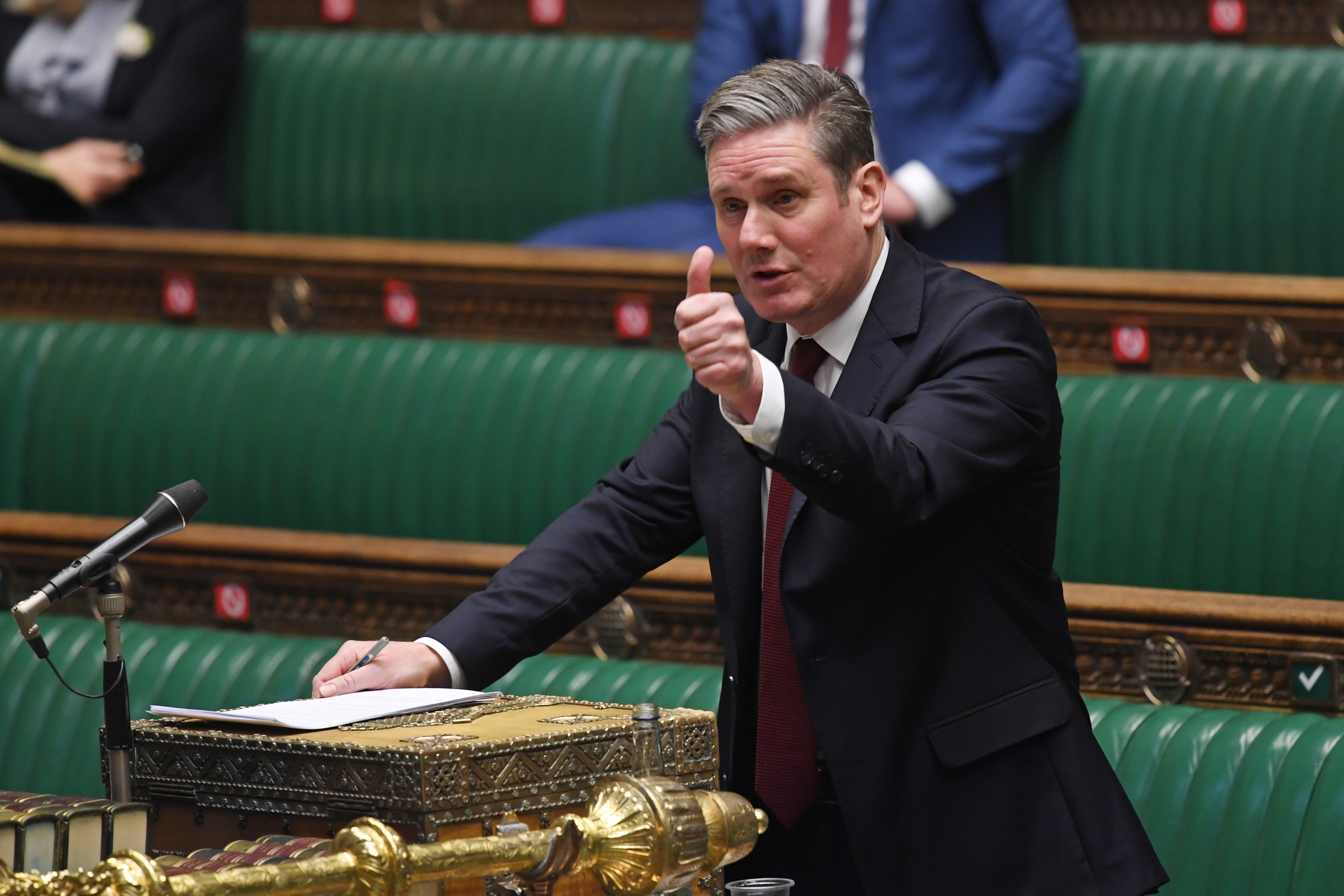 Sir Keir Starmer has called on Boris Johnson to introduce a third national lockdown across England within the next 24 hours in order to suppress the "out of control" cases of coronavirus and rising hospitalisations.
Speaking on Sunday, Mr Johnson said he was "reconciled to doing what it takes to get the virus down" and also raised the prospect of future school closures, despite separately telling parents it was "safe" to send their children back to primaries on Monday.
A Downing Street source told The Independent there were "no plans" to create a tier 5 level of restrictions, suggesting it was likely more areas would be placed under tier 4 measures, to which 78 per cent of the country is already subject.
But as the latest government data showed 54,990 lab-confirmed cases of coronavirus in the UK – the sixth consecutive day where figures have exceed 50,000 – and a further 454 people died within 28 days of testing positive, Sir Keir demanded a national "stay at home" message.
"There's no good the prime minister hinting that further restrictions are coming into place in a week, or two or three," he said.
"That delay has been the source of so many problems. So, I say bring in those restrictions now, national restrictions, within the next 24 hours. That has to be the first step towards controlling the virus."
Pressed further, he added: "Nationwide lockdown. The prime minister is hinting that that is going to happen, but he is delaying again. Do it now – that is the necessary first step to get the virus back under control."
A Labour source also told The Independent: "We need to consider all the measures that were in place in the March lockdown. This includes a much clearer direction to stay at home."
But with fewer than 24 hours remaining before primaries in the rest of the country are due to welcome children back to the classrooms after the Christmas holidays, Sir Keir declined to back the unions' calls.
"I don't want to add to the chaos that will be caused by having all schools closed tomorrow," Sir Keir said. "Many will be closed, it is inevitable more schools are going to have to close and the government needs a plan for children's learning, but also for working parents."
He added: "Everybody wants children back in school. There is nobody that would argue with that."
Appearing on the BBC's Andrew Marr programme on Sunday, Mr Johnson insisted that parents should "absolutely" send their children back to schools in areas where they are still scheduled to reopen tomorrow, claiming: "There is no doubt in my mind that schools are safe."
"I would advise all parents thinking about want to do, look at where your area is, overwhelmingly you'll be in a part of the country where primary schools tomorrow will be open," he said.
However, he failed to guarantee all schools, including secondaries, would reopen on 18 January as planned, stressing that the government would "continue to assess" the impact of tier 4 and tier 3 restrictions.
Professor Sir Mark Walport, a member of the government's Scientific Advisory Group for Emergencies (Sage), added that it was "pretty clear" more measures would be needed to contain the spread of the new variant of Covid-19.
Pressed on whether tier 4 restrictions – the most severe level of measures currently used by the government – were enough, Sir Mark added: "It's the tier 4 restrictions, it's obeying them. It is thinking about breaking essentially every possible route of transmission we possible can.
"Those are the things that are absolutely necessary and that is pretty clear we're going to need more."
Highlighting the severe pressure faced by the health service, particularly in virus hotspots, Chris Hopson, the chief executive of NHS providers, also urged for "appropriate restrictions" as he expressed concern over the number of patients with coronavirus admitted to hospital in the past eight days.
"What we've seen since Christmas Day, which was just eight days ago, is a very, very rapid rise in the number of patients who are in hospital with Covid-19," he told Sky News.
"So we had 17,700 patients in hospitals on 25 December, we've now got 23,500 as of yesterday – so that's a 5,800 increase. So you can imagine why people in the NHS are worried about how quickly this virus is spreading."