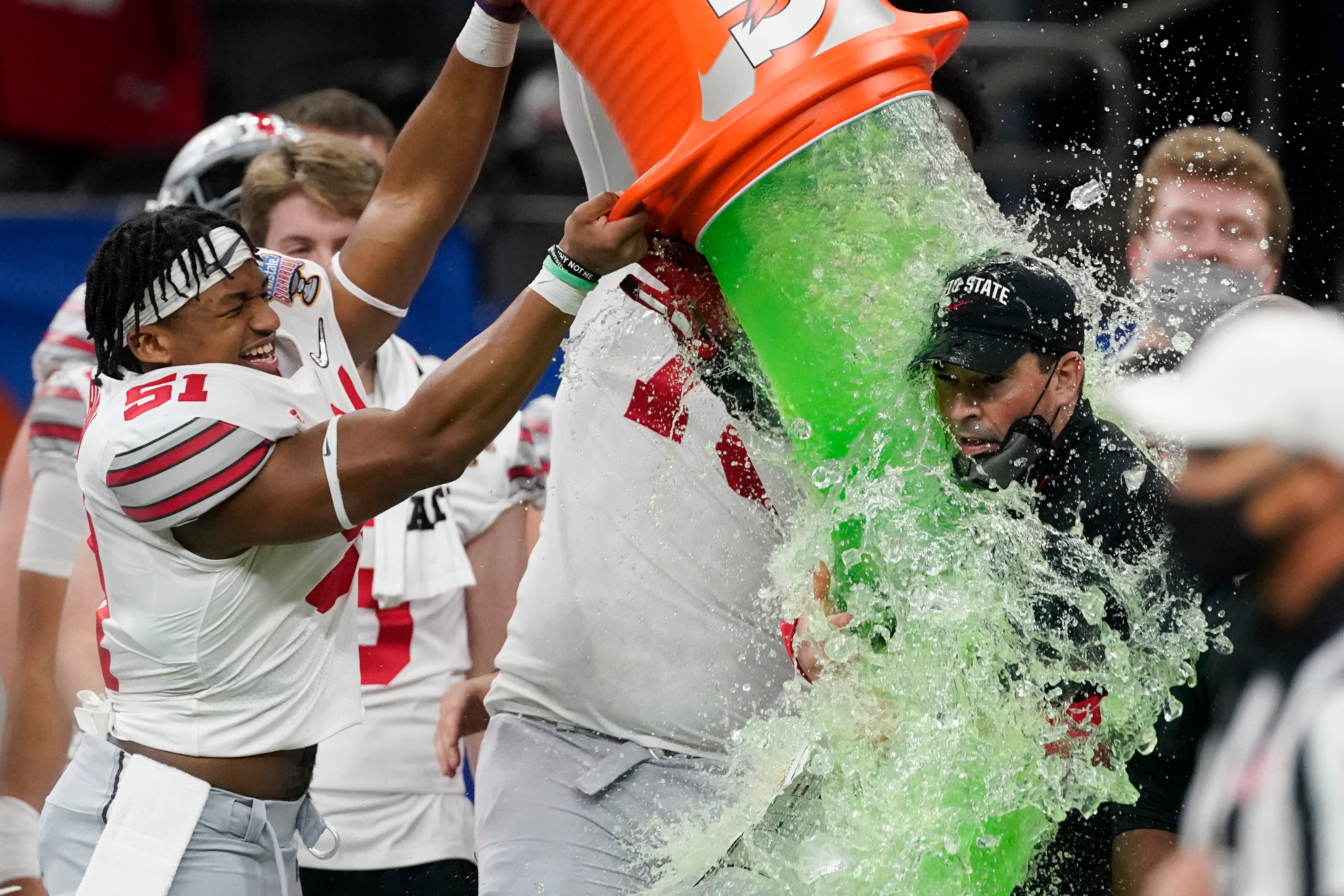 Here are the AP's latest coverage plans, top stories and promotable content. All Times EST. For up-to-the minute information on AP's coverage, visit Coverage Plan at https://newsroom.ap.org.
Adds: SENATE-GEORGIA-BIDEN'S FUTURE; IRAN; BRAZIL-BOLSONARO; VIRUS OUTBREAK-ITALY-OLDER AND ACTIVE; TULSA MASSACRE-CENTENNIAL; SEGREGATION ERA SIGN-TEXAS CONSTABLE; HONG KONG-SNAKE CATCHER; VIRUS OUTBREAK-CANADA; SENATE-GEORGIA-OVERVIEW; MEXICO-ENDANGERED PORPOISE; EGYPT-SINAI; PHILADELPHIA MUMMERS; OBIT-CLAUDE BOLLING
CONGRESS-ELECTORAL COLLEGE — President Trump's extraordinary challenge of his election defeat by President-elect Joe Biden is becoming a defining moment for the Republican Party before next week's joint session of Congress to confirm the Electoral College results. Senate Majority Leader Mitch McConnell is urging Republicans not to try to overturn the election, but not everyone is heeding him. By Lisa Mascaro and Mary Clare Jalonick. SENT: 1,000 words, photos video.
SENATE-GEORGIA-BIDEN'S FUTURE —President-elect Joe Biden's most defining congressional election is coming before he takes office. Two runoffs Tuesday in Georgia will decide which party controls the Senate and, thus, how far the new president can reach legislatively on issues from the pandemic and health care to taxation, energy and the environment. SENT: 1,020 words, photos. With SENATE-GEORGIA-GOP — Georgia's Republican senators are appealing to the most conservative factions of a diversifying electorate. SENT: 1,125 words, photos.
VIRUS OUTBREAK — The number of confirmed U.S. coronavirus cases has surpassed 20 million, according to data from Johns Hopkins University. That's nearly twice as many as the No. 2 country, India, and nearly one quarter of the more than 83 million cases globally. California is the hardest-hit state, with the worst coronavirus diagnosis rate in the U.S. It had served for months as a role model in the fight against COVID-19, but a variety of factors have wiped out California's past efforts. SENT: 1,085 words, photos. With VIRUS OUTBREAK-THINGS TO KNOW, VIRUS OUTBREAK-THE LATEST.
TRUMP-CONGRESS-DEFENSE — Congress overrides President Donald Trump's veto of a defense policy bill, a first by lawmakers since he took office nearly four years ago. The Republican-controlled Senate easily dismisses Trump's objections to the $740 billion bill and hands the president a stinging rebuke weeks before his term ends. By Matthew Daly. SENT: 740 words, photos. With VIRUS OUTBREAK-TRUMP-CONGRESS — Senate Republicans reject Trump's demand for $2,000 COVID-19 aid checks. SENT: 1,020 words, photos, video.
IRAN — International inspectors say Iran plans to enrich uranium up to 20% at its underground Fordo nuclear facility. The announcement Saturday by the International Atomic Energy Agency means Iran's program would be a technical step away from weapons-grade levels as it increases pressure on the West over its tattered atomic deal. SENT: 680 words, photo.
BRAZIL-BOLSONARO — Brazilian President Jair Bolsonaro survived 2020 in surprisingly good shape. He's popular despite a pandemic that has killed nearly 200,000 of his countrymen. But the new year bring risks on all sides for the populist who has fought to limit environmental protections and rein in leftist influence. SENT: 980 words, photos.
VIRUS OUTBREAK-ITALY-OLDER AND ACTIVE — Italy has the world's second-oldest population, and many of its people in their 70s and older have kept working through the coronavirus pandemic. From neighborhood newsstand dealers to farmers taking crops to market, they are fighting labels that depict the elderly as a monolithic group in need of protection. SENT: 1,030 words, photos.
_______________________________
_______________________________
TULSA MASSACRE-CENTENNIAL — Oklahoma began a centennial remembrance Friday of a once-thriving African American neighborhood in Tulsa decimated by deadly white violence that has received growing recognition during America's reckoning over police brutality and racial violence. SENT: 360 words, photos.
SEGREGATION ERA SIGN-TEXAS CONSTABLE — Controversy over a segregation-era "Negroes" sign in a Texas courthouse has taken an unusual turn after a top county official was identified as a suspect in a criminal investigation into the historical sign being vandalized. SENT: 330 words, photo.
HONG KONG-SNAKE CATCHER — Ken Lee is among a new breed of snake catchers who strive to release the reptiles back into nature. SENT: 475 words, photos.
________________________________
MORE ON THE VIRUS OUTBREAK
_________________________________
VIRUS OUTBREAK-ASIA — Australia's leading medical group says the New South Wales state government has put the rest of the country at risk by its decision not to go hard and early in its response to the COVID-19 outbreak on Sydney's northern beaches, which is suspected to have also caused new cases in neighboring Victoria state. SENT: 825 words, photos.
VIRUS OUTBREAK-CANADA — The premier of Canada's western province of Alberta says he will not sanction members of his government for vacationing outside Canada despite government guidelines urging people to avoid nonessential travel. SENT: 420 words, photo.
VIRUS OUTBREAK-FRANCE-RAVE — French authorities say ravers at an underground, curfew-busting New Year's Eve party that drew at least 2,500 people in western France attacked the police sent to shut them down. SENT: 240 words.
VIRUS OUTBREAK-BELGIUM — Authorities in Belgium say a 27th elderly person has died in an outbreak at a nursing home from a super-spreading St. Nick party last month but hope the situation is finally under control. SENT: 375 words.
VIRUS OUTBREAK-MEXICO-OXYGEN — Some residents of Mexico City are spending the new year in lines waiting to refill oxygen canisters for relatives suffering from COVID-19. SENT: 695 words, photos.
Find more coverage on the Virus Outbreak on the featured topic page in AP Newsroom.
SENATE-GEORGIA-OVERVIEW — Voters in Georgia still have unfinished business to resolve two months after the November elections. Both of the state's Republican senators are on the ballot Tuesday in runoff elections that will decide which party controls the U.S. Senate. SENT: 965 words, photos.
BIDEN-NOMINEES-FINANCES — President-elect Joe Biden's choice to be treasury secretary, Janet Yellen, collected more than $7 million in speaking fees in 2019 and 2020 from major financial firms and tech giants including Citi, Goldman Sachs and Google. SENT: 710 words, photo.
FEDERAL EXECUTIONS — A federal appeals court clears the way for the only woman on federal death row to be executed before President-elect Joe Biden takes office. SENT: 310 words, photo.
MEXICO-ENDANGERED PORPOISE — The conservationist group Sea Shepherd said Friday that two fishermen were injured off Mexico's Baja California coast when they rammed their small boat into a larger vessel used by the group in efforts to protect the endangered vaquita porpoise. SENT: 420 words.
EGYPT-SINAI — Egyptian officials say a roadside bomb has gone off in the northern Sinai Peninsula, killing two members of the security forces and wounding five. SENT: 305 words.
MEXICO-PLASTIC BAN — A broad ban on single-use containers, forks, straws and other ubiquitous items takes effect in Mexico's capital, one of the world's largest cities, after more than a year of preparation. SENT: 320 words, photos.
IRAN-US — The top commander of Iran's paramilitary Revolutionary Guard says his country is fully prepared to respond to any military pressure from the U.S. SENT: 450 words, photos.
RACIAL INJUSTICE-ANDRE HILL — Family and friends are remembering Andre Hill as a father and a grandfather who was devoted to his family. Hill is a Black man who was fatally shot by a white Columbus police officer last month as he emerged from a garage holding a cellphone. SENT: 835 words, photos. GEORGE FLOYD-INVESTIGATION — Prosecutors in the case against the four Minneapolis police officers charged in the death of George Floyd have requested that the trial delayed by three months. SENT: 210 words, photo.
CHICAGO VIOLENCE — The year 2020 ended in Chicago with 769 homicides, more than in all but one year in more than two decades. SENT: 325 words, photo.
FEDERAL BUILDINGS VANDALIZED — Police say at least seven people were arrested after a group vandalized federal buildings in downtown Philadelphia on New Year's Eve. SENT: 210 words.
TRUMP-FISHING — President Donald Trump has vetoed a bill that would have gradually ended the use of large-mesh drift gillnets used exclusively in federal waters off the coast of California. Trump says the bill would have increased reliance on imported seafood and worsened a multibillion-dollar seafood trade deficit. SENT: 390 words, photo.
SERBIA-RUSSIA-GAS — Defying U.S. calls to reduce its dependency on Russian energy supplies, Serbia has officially launched a new gas link that will bring additional Russian gas to the Balkan country via Bulgaria and Turkey. SENT: 350 words. _________________
PHILADELPHIA MUMMERS — Scores of costumed performers took to the streets of their south Philadelphia stomping grounds for a New Year's celebration of Mummers tradition, far from the customary parade route and despite official cancellation of the annual event and a ban on large gatherings due to the coronavirus pandemic. SENT: 765 words, photos.
OBIT-CLAUDE BOLLING — Claude Bolling, the French pianist, composer and arranger who attained a worldwide following through his melodic blend of jazz and classical influences and stayed on the Billboard classical charts for more than a decade with his 1975 album "Suite for Flute and Jazz Piano," has died. SENT: 240 words.
FBC–CFP-ROSE BOWL — Alabama is rolling into another College Football Playoff championship game. DeVonta Smith caught three of fellow Heisman Trophy finalist Mac Jones' four touchdown passes, Najee Harris ran for 125 yards with a high-hurdling highlight and top-ranked Alabama beat No. 4 Notre Dame 31-14 on Friday in the relocated Rose Bowl game to reach its fifth CFP title game. By Stephen Hawkins. SENT: 905 words, photos.
FBC–CFP-SUGAR BOWL — Justin Fields threw six touchdown passes to outshine Trevor Lawrence, and No. 3 Ohio State avenged last season's painful College Football Playoff loss to Clemson with a 49-28 victory in the Sugar Bowl semifinal. Lawrence is the presumptive No. 1 pick in the NFL draft, but Fields outplayed him on this night, going 22 of 28 for 385 yards and setting a Sugar Bowl record for TD passes. By Ralph D. Russo. SENT: 1,185 words, photos.
At the Nerve Center, Desiree Seals can be reached at 800-845-8450 (ext. 1600). For photos, ext. 1900. For graphics and interactives, ext. 7636. Expanded AP content can be obtained from http://newsroom.ap.org. For access to AP Newsroom and other technical issues, contact apcustomersupport(at)ap.org or call 877-836-9477.