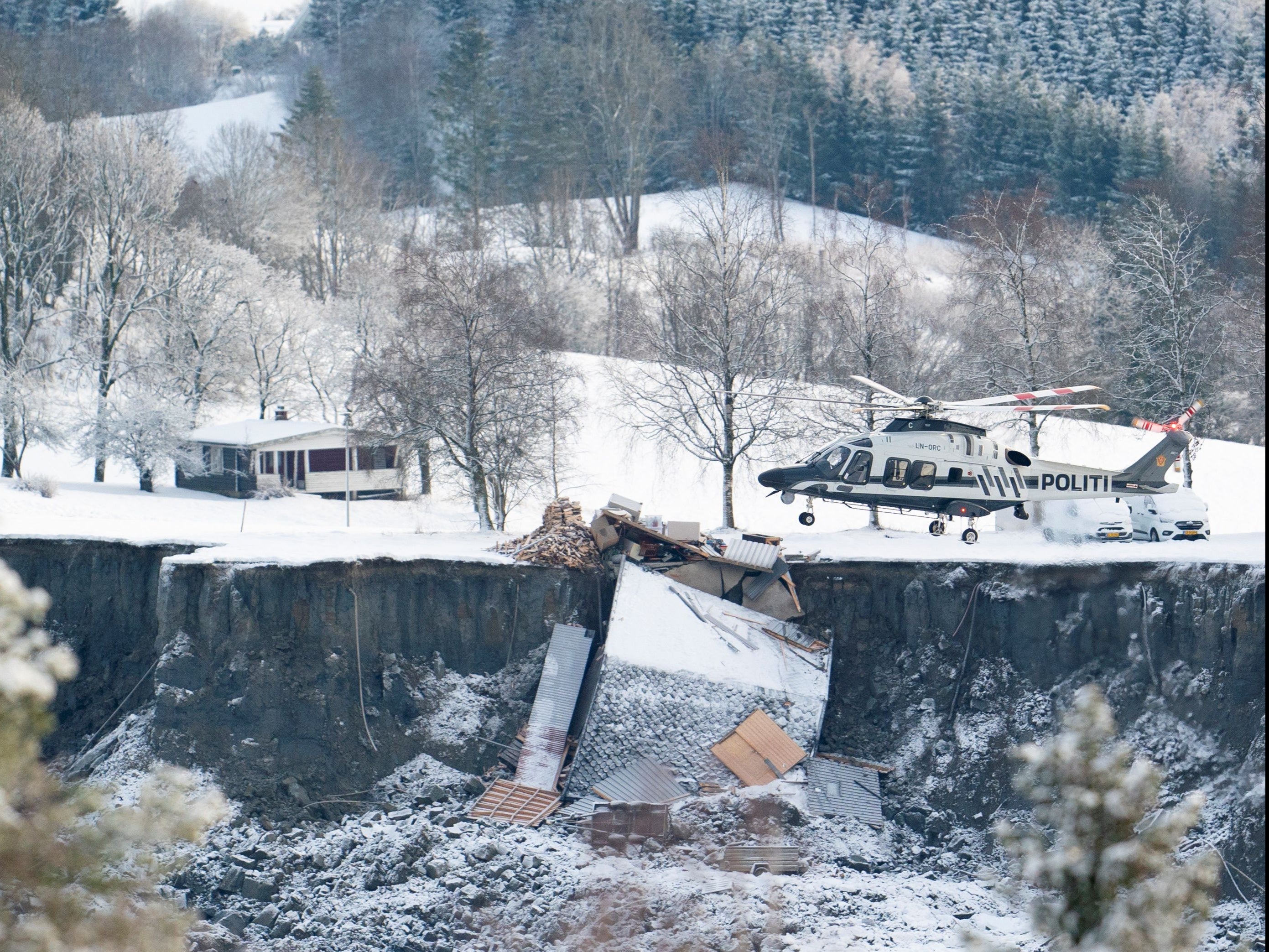 Rescuers used drones with thermal cameras to search for 10 people still missing after a landslide destroyed more than a dozen homes in southern Norway.
Helicopters and dogs were also deployed as the unstable clay soil made it unsafe for emergency workers to walk in the area in the Gjerdrum municipality about 30km north of Oslo.
The crater left by the landslide has continued to grow as the edges break away and three further houses collapsed on Wednesday afternoon.
Norwegian media reported that a total of nine buildings containing 31 housing units, as well as six garages, had been swept away. Police said they could not rule out that further buildings would also sink into the hole.
Ten people were hurt, including one seriously injured, and around 1,000 people have been evacuated from the area near the village of Ask.
"We are still searching for survivors," police spokesperson Roger Pettersen told reporters on Thursday morning as the rescue operation continued into its second day.
It was initially feared that as many as 26 people had been in the homes swept away by the mud, but that figure had been reduced to 10 by Thursday morning as more were accounted for.
Mr Pettersen said that both children and adults were missing.
"The search has been going on all night and there are now 10 people who have not been accounted for in connection with the landslide," the police said in a statement.
"The search work will continue throughout the day."
During the night a Dalmatian dog was recovered after being spotted by a drone in the landslide area. Owner Anna Sandman said she and her husband were "overjoyed" to be reunited with their pet Zajka, having been forced to leave it behind when they were rescued by helicopter on Wednesday.
Ms Sandman told broadcaster NRK that they were woken by "strange noises" at around 4am. "We tried to get out. As we were on our way to the front door, everything fell around us. And we stood in the middle of the landslide and had clay and house debris around us. So we could not get to the front door, it no longer existed."
Prime minister Erna Solberg told reporters the incident was "a catastrophe" after she visited the site, adding: "There could be people trapped … but at the same time we can't be sure because it is the new year's holiday, which means people could be elsewhere."
In a rare public statement, Norway's 83-year-old monarch King Harald said the incident had "made a deep impression on me and my family".
"My thoughts are with all those who are affected, injured or have lost their homes, and those who now live in fear and uncertainty of the full extent of the catastrophe," he added.
Meanwhile, questions were being asked about the decision to build new homes in the area despite a 2005 geological survey warning that it was at high risk of landslides.
Police have asked local residents not to set off fireworks to celebrate New Year's Eve, to avoid risking the safety of helicopter crews or interfering with the drones.
Additional reporting by agencies